(Ed. Note: Cheyenne Post reporter Ellen Fike is appearing in the True Troupe performance of Twelfth Night.  We asked her what it was like to rehearse and perform during the pandemic)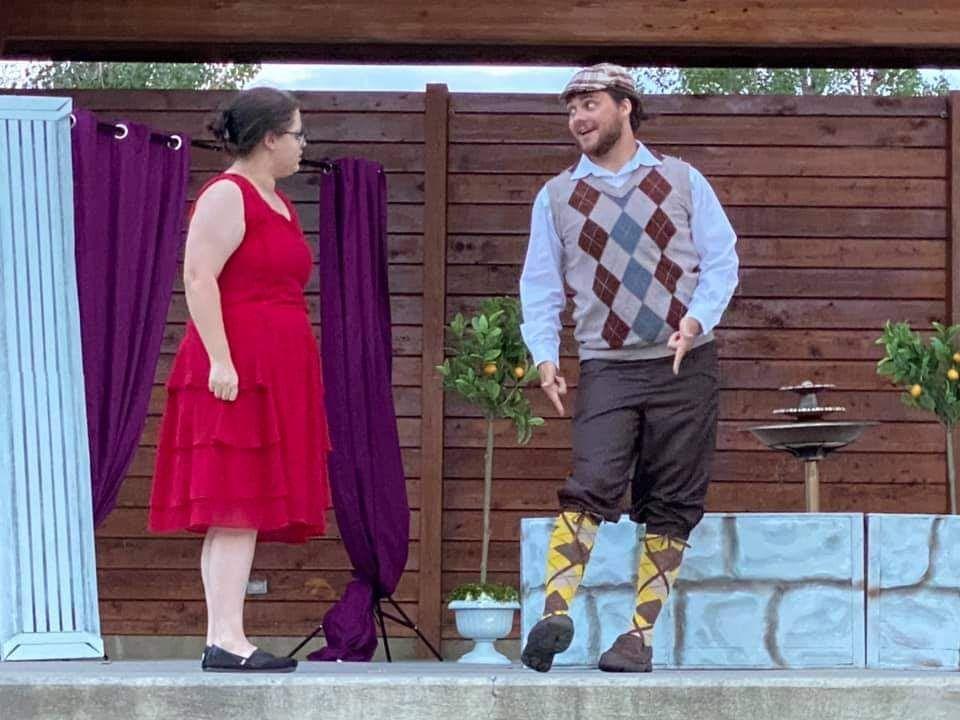 Every live performance is a risk of some sort. You run the possibility of no one showing up. There's an uncertainty of everyone learning their lines, the weather remaining clear, any reasonable scenario one can conjure.
And then there's the year when we decided to do live shows during a pandemic.
Everyone auditioning for True Troupe's "Twelfth Night" felt the heightened sense of anxiety. Some of us (myself included) didn't even feel comfortable auditioning in person, instead opting to record a video of ourselves performing some type of classic monologue. In case anyone's curious, I turned a portion from Sylvia Plath's "The Bell Jar" into a dramatic soliloquy for my audition.
We were ready to tell this funny tale of a misgendered love triangle (or possibly a love hexagon?) penned by Shakespeare so long ago. Of course, some changes had to be made: the script was cut down (our show runs about 90 minutes instead of the nearly three-hour production it normally is) and the setting was changed from the 17th century Balkin Peninsula to 1920s Rhode Island.
The problem with a pandemic, besides everything else, is that you can't predict what will happen in a week from now, much less two months. Every update from Gov. Mark Gordon could mean that the show would be shut down.
We discussed the possibility of filming the play in the event of not being able to stage it live, but that's just not the same. There's a reason we love doing live theater - it's about the energy between the audience and the cast and crew. It's about telling a story for someone in real time and seeing them get lost in it.
We cautiously made our way forward, scheduling our first read-through, then small audition groups. Our director, Erin Kendall, told us outright to stay home if we weren't feeling well, to wear masks if we wanted (our small groups were usually 10 or fewer, and the cast is made up of around 15 people) and that if we didn't feel comfortable participating in a show like this during the pandemic, no one would be upset.
But again, we continued to soldier on. The rehearsals began to increase, both in days of the week and time we spent at each one. You become a family during every show, but it felt like we began to grow especially close this time around. It felt like we were working to bring some light into the world at a time when it was especially needed.
We had two sets of shows to work toward, one weekend in Centennial and the second in Cheyenne (and Pine Bluffs).
At the time of writing, I have returned from the Centennial weekend, two performances out in the lovely mountain air. It was a weekend of chaos, anxiety, frustration and yet, elation all the same.
Even the best of shows are going to have hiccups, even if the audience has no idea. Our hiccups were thankfully nothing major - slightly bad weather (some on-again/off-again rain on Sunday afternoon), wind knocking over some set pieces and maybe some dropped lines here and there.
I'm exhausted. I've barely unpacked. I need to shower. But the tiredness I feel was so worth it as we heard the people in Centennial laugh along with the escapades of the "Twelfth Night" crew.
We were silly, drunken, dramatic fools, all of us in the cast and crew. But for an hour and a half, we got to be somewhere else besides August 2020, when a pandemic is ravaging the world and society seems like it's on fire.
I hope we can do that again this weekend in Cheyenne and Pine Bluffs.
If You Go
What: A production of William Shakespeare's "Twelfth Night"
When: 6:30 p.m. Thursday-Saturday (in Cheyenne), 2 p.m. Sunday (in Pine Bluffs)
Where: Lions Park Amphitheatre for Cheyenne performances; City Park for Pine Bluffs
Cost: Free, but donations accepted
Online: www.truetroupe.com