The newest kid on the SUV block has arrived – the all-new Hyundai Palisade, a bold new flagship for Hyundai that is a smooth blend of good looks, great drivability, passenger comfort and "just right" size.

In spite of its size, it offers a very stable driving experience that is more car-like than top-heavy SUV-like. For this test, we put the Palisade through the paces on every imaginable surface – wide open interstate, city streets, country roads, and mountain unpaved roads – and it was at home and smooth on them all. Most impressive – its smooth power, good-looks, and zero body roll through the twists and turns. Bravo, Hyundai, you have a winner on your hands.
The 2020 Palisade rides on an all-new SUV chassis with exceptional second- and third-row roominess coupled with generous cargo area and reconfiguration flexibility. The Palisade is arriving at U.S. dealerships right now.
During the launch drive event in Coeur d'Alane, Idaho, our passenger was Mike O'Brien, vice president of Product, Corporate and Digital Planning, Hyundai Motor America. He said "The new 2020 Hyundai Palisade clearly evokes design imagery worthy of Hyundai's flagship SUV, with new levels of all-road, all-weather capability, technology, safety, roominess and efficiency, all packaged in cutting-edge design," said. "This new Hyundai SUV is the ultimate family vehicle for practical, comfortable daily use and memory-making road trips whenever the appeal of the open road should beckon."
SangYup Lee, head of Hyundai's Design Center said "Hyundai Palisade's exterior and interior design clearly reflect its unique flagship identity with a premium, distinctive and bold road presence," said. "As the lead for Palisade design, it was a pleasure to work with our global design teams throughout its development and ultimately present this phenomenal product before you today."
Palisade's styling is bold and understated. As you know, many front grills and other body elements on some vehicles today have become radical and huge. On the Palisade, the design elements make sense and the proportions are just right. The grille shape is organic and edgy, and fits the body nicely.
From the front, the dominant, bold and wide cascading grille clearly represents a premium SUV. Separated composite headlamps and a vertically-connected forward-lighting signature create a strong and distinctive front demeanor, with available LED headlights, LED daytime running lights and LED turn-signal mirrors. A powerful, extended hood profile creates an impressive road presence, while bold C-pillars and a panoramic glass side graphic convey generous third-row spaciousness.
Full volume over-fenders and body sides offer muscular detailing. The rear view emphasizes a wide and stable stance via sinuous detailing and a vertical LED rear taillamp design. Panoramic rear glass coupled with a cutaway roof provides a generous sense of spaciousness to rear passengers. Available oversized 20-inch alloy wheels further fill out the Palisade flagship presence.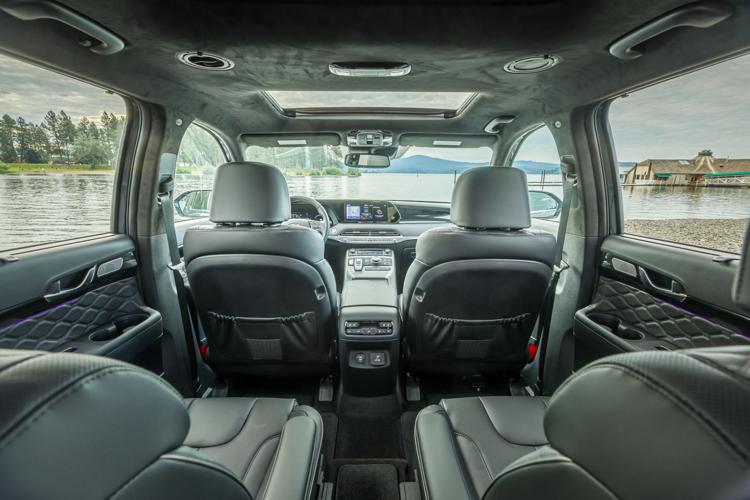 The interior design combines a sense of relaxation and comfort creating a serene environment with eight-passenger seating standard for family adventures. Palisade offers two distinct leather types, one of which is a premium, quilted Nappa leather. On the instrument panel, an available smooth woodgrain trim in a wraparound interior design creates a spacious, comfortable ambience. The One-Touch second row seat allows for one-touch operation of the seat forward and out of the way for easy access into and out of the third-row seat.
Joining us for more of our drive was Trevor Lai, he's the manager of Hyundai Product Planning, which makes him especially fond of the new Palisade. Trevor is a real car guy, with a real sense of what auto buyers are looking for in their next SUV. He pointed out that the third row of the Palisade is large and comfortable, saying "our third row isn't a penalty box." Palisade third row offers power-folding/unfolding and reclining large seats. Second-row captain's chairs are also available with vented seating surface, and a conversation mirror allows the driver to clearly see passengers in the rear.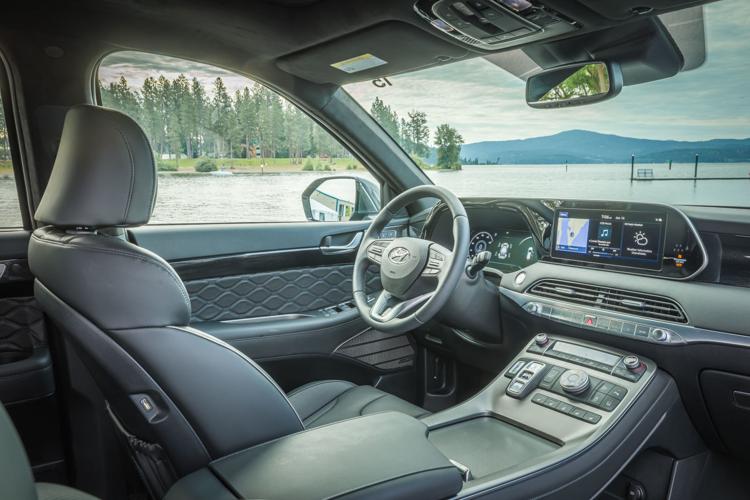 Palisade also offers a Blind View Monitor that complements the available Blind Spot Collision Avoidance Assist, which provides easy-to-see body-side views whenever the turn signal is activated.
Palisade's center console floating bridge design also frees up convenient storage space underneath the center console control area with driver and passenger access. The interior features up to seven available USB outlets, including front-seatback-based USB outlets for the second row occupants and mini-pockets for digital devices of all kinds. Up to 16 cup holders means there's always a place to stow a beverage at any seating position. Seatbelt connection notification to the driver is active in every seating position.
Palisade also features an innovative new roof vent diffuser design that provides either a focused, partially-diffused or fully-diffused stream of air to rear passengers. This new diffuser vent design provides quieter rear air conditioning airflow, draft-free operation, more uniform distribution of air and the capability for a focused stream of air whenever desired.
Palisade offers abundant technology, including Hyundai's latest navigation system, as well as standard Android Auto and Apple CarPlay.
When it comes to audio technology, the available premium sound system is well-suited to the Palisade's upscale interior. The Harman Kardon audio system feature advanced technology to recreate studio-quality sound. The result is a more robust and enjoyable on-road listening experience.
Hyundai's Mike O'Brien is also an accomplished pilot, so he knows a thing or two about aviation. Taking inspiration from aircraft technology, Palisade's available Heads-Up Display projects a virtual image onto the windshield, helping the driver to keep their eyes on the road, and see important vehicle information. The system is easy to use and intuitive, so you don't have to be a real pilot like Mike to easily use and benefit from the system.
My favorite feature by far is the "Driver Talk" in-car intercom system. This system allows you to unleash your inner-tour guide, or just convey information and communicate separately with the second and/or third rows of the vehicle. The system also includes a Rear Seat Quiet Mode that allows the driver's row to listen to their selected audio without that same audio being transmitted to the second- and third-row audio speakers, so that potentially sleeping passengers will not be disturbed.
On the inside, Palisade has more interior first and second row legroom than Pilot, Pathfinder, and Explorer. It also has more cargo room behind the third row than Highlander, Pilot and Pathfinder.
Palisade power comes from an Atkinson-cycle 3.8-liter V6, dual CVVT, direct-injected engine, for excellent power and efficiency. This 3.8-liter powerplant produces an estimated 291 horsepower at 6,000-rpm and an estimated 262 lb.-ft. of torque at 5,200-rpm.
Palisade delivers that power to the wheels via an eight-speed automatic transmission with a multi-plate torque converter and offers both two-wheel and HTRAC all-wheel-drive configurations.
The cabin is remarkably quiet. Special efforts were made to reduce Palisade noise, with generous under-hood insulation, special sound-deadening carpets, acoustically-laminated front glass and powertrain tuning that delivers a smooth, linear response.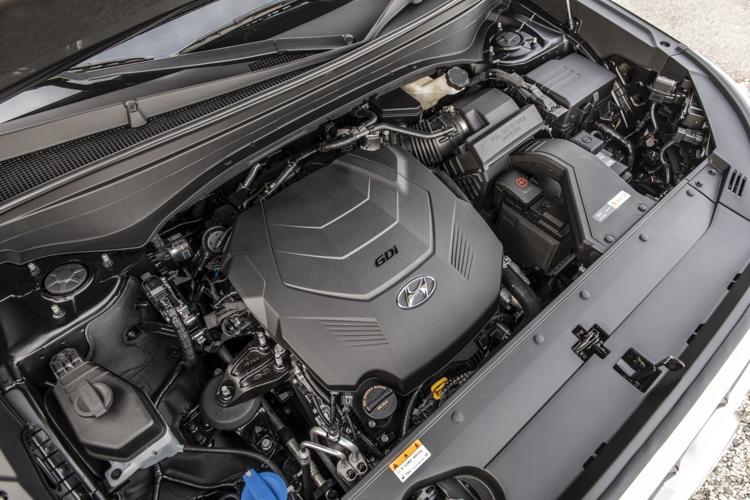 Front and rear suspension width was maximized on Palisade, for enhanced roll stiffness and stability. Tires are 245/60R18 standard or an optional 245/50R20 size for stability, style and smooth ride comfort. Palisade also achieves body torsional rigidity through a variety of methods, including a multiple ring-shaped structure and hot-stamped door-ring parts that provide increased strength and rigidity.
The Palisade offers Hyundai's available HTRAC All-Wheel-Drive (AWD) system. The HTRAC AWD system was developed as a multi-mode system, providing an electronic, variable-torque-split clutch with active torque control between the front and rear axles. The driver-selectable HTRAC Normal, Sport and Smart modes help provide confident control in all weather conditions. The Sport setting gives a more agile feel by sending more available torque to the rear wheels, for a sporty dynamic feel when desired.
Palisade offers a number of advanced safety technologies standard, including Forward Collision-Avoidance Assist with Pedestrian Detection, Lane Keeping Assist, Lane Following Assist, High Beam Assist, Driver Attention Warning and Smart Cruise Control with Stop and Go. Hyundai's available Rear Cross-Traffic Collision-Avoidance Assist enhances driver awareness to the rear of the Palisade. The whole vehicle includes many other advances safety systems.
Palisade is available in a number of exterior colors, including: Beckett's Black, Hyper White, Lagoon Silver, Steel Graphite, Sierra Burgundy, Moonlight Cloud and Rainforest. Interior combinations include unique molding accent colors tailored to the exterior combination. Regarding color, we do think a few more bolder, brighter colors would look great on the Palisade.
Overall, the new flagship Palisade is a package whose quality is easily on a par with European and Asian premium brands – at a fraction of the price. It's likely the best SUV value available in the market today.
Some technical data and info supplied by Hyundai. For more information, see your local Hyundai dealer or online at HyundaiUSA.com.