If sales volume is an indicator of how good a car is, the Toyota Corolla could be the best car ever. Having sold over 43-million units since it arrived on our roads in 1966, the Toyota Corolla is the best-selling car of all time – having easily outsold vehicles that have been in production even more years, like the Ford F-150, and it long ago surpassed the Volkswagen Beetle and Ford Model A to take the #1 spot of best selling car in the world of all time.

With millions upon millions sold, it would be difficult today to find anyone who did not recognize the Corolla name. Everyone, it seems, has a Corolla story. Many are going to be doing double takes when they see the re-imagined and reconfigured 12-th generation 2020 Toyota Corolla sedan.
Available in both sedan and hatchback, Toyota transforms Corolla styles into drivers' delights while also bolstering the model's renowned value and reliability. The new Corolla sedan elevates this model's focus on comfort and refinement while also infusing it with the Corolla hatchback's feisty personality.
For this test, we drove the Corolla sedan. It is nimble, comfortable, and has plenty of power to spare. It has a bold new look that is a reflection of the bumper-to-bumper, wheels-to-roof transformation that has taken place. From every angle, the new Corolla sedan looks lower and leaner, tauter and tighter.
Pricing starts at $19,600 with a nicely equipped model priced around $27,265. Fuel economy ranges from 31-mpg up to 38-mpg.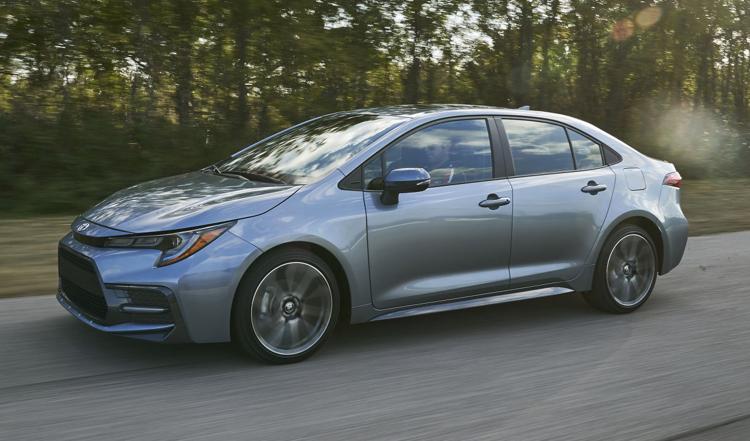 Inside, the cabin is simple, warm, and inviting. A neat instrument panel lends an open, harmonious feeling thanks to its slimmer upper surface, with character lines that interlock with the door trim to convey an airy atmosphere. At the center of the instrument panel, within easy view for the driver and front passenger, sits a high-resolution 8-inch multimedia touchscreen for the standard Entune 3.0 multimedia system on all grades except the L grade, which gets a 7-inch multimedia touchscreen.
The center stack screen provides access to vehicle settings, audio controls, navigation, and Entune 3.0 apps. Climate controls, located below the multimedia portal, are fashioned in a bright, highly visible digitized configuration. The center stack flows into a wider console, with an armrest that's nearly 0.8-in. longer than in the previous model, for greater comfort.
The cockpit provides an engaging interior space that surrounds the driver while offering a spacious environment for all passengers.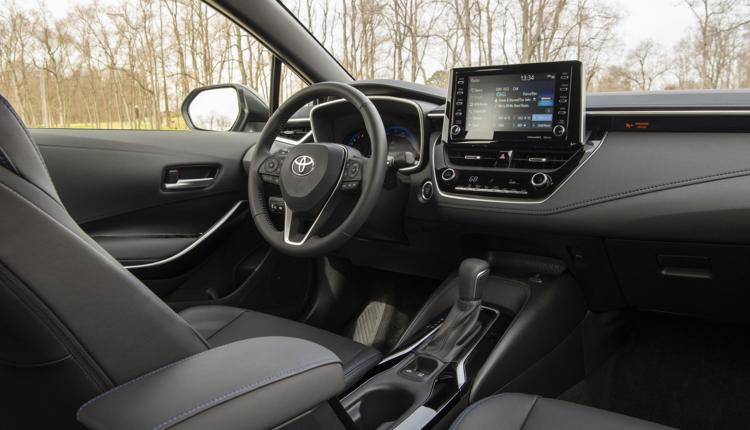 Power for the Corolla sedan L, LE, and XLE grades come from the 1.8-liter engine found in the previous generation, yet with more horsepower and better fuel efficiency. The XSE and SE grades are powered by an all-new 2.0-liter Dynamic-Force direct-injection inline four-cylinder engine. This new engine delivers more performance while using less fuel. A hybrid model is also available.
The new Dynamic-Shift CVT combines the smooth, fuel-efficient performance of a CVT with a more direct driving feel of a traditional geared automatic.
For those who want to shift for themselves, the Corolla sedan offers an intriguing choice with the all-new 6-speed iMT (intelligent manual transmission)
A super-rigid structure, lower center of gravity and highly refined suspension tuning endow the Corolla sedan with exemplary handling agility and ride comfort, along with a distinctive driving personality.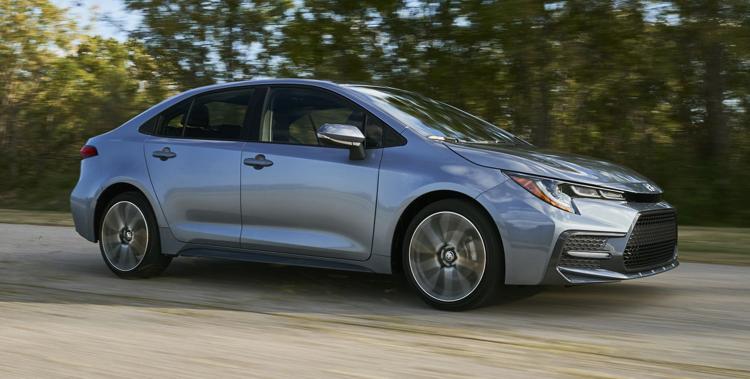 The new Corolla sedan looks the part of a fun-to-drive sport sedan, and the chassis delivers on the promise. The multi-link rear suspension and MacPherson front setup is a major advance over the previous model, more adept at comfortably absorbing bumps while also ratcheting up agility.
Overall, it's hard to find much fault in the new Corolla – or any Corolla year for that matter. It's a fine driving and handling machine that gives you the confidence of the Rock of Gibraltar, the comfort of your favorite chair, and keeps more of your own money in your pocket.
For more information, see your local Toyota dealer or visit Toyota.com. More auto reviews are online at www.TheWeekendDrive.com