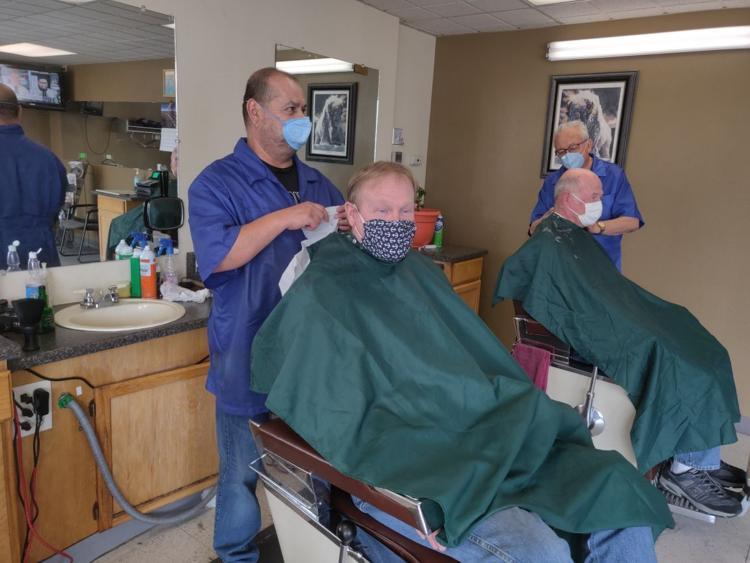 It has been a tough time for barbers and hair stylists in Cheyenne. They have been out of work for close to a month and a half, due to the Coronavirus quarantine.  That all changed last week, when the Governor relaxed the restrictions that kept their businesses closed.
"It was fabulous to be reopened because we were shut down for five and a half weeks and we're all independent contractors. All of my girls were getting nothing. They were turned down for unemployment because of being independent contractors.  So it has been a blessing from God, truly," said Kerri Ann Rowland, the owner of Enchanted Hair Salon at 1111 Logan Avenue in Cheyenne.
Glen Chavez, a barber at Trujillo's Barber Shop, 412 Randall Avenue, echoed her thoughts. "We were so excited to get back to work. We were all able to work.  We just weren't allowed to work."
Customers, such as Doug Leinart, said he knew it was time to come back. "(My hair was) getting picked on by my family, running their hands through it. It was time to get it cut."
Hair salons and barber shops are running things differently now.  Customers are not allowed to wait inside, and the chairs in use are separated following social distancing guidelines. Enchanted Hair takes some additional steps. "We've been taking extra measures, we've been having everyone sign the CDC forms and been taking their temperatures just to help make sure everybody's safe and protected.  Plus extra cleaning and sanitizing," said Kerri Ann Rowland.
It also makes cutting hair more challenging when customers are wearing face masks.  The stylists and barbers are asking customers to hold their masks in place by hand instead of using elastic bands. The bands can be a problem. 
"Yesterday, we snapped about four of them," admitted Glen Chavez.
There is one other issue they are dealing with… all that extra hair. "Some people were ready to come in for their six-week appointment right when we closed down, and they've gone twelve weeks now, so yeah, they've had bushy heads," said Rowland.
Trujillo's Barber Shop used to fill up a 55-gallon drum once a week with cut hair.  "Oh my goodness. There's five barbers in here, and after one haircut for each barber, there's like a whole week's worth," said Chavez.