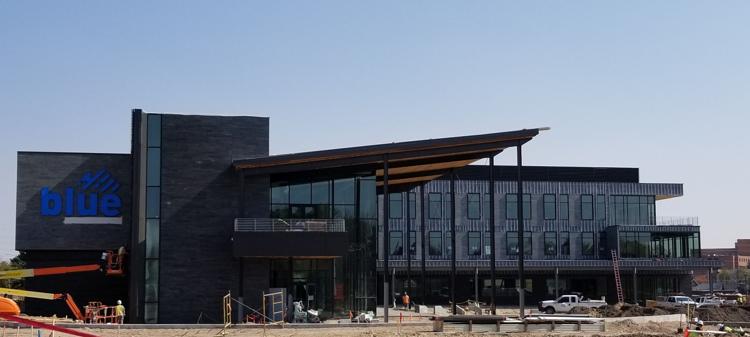 Cheyenne will welcome a new office complex in December. Blue Federal Credit Union's new development at the southeast corner of Pershing Blvd. and Converse Avenue is on schedule and under budget, said Michele Bolkovatz, Vice President of Public Relations for Blue Federal Credit Union.
The Blue Diamond Center is three buildings, including the Blue World Headquarters building and two retail buildings. About 150 employees will be located on two of the floors in the 75,000-sq. ft. corporate headquarters building. The building's third floor will be filled later.
The retail buildings have eight suites available for lease. A breakfast/lunch restaurant called Bernie's Café already has been rented.
Bolkovatz said negotiations are underway with other possible tenants. "We do not have all the spaces rented but would love a restaurant/brewery in the plaza," she said.
Blue Federal Credit Union employees at other locations will be moving to the new facility.
"Currently we have support departments located in three separate locations, including support spaces in our branches located at 7th Ave and Yellowstone Rd. We will be looking into other options for the vacated spaces in these facilities. The remaining staff are in rented facilities which we will vacate," Bolkovatz said.
Blue Federal Credit Union has several job openings in their Wyoming and Colorado branches, but those are not related to the opening of the new world headquarters.
The COVID-19 pandemic has not affected construction, Bolkovatz said.
"Brinkman Construction has adhered to strict standards and has not experienced any delays due to COVID-19," she said.
The project is expected to be completed and open in December.