Popular downtown brewery celebrates anniversary, and new ownership
On Saturday, February 1, Joel Emerick and Eric Kilmer took over ownership of Cheyenne's microbrewery, Freedom's Edge Brewing Company.  Kilmer's wife Muriah Kilmer is the aproom manger, social media director, and event coordinator. This has been a much-anticipated change for the local small business.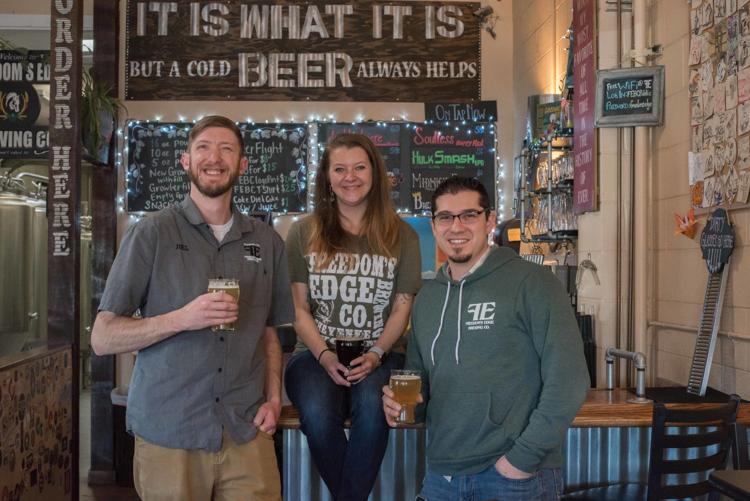 The brewery has been a family and dog friendly fixture in downtown Cheyenne since February 22, 2012. It was founded by Tim Moore and his two son-in-laws, Adam Niebling and Shane O'keefe in the historic Tivioli building and then later moved to 1509 Pioneer Avenue. Moore also owns Colorado Brewing Systems in Wellington, Colorado. As the brewing systems business grew, he brought on his son-in-laws to help, which meant they no longer had much time to oversee the daily operations in Cheyenne. They decided to turn the reigns over to the taproom staff which included Emerick and The Kilmer's.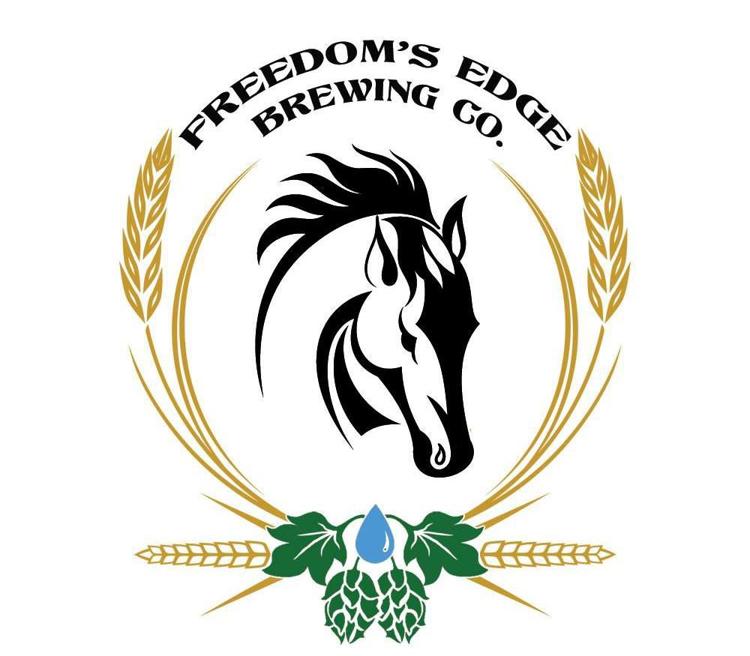 Emerick became involved with Freedom's Edget in 2014 as a part time employee serving brews and later becoming the taproom manager. After starting at the brewpub, he became interested with home brewing beer and then was able to start doing some small batch brewing at the pub. About 6 months after becoming manager he was asked to take over as head brew master. Emerick says, "he loves brewing, how the brewing community comes together to help each other, and the friendly collaborations." What he loves most is, "the freedom to express yourself, to brew whatever I want to brew and that our fanbase will trust that what we are doing might be totally different, but they are going to try it."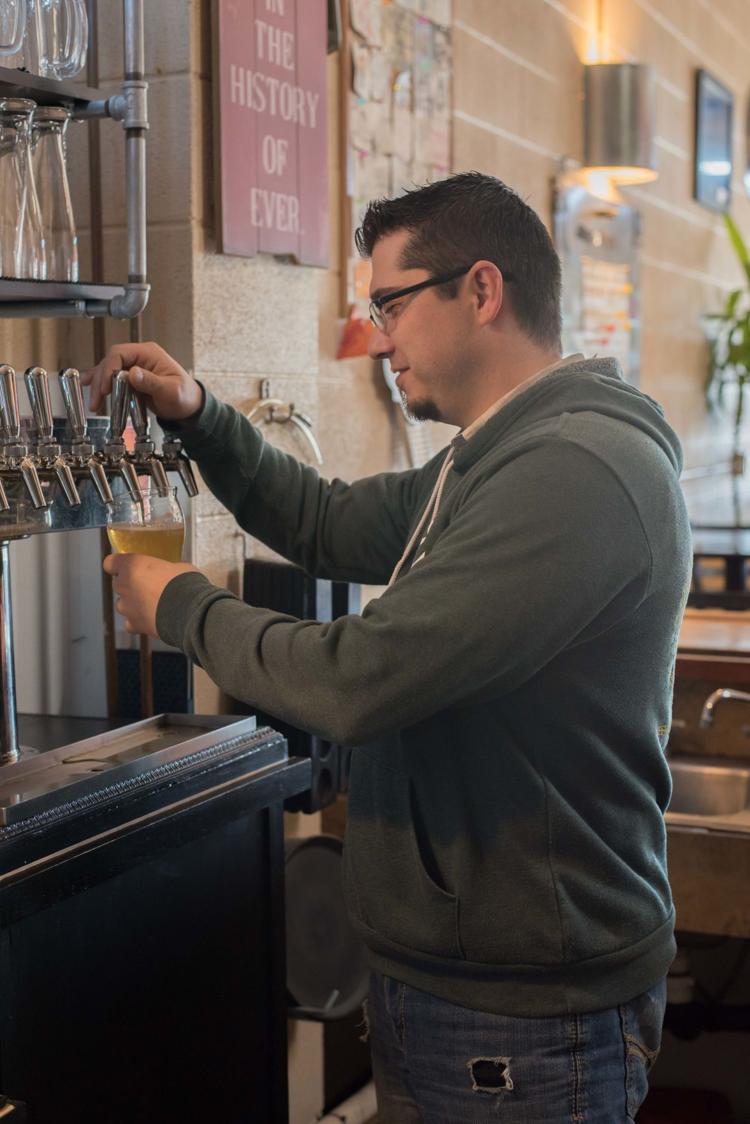 The Kilmer's became long time patrons shortly after the opening of Freedom's Edge three years ago, M. Kilmer became a part time employee which meant E. Kilmer was spending more time at the pub where he and Emerick became friends. He started helping in the back with the brewing when he had free time. Emerick then asked him if he would be interested in being assistant brewer. He had home brewed in the past with a couple of friends and really enjoyed it. So, he jumped at the chance of becoming a brewer at the pub when the opportunity presented itself. What Kilmer loves most about brewing is actually "after the brewing. Being able to create something and then seeing what you put your time and effort into and watching others enjoy it."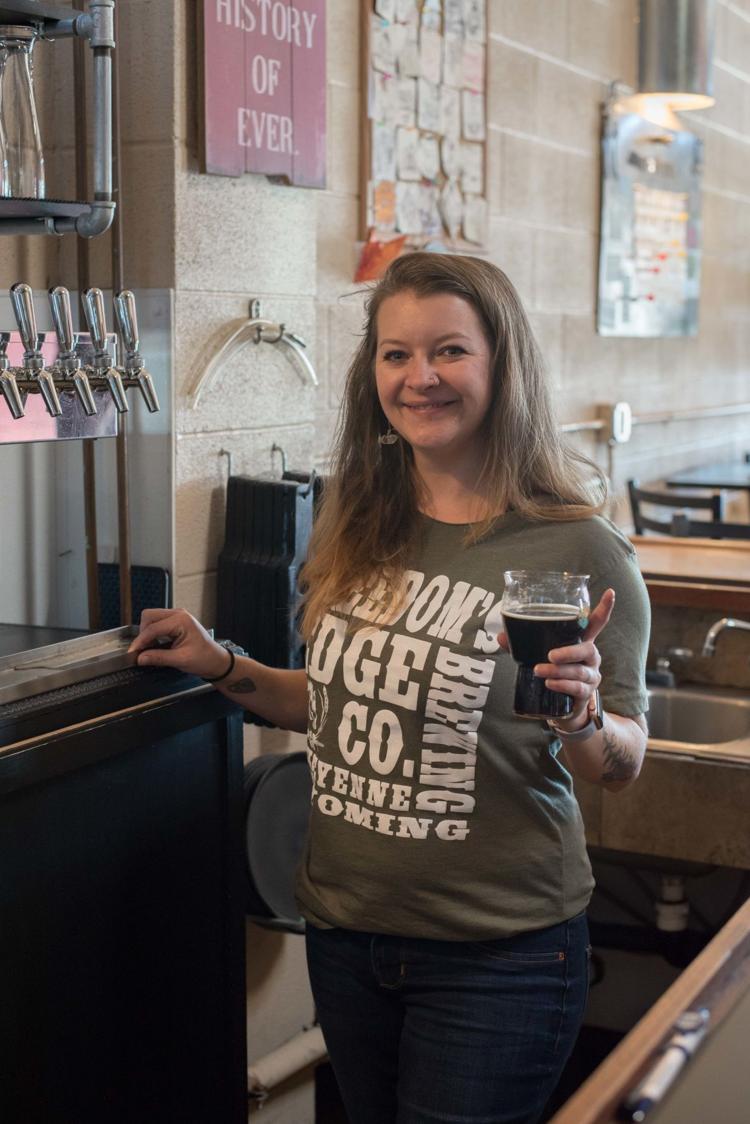 M. Kilmer said that her and Emerick's combined customer service experience, "keeps the place lively and that patrons have told them they brought the establishment back to life." The pub had basically no social media presence, so she took it upon herself to take over the Instagram and Facebook sites. Kilmer's favorite thing about being a part of the Freedom's Edge family is "The community involvement, that is something that everyone can see. I love bringing the community together over beer."
Thomas Bradley is a customer, and he said "I like the fact that I can bring my children down here and play some games, and I can bring my dog in and have a great beer while I am doing it. He is excited that they have familiar faces who are now the owners as opposed to somebody coming in that doesn't know Cheyenne nor the clientele. It is great to see people who have sustained what it is created for and then the growth of what it's going to be with these individuals who understand it."
Roy "Sparky" Richardson comes to Freedom's Edge for "the type of atmosphere that you know it when you find it and it is here. And they have almost all organic beer." He added "the new group has such a cohesion and such great chemistry together. It all came together in such a serendipity way that they fell into these roles that they are all good at. There is no super strong egos and it permeates the whole establishment."
E. Kilmer said "a lot of people think the only thing to do in Cheyenne is drink, and that is not what we are about. We are about using beer as a vessel to bring the community together to talk about what is going on in their patron's lives. M. Kilmer added "that is why we have games and not a bunch of TVs' because we want people to talk to each other."
Freedom's Edge hosts many events throughout the year supporting many charities in Cheyenne. M. Kilmer said, "I have to give some credit to the previous owners, they had a lot of the charity relationships already established." She added, "I believe that it is our job as a company to give back to the community. We try to give back to all of them. We have that ability to give and it is a good thing to do as a business."
February 22, Freedom's Edge will be hosting their 8th birthday party. They have paired up with Graffiti Cuisine and The Daily Press for some pop-up finger foods, and cupcakes by Kelly's Creations all provided on the house. February is Stout Month and they will be brewing a special beer for the occasion, a Birthday Cake Stout. Music will be provided by the Blue Grass Pickers and food trucks will be available later in the evening.