JAX Outdoor Gear, Farm & Ranch is opening a new location in Cheyenne at the old Sears retail store location in Frontier Mall.
"Construction started today, possession started today, and we will have a soft opening in mid-October to late October. The grand opening will be in spring of 2020," said Ashley Vander Meeden, the digital marketing manager for JAX, "We are looking to hire about 50 people."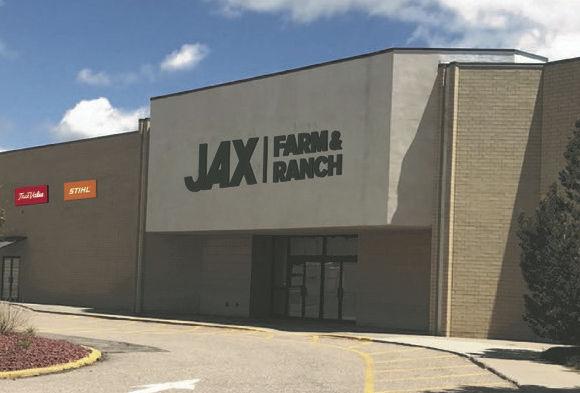 Job seekers can interview with the company on Sept. 4 from noon to 6:00 p.m. at Frontier Mall in the new JAX location.
"We are currently taking applications," Vander Meeden said. "People can go to JAXgoods.com and we are accepting applications online."
"We see a great opportunity here," Jim Quinlan owner of JAX said. "Our company focuses on offering a great selection of quality products at fair prices every day. We also hire and train specialists who love the outdoors themselves and take personal satisfaction in helping our customers. The entire JAX team works hard to create a unique and fun shopping experience for everyone.
Quinlan said, "JAX has a long history of serving outdoor and Ranching customers along the Front Range of the Rocky Mountains in Colorado and mid-westerners in our Ames, Iowa store, Wyoming is a beautiful state with tremendous opportunities to get outdoors, which aligns perfectly with our company and culture."
"Cheyenne is a vibrant and growing city. We are excited to become a part of the community." Breann Alber, the assistant general merchandise manager for JAX said the location of our new store will be really great for JAX. It is only 40 minutes from our support center currently. Our home office is in Laporte in the Fort Collins area.
The Frontier Mall location will be a combo store of outdoor gear, as well as farm and ranch.
Sierra Trading Post is also based in Cheyenne and Colorado. Alber said, "We do sell similar brands to Sierra Trading Post, but we are not about the lowest price, we're about carrying high quality brands. We really want to focus on the customer service aspect of things. We are always aware of the conservation side of the company and our core values."
JAX in Cheyenne's Frontier Mall location will carry all kinds of animal feed from large animals to bird, pet, dog and cat and livestock feed, Alber said. "We're going to have a STIHL OPE, Outdoor Power Equipment, shop that we are offering at our store," Alber said. "We will have a certified mechanic that will work on STIHL products, anything from a chain saw down to weed eaters. There are different sizes of anything that people need for outdoor power equipment." There is also some discussion about having a coffee shop in the store.
"We are still in the planning phases and the final details are still being worked on."
Some of the outdoor brands that JAX Outdoor Gear, Farm & Ranch carries are Patagonia, The North Face and Columbia.
"For foot wear we sell HW Workwear, Lacrosse, and Ariat," Alber said.
Some of the other items JAX Outdoor Gear, Farm & Ranch will carry are Carhartt, Tekton and Dewalt tools and a variety of lawn mowers.
"We will have a lawn and garden section, a grilling section, a camping section, and a hunting and fishing section, too"
JAX Outdoor, Farm & Ranch will also be in competition with Murdoch's. "We also carry similar lines to Murdoch's on the farm side of things, but what sets us apart is our customer service experience," Alber said. "We try to hire specialists in all areas, people who really live and breathe the product, so they are passionate about it. The other thing that sets us apart is we have been family owned since 1955."
"The opportunity of this building was able to give us 80,000 square foot of retail building space," Alber said. "We are demoing the building to make more space for retail space. Where every placement is going to be hasn't been finalized, but we will be increasing the useable retail space."