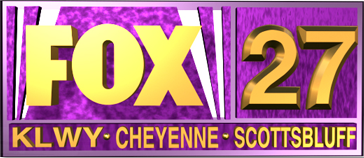 Front Range Television, an owner and operator of mid-sized market TV stations, announced today that it is expanding newscasts throughout Wyoming. 
Front Range, which provides the news programming for KTWO, the ABC affiliate in Casper and KKTQ and KLWY D.2, the ABC affiliates in Cheyenne, is expanding its News Production to the FOX affiliates, KFNB, KFNE, KFNR and KLWY, and CBS affiliate KGWC.
The expanded News Programming for the Wyoming FOX affiliates will be broadcast from 7:00 to 8:00 a.m., 9:00 to 10:00 p.m. and 12:30 to 1:30 a.m. weekdays. The expanded News Programming for KGWC, the Casper CBS affiliate, will be broadcast weekdays from 5:30 to 7:00 a.m., noon to 12:30 p.m., 5:30 to 6:00 p.m., and 10:00 to 10:30 p.m., and weekends from 5:00 to 5:30 p.m. and 10:00 to 10:35 p.m.
General Manager Steve Scollard said "By aiming for a ubiquitous news presence throughout Wyoming and across several channels, we intend to more closely serve our viewers and advertisers. In the coming months, opening news segments will be multicast amongst each of Cheyenne, Casper and Riverton with market specific news coverage, adding to our relevant hyper-local news focus, while including national news stories of local interest, sports and weather."
In addition to dedicated newscasts for each of Cheyenne, Casper and Riverton, and the FOX Stations' 9pm one-hour newscast providing viewers the opportunity to watch a newscast an hour earlier.
With an encore edition of that newscast later in the evening, Front Range restructured its news team lineup:
News Director Heather Corson. While you'll not see Heather on the air, she leads Front Range's news team with a passion and dedication that only comes from a long-time Wyoming resident. With deep ties to the statewide community, Heather will help bring the relevant current news stories and political coverage that matter to you most.
Anchor Taylor Witz. With her charming personality and energy, Taylor is the perfect host to greet you in our Evening News. Taylor brings to you the local events that matter to you every day, and helps you prepare yourself and your family to tackle tomorrow with a renewed vigor.
News Reporter Rachel Saurer. Based in Cheyenne, Rachel has the energy and drive to keep on top of the important topics being discussed at the Capitol. Rachel will work with Wyoming legislators at the State and National level to bring you the most up-to-date information about the issues that are important to Wyoming.
Meteorologist Ryan Matoush. Ryan brings the weather to you crisply and with a focus on what matters to our viewers and sponsors, the actual weather. You'll enjoy the "Matoush Memorandum," Ryan's guide to the weather events that help you plan your day throughout Wyoming.
News Personality Billy Floyd. With Billy's humility it's hard to learn that he comes from a long line of television news broadcast personalities. Billy's grandfather is a noted international news personality and it shows in Billy's passion for his trade. It's truly in his blood. Join Billy as he covers current events on the local and statewide level keeping you informed of matters truly important to Wyoming.
Anchor Bobby Falat. Starting his career in Riverton, Bobby knows how important local news is to Wyoming. Bobby will work tirelessly to bring you the local news coverage you can count on, and he will remain a name you can trust for accurate coverage.
Front Range is also excited to announce its investment in, and complete rebuild of, its Newsroom Computer System. With advanced collaboration tools, support for artificial intelligence, and improved mobile apps, Front Range brings its News Team into the modern news gathering age with a uniquely intuitive and equally powerful digital and linear workflow.
This upgrade was completed in a record one week's time with support from Coastal Television Broadcasting Group's experienced technical and News staff. This expandable, extendable, and fully integrated system allows Front Range to complete the news more efficiently and thus focus on gathering news that matters to Wyoming.
Front Range is further expanding its Wyoming stations' newsgathering resources through a partnership with 24/7 news channel NewsNet, giving Wyoming's News Leader a collective news team larger than ever before.
"We're thrilled to be working with Front Range to greatly expand their local news production capabilities in Wyoming," said Eric Wotila, President of NewsNet, "Through this partnership, Wyoming viewers will see an expanded focus on local news at the start of every newscast, in addition to gaining more local weather forecasting resources than ever before."
In addition to Front Range's on air news personalities, we are glad to return Meteorologist Carl Rippy to the Wyoming markets as he contributes his vast Wyoming experiences to Front Range's newscasts, while serving Casper, Cheyenne, Riverton and other middle market viewers.