Mary's Mountain Cookies has become a popular Cheyenne go-to for parties, classrooms, and family outings in the six short months since they opened their doors. Because they always have a wide variety of cookie flavors and styles, as well as keto and gluten free choices, "Everybody can get what they like," said Katy Brady, who owns Mary's along with her husband Chris.  "Our two-ounce cookies are hugely popular, "she said, "and we debate whether the orange doodle, the s'mores, or the frosted sugar cookies are the most popular cookie right now."
Many flavor choices come straight from Mary herself, but the Bradys have freedom to modify recipes for their clientele. "Sometimes we do tweak the recipes," she said. "Our Spooky Avalanche was great for Halloween. And I love peppermint, so we'll probably do something with that for the holidays." Look for these new flavor combinations coming soon: almond glaze, fudge fantasy with peppermint, oatmeal cranberry white chocolate, and cherry tart.
Locals are where it's at for Mary's. "Our repeat customers are everything. I mean, we love the tourists, but our repeat customers are showing us that we're doing something right," she said.
As for tourists, "We have seen people from many countries, and states. A lot of people just want to say they've been to Wyoming. Not everyone has time to go to Yellowstone, but they can come to Cheyenne and check Wyoming off their list," she said. "They come up midday and don't always have time for dinner. It's quick and easy. They are hearty cookies, they travel well."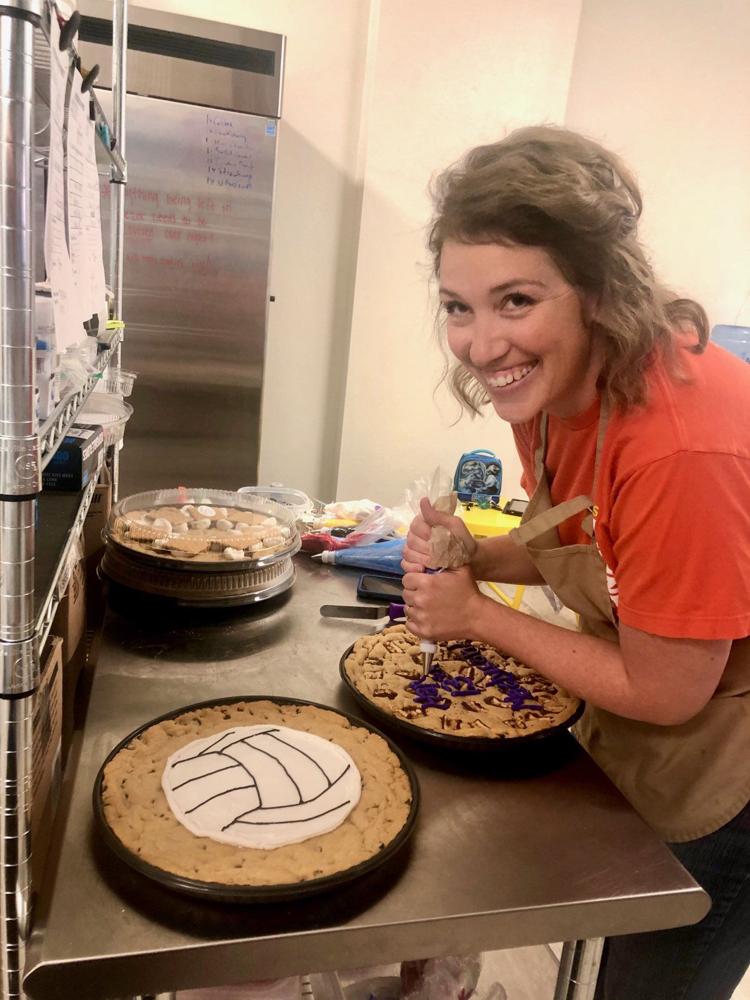 A happy meeting after the Frontier Days Pancake Breakfast brought cookie decorator Melanie Nichols to the Mary's crew. "Our sons play football together, and now she's our decorator. She is so amazing! She can do anything," said Brady. "I don't know what we'd do without her."
Initially, a visit to Mary's mountain Cookies in Fort Collins gave the Brady's the idea to open in Cheyenne. "Mary has been so helpful with us, and we love her product. And we love her. When they say 'baked with love,' they really are. Nobody has time to bake anymore, so you want that home-baked, fresh cookie. We bake them fresh every day.
A bulletin board full of donation requests hangs in the kitchen of Mary's. "We get about five donation requests per day. Being the only cookie shop in town, we have learned to have a budget and pick and choose – otherwise we'd go under – although we'd love to help everyone," she said. "Being a former teacher, I get it." Still, they find a way to help out when they can. In December, they are giving cookies to Airman's Attic, Christmas Eve Serving at the Depot, Thankful Thursdays, and the Children's Holiday Tea at the Governor's Mansion.
Mary's Mountain Cookies is located at 315 W. Lincolnway. Call them at (307) 514-0404, or stop by Mon. – Thurs. 10 a.m. – 8 p.m., Fri. and Sat. 10 a.m. – 9 p.m., and Sun. noon – 4 p.m. Check their website at marysmountaincookies.com.