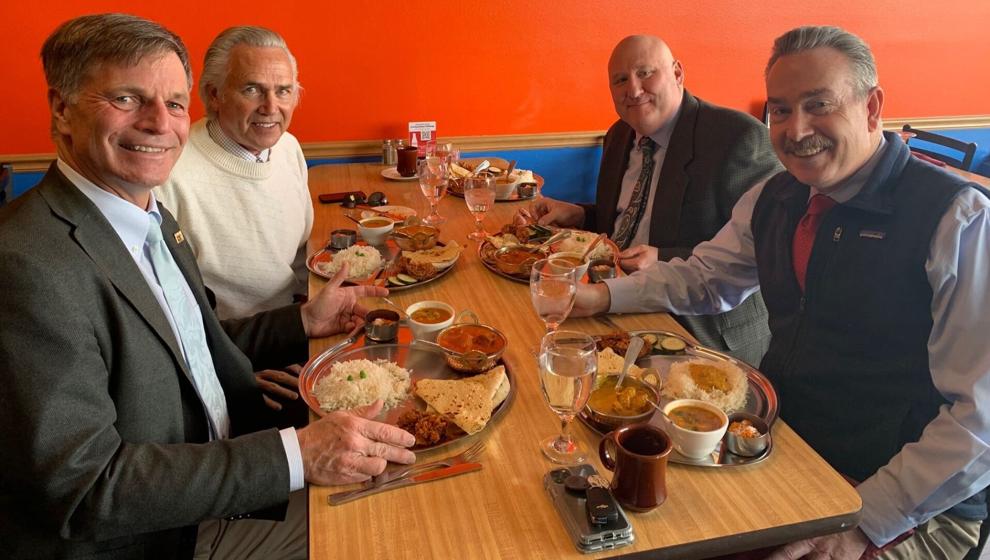 Local and state leaders encourage support of dining out and merchants
Local leaders are encouraging the community to get out and support local merchants and restaurants.
For the second week in a row, in an effort begun last week by Cheyenne Mayor Patrick Collins at the Diamond Horseshoe Cafe, he invited Wyoming Governor Mark Gordon, Cheyenne Councilman Mark D. Rinne, and Greater Cheyenne Chamber of Commerce CEO Dale Steenbergen to lunch. Collins asks the entire community to dine out and support all merchants.
The second luncheon took place on Friday, March 26, at Durbar Nepalese and Indian Bistro in Cheyenne. The Bistro features authentic selections from Nepal and India with perfectly blended spices on entrees like Butter Chicken or Coconut Curry with chicken, fish, or shrimp.
"A wonderful lunch, warm hospitality, and a productive meeting today at Durbar Nepalese and Indian Bistro - Cheyenne," Gordon said in a social media post.
"It was a busy meeting, and a delicious one," the Greater Cheyenne Chamber of Commerce said in reply to Gordon's post. "Thanks, Durbar Nepalese and Indian Bistro, and thank you, Governor Mark Gordon, Mayor Patrick Collins, and Councilman Mark D Rinne, for supporting our local businesses! Don't forget to support yours this weekend!"
The leader's encouragement of dining out and supporting local business coincides with the launch next week of Cheyenne Restaurant Week, presented by Visit Cheyenne. It's Seven days of your favorite restaurants, breweries, and specialty shops, (and those you've always wanted to try), offering special menus at a special price! It runs from April 4 through 10.
Cheyenne Restaurant Week is also partnering with Jennie Gordon, Wyoming's First Lady, on her platform The Wyoming Hunger Initiative. If you want to make a donation to the Wyoming Hunger Initiative during Restaurant Week, visit this website: https://visitcheyenne.givingfuel.com/discover-cheyenne
More information about Cheyenne Restaurant Week can be found at this website: https://www.cheyenne.org/restaurantweek/ and the social media handle is #DINECHEYENNE.