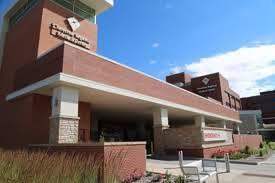 Cheyenne Regional Medical Center is hosting its fourth annual community stroke symposium on May 15, 9 to 10:30 a.m. Due to the pandemic, the symposium will be held virtually to ensure social distancing and the safety of participants and presenters.
Titled "Take Charge. Overcome Fear," this year's symposium will focus on stroke risks and management, including presentations on hypertension by CRMC Neurologist Dr. Tracie Caller; atrial fibrillation by CRMC Cardiac Electrophysiologist Dr. Jason Rytlewski and post-stroke mental health by a Swedish Medical Center physician.
Two video testimonials from stroke survivors will also be presented.
A question and answer session with a panel of experts will follow the presentations and testimonials.
"Stroke is one of the leading causes of death in the United States, and we are increasingly seeing strokes in younger and younger people," Dr. Caller said. "Awareness and education are crucial in promoting the reduction of risk factors and encouraging community members to actively take charge of their health and well-being with the goal of preventing strokes."
Also known as a brain attack, a stroke occurs when a blockage stops the flow of blood to the brain or when a blood vessel in or around the brain bursts.
According to the U.S. Centers for Disease Control and Prevention (CDC), more than 795,000 Americans suffer a new or recurrent stroke each year. On average, a stroke occurs every 40 seconds. Strokes are also a leading cause of serious long-term disability in the United States, costing an estimated $46 billion each year in healthcare services, medications and missed days from work.
Common risk factors for a stroke are atrial fibrillation, hypertension, high cholesterol, diabetes, smoking and obesity. According to the CDC, one in three U.S. adults has at least one of these conditions or habits.
It is recommended that people use "BE FAST" to help identify the warning signs of a stroke:
Balance: Sudden loss of balance.
Eyes: Sudden loss of vision or double vision.
Face: Uneven or drooping smile.
Arms: One arm is weak or numb.
Speech: Slurred or jumbled speech.
Time to Call: Call 911 right away.
Symposium registration is available online at cheyenneregional.org/strokesymposium or by calling 307-633-7645. The $10 registration fee will be used to promote stroke awareness in Laramie County.