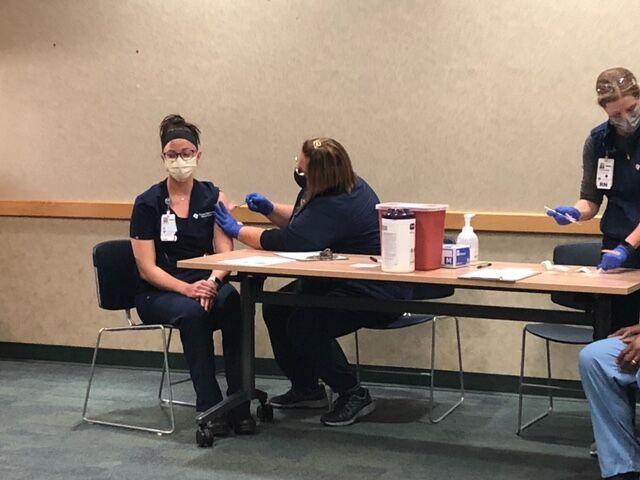 As of Tuesday, Wyoming had received, 25,775 doses of vaccines from Pfizer and Moderna (8,775 Pfizer/17,000 Moderna), but only 8,928 Wyoming residents had been vaccinated. 
Vaccines are being administered at Wyoming hospitals, public health nursing offices, and county health departments. They are being distributed based on designated groups, according to a 49-page vaccination plan from the Wyoming Department of Health.
The first people to get the vaccines, Group 1a, are healthcare personnel involved in treating Covid-19 patients, or who may come in contact with those patients. The group also includes staff at long-term care facilities, law enforcement, home healthcare providers, school nurses, and pharmacy staff.
Kim Deti, spokesperson for the Wyoming Department of Health, said she does not have figures on many people fall into that category.
"I do not have this level of detail available," Deti said in an email. 
The vaccinations are not mandatory. "We encourage people get the vaccine but have no plans at the state to require it. It is possible that some employers could choose to make it a requirement but I haven't heard of that happening in Wyoming at this point," Deti's email said.
The Health Department's Vaccination Plan breaks the program into four phases. Under phase 1a, there is a limited supply of doses. Vaccinations will be given to "Healthcare personnel (paid and unpaid persons serving in healthcare settings) who have the potential for direct or indirect exposure to COVID-19 patients or infectious materials are included in this group," according to the document.
The next phase, 1b, still assumes a limited supply of doses, but expands the number of people receiving the shots. 
"Phase 1b critical populations may include people at increased risk for severe illness from COVID-19, including people with underlying medical conditions who possess risk factors for severe COVID-19 illness, people 65 years of age and older (including those living in long-term care facilities), people at increased risk of acquiring or transmitting COVID-19, or people with limited access to routine vaccination services, and non-healthcare essential workers," the plan said.
Under Phase 2, a greater supply of vaccines will be available.
"Phase 2 critical populations may include additional critical workers, people with underlying conditions, those in congregate settings, and people with limited access to vaccination services. As more vaccine doses are available later in Phase 2, the vaccine will be provided to all people that are recommended to receive the vaccine," the plan said.
Phase 3 assumes there will be adequate supply and less demand, because most people who will need or want the vaccinations will have received them by then. Vaccinations will be widely available at that point.