Gathering together in the pre-dawn hours on Aug. 2, the Cheyenne Sunrise Lions Club breezed into the North Cheyenne Community Park to hold their 28th annual Ride For Sight event.
Co-sponsored by the Cheyenne Eye Clinic, the bike ride raises funds for vision conservation and restoration and other Lions projects.
Due to uncertainty raised by the COVID pandemic, planning for this year's event was delayed. Even so, 80 riders  made it out to participate.
Bike riders had their choice of 10-mile, 20-mile, 50-mile, or 100-mile routes, or 50-kilometer and 100-kilometer routes. The routes all started at North Cheyenne Park and headed towards Horse Creek, Wyoming, then returning to the North Cheyenne Park. Sunrise Lions, assisted by members of the Cheyenne Noon, Cheyenne Frontier, and Pine Bluffs Lions Clubs, staffed five rest stops along the course.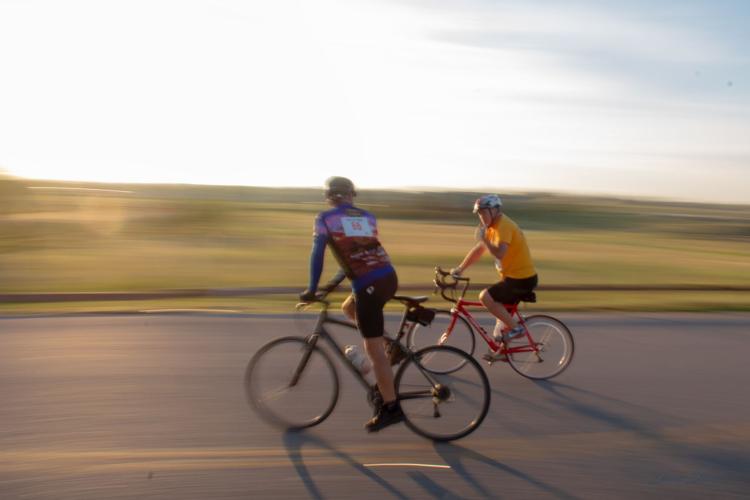 In addition to the main Ride For Sight, 20 riders of all ages pedaled together in the Family Ride, which started at Cahill Park and proceeded 10 miles along the Cheyenne Greenway.
"We want to thank all of our riders for coming out to ride this year," Sunrise Lions President Jim Landon said. "They all were able to social distance and enjoy a beautiful day on the high plains of Wyoming. We also thank all of our generous sponsors who make the ride, and the projects it supports, possible."
Project chairman Lion Jim Reynolds said his group will use proceeds to help along various efforts. "Among them are the Lions Clubs International Foundation, the Lions of Wyoming Foundation, the Allen H. Stewart Lions Camp on Casper Mountain, the Rocky Mountain Lions Eye Bank, the Rocky Mountain Lions Eye Institute Foundation, the Cheyenne Lions Vision Committee, local food pantries, and many others," Reynolds said.
The Sunrise Lions already are planning the next Ride For Sight for Aug. 8, 2021.