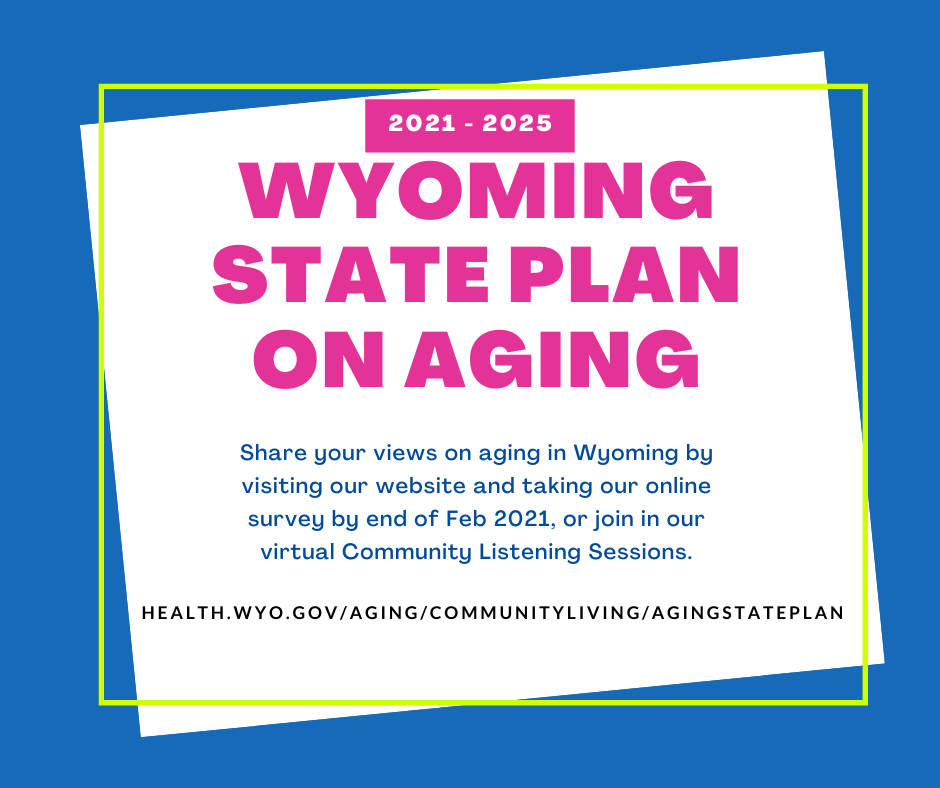 The Wyoming Department of Health, Aging Division would like to invite you to provide feedback on the needs of older adults and their care partners in Wyoming. Your participation will provide information that will be used to develop the Wyoming Four-Year State Plan on Aging for 2021-2025. This document not only is essential for federal funding of Wyoming support programs for older adults, but also provides a statewide strategy to help organizations understand the goals of older adults and the challenges they face.
Specifically, prior research has identified the preference of people to continue living in their homes and communities as they age rather than transition to nursing homes or assisted living facilities. Our goal is to evaluate the State's capacity to support these goals and uphold necessary nursing homes and assisted living facilities. Your comments are very valuable to us, and we appreciate your time in assisting with this important project for Wyoming. 
Participation can happen in one of two ways:
First, we have an online survey. This survey is voluntary and will not negatively affect delivery of services for your communities. We welcome everyone's comments, and we are specifically interested in comments from older adults and those who care for and support them. Please complete your response by the end of February 2021. The link can be found at our website, along with further details about State Plan on Aging.
Second, you can join one of our Community Listening Sessions by your nearest region. These will be held virtually on the Zoom platform and are free to attend. No signup to Zoom is necessary to participate. The links to each Zoom session can be found at our website, along with further details about State Plan on Aging.
Visit us at: health.wyo.gov/aging/communityliving/agingstateplan for extra details and joining information for the Community Listening Sessions and a link to the survey. Thank you.