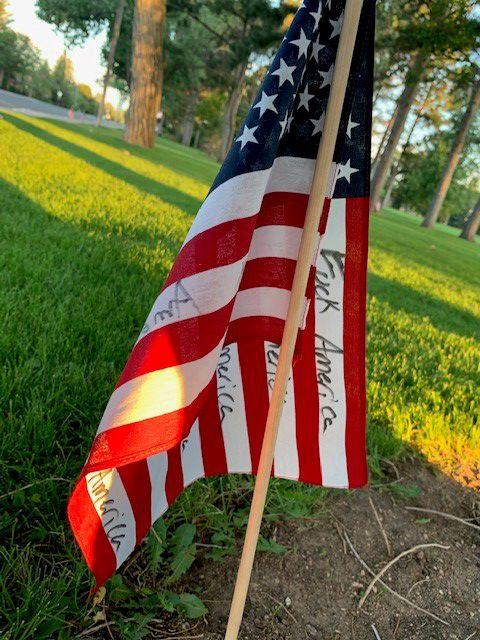 (This article contains profanity and images that may be disturbing)
CHEYENNE, WY - Vandals desecrated and wrote messages on American flags that lined W. 8th Avenue and Carey Avenue around Lion's Park in Cheyenne, ahead of the July 4 fireworks display set for the park at sunset today.
The flags were placed there by #1 Properties in celebration of the 4th of July. The company has been placing flags in Cheyenne for over ten years. On social media earlier this week, #1 Properties said, "For more than ten years, it has been our pride and privilege to honor Independence Day by placing 5,000 U.S. flags 🇺🇸 along the streets of our community." About 50 volunteers placed the flags over the past several days, and the cost of the flags is estimated between $8,000 and $10,000.
Witnesses told The Cheyenne Post that the flag desecration was noticed during early morning walks in the park. By 9:00 a.m., all of the flags had been removed. It is not known who desecrated the flags, or who removed them. 
The messages on the flags were written in what appeared to be black ink markers. Some of the messages read, "Fuck America", ACAB," which is an acronym meaning "All Cops Are Bastards (or Bad)", "Fuck Trump", "Lynch all Racists", "No Justice, No Peace".
If you have any information, have a tip, or witnessed the flag desecration you may contact the Cheyenne Police Department dispatch center at 307-637-6525.
This is a developing story. Check back for updates. 
Scroll down for more images.