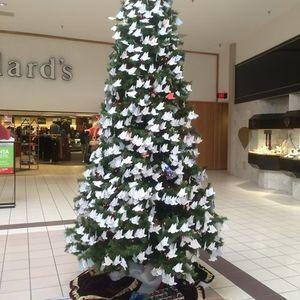 Community Members Can Still Request Paper Doves to Place on the Tree
Due to the widespread prevalence of COVID-19 in Laramie County, Cheyenne Regional Medical Center Hospice and the Cheyenne Regional Foundation have canceled their annual Tree of Remembrance lighting ceremony.
This would have been the 25th year for the ceremony, which allows community members to remember or recognize loved ones by placing a paper dove on the tree. The ceremony is typically held inside Frontier Mall on the first Saturday in December.
Paper doves are still available for community members who would like to have a dove placed on the tree, which will be set up in the Davis Hospice Center lobby in early December.
Hospice and Foundation staff will place the doves on the tree on behalf of community members, as the hospice center is not open to the public due to COVID-19.
"While we cannot open the Tree of Remembrance to the public this year due to COVID-19, our Hospice and Foundation staff still wanted to find a way to continue this tradition, which has come to mean so much to our community and our employees," said David Stratton, CRMC's hospice chaplain.
The Foundation will post updates on its Facebook page as doves and messages of remembrance are received and placed on the tree throughout the holiday season.
Paper doves are available by calling the CRMC Foundation at (307) 633-7667 or by going to the Foundation's website at cheyenneregional.org/location/cheyenne-regional-foundation/.
"The pandemic has changed so much about how we can safely celebrate and commemorate our families and friends," Stratton said. "Our hope is that we can still provide a meaningful way for our community to 'come to the tree' by allowing them to write messages and having them placed on the tree by our staff."
There is no cost to place a dove on the tree, although a donation in memory or honor of a loved one can be made to the CRMC Foundation through its website, with all proceeds to be donated to CRMC Hospice.
The last day to have a dove placed on the tree will be December 24.