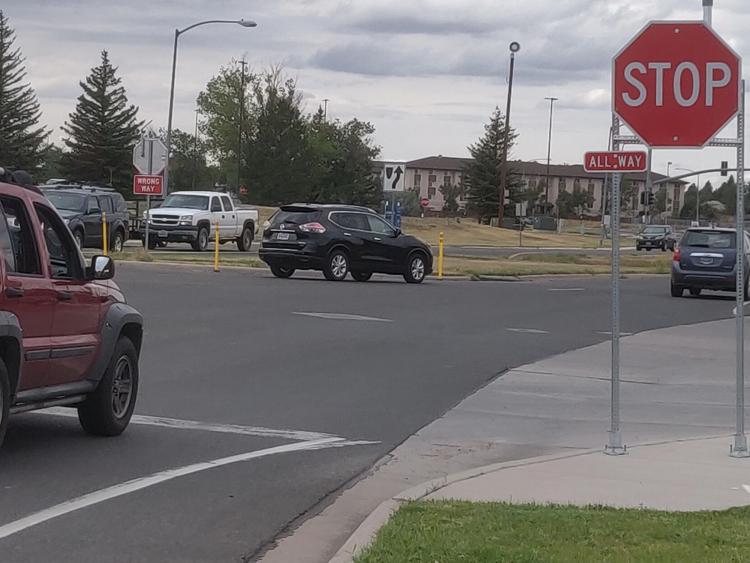 The Cheyenne City Council has given the green light for a new roundabout.  It will be located behind Frontier Mall, at the intersection of Prairie Avenue and Frontier Mall Drive.  A four-way stop is currently in use at the intersection. 
Simon Contractors, of Cheyenne, won the $1.339 million contract for the construction of the intersection project, with a bid of $1,339,846.50. Upon awarding of the bid, work on the project was set to start immediately.
The newly inked construction contract could be following a trend. According to Cheyenne Metropolitan Planning Commission's website, more roundabouts are being built by state transportation departments and local communities. One reason: Studies comparing signalized intersections have shown that roundabouts are safer and reduce travel delays. They are also not as costly to maintain as a typical stoplight intersection.
"Right-of-way requirements, in total, are typically similar to that required for improved signalized intersections. Construction costs are approximately the same," CMPC's website says. "Annual maintenance and operating costs are typically less than signalized intersection costs. Roundabouts are designed to specifically accommodate large trucks."
Construction of the project will be performed by Simon Contractors. HDR  performed preconstruction design work.
Cheyenne has several existing roundabouts, including the busy one at E. 19th St., E. Pershing, and Converse Ave. That roundabout intersection was built several years ago.  Others are located at Vandehei and I-25 and in front of South High School.  Another roundabout is part of the new East High School.
Cheyenne's Converse Avenue roundabout was not an obvious choice of intersection design for everyone.
"I was skeptical of our first roundabout… But it has worked well," Councilman Pete Laybourn said.
According to Safe Streets Cheyenne's website, motorists should not hate roundabouts. "When used correctly, roundabouts have been proven to reduce collision severity, reduce traffic delays, improve overall traffic, reduce emissions, reduce electricity use, and to increase greenspace," SSC's website states.
Safestreetscheyenne.com has an informational page on roundabouts. It provides several tips for drivers encountering roundabouts.
Drivers should mind the merge, and wait for a gap in traffic, then enter the roundabout. Drivers should proceed slow and steadily, because roundabouts are most efficient at speeds of 20 miles per hour or slower. If a driver is heading straight or right, the driver should choose the right lane. And if a driver is heading left, going straight, or needs to turn around, the driver should choose the left lane.