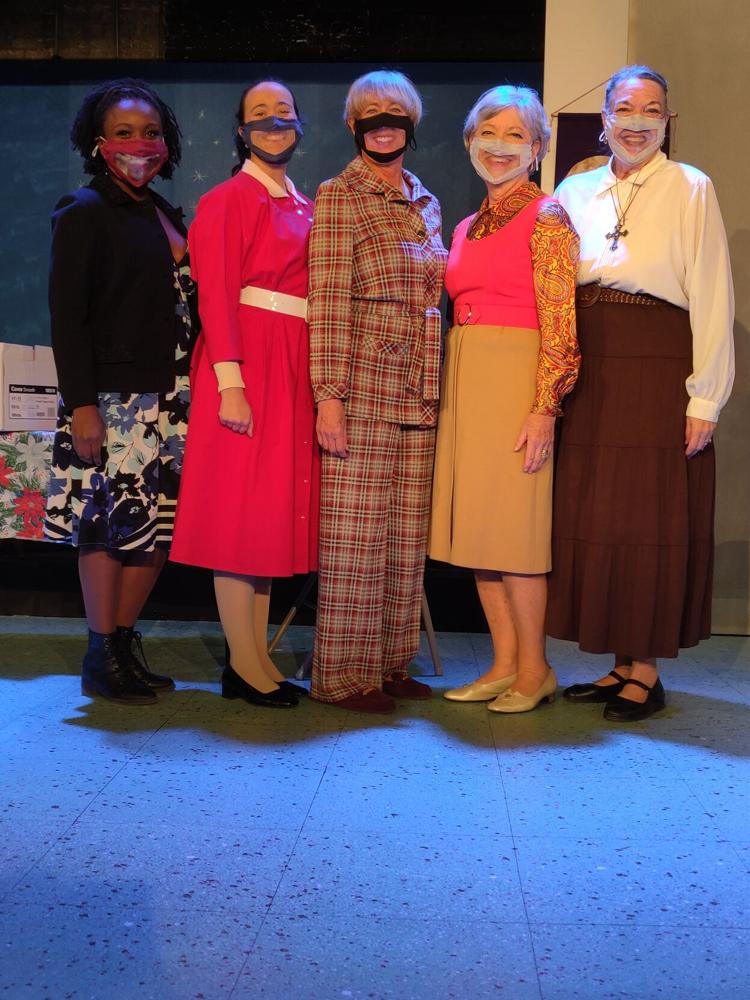 Baby Jesus has been stolen from the church's nativity scene, and to save their annual Christmas extravaganza, the church ladies switch into detective mode. That fun narrative is the whimsical plot of Cheyenne Little Theatre's upcoming production of the Charitable Sisterhood Christmas Spectacular.
"It was a very funny script and [assistant director Mary Hall] and I both liked it a lot and thought that's just what we need for Christmas. A little bit of laughter, a little bit of hope, a little bit of joy, a little bit of fun," said Cathie Chadwick, the director of the show.
There are five women in the cast. Judy Schulz plays Bea Littleton.
"She wants to win a contest about her nativity scene. Someone steals Jesus from her, so she steals Joseph and she's just kind of… that focus has gotten blurred there about what you're supposed to be thinking about," Schulz said. "I like her, because she's not evil. She's got a kind heart. She has Christmas in her heart."
Lorraine Brown-Bassett plays Tina Yates.
"She comes back from vacation and finds everything around the Christmas Pageant is all mixed up and things aren't ready. She just comes in and flounders her way through. It's fun," Brown-Bassett said.
Rita Basom said her character learns a lot.
"Lucille is a lot of fun and she makes some big changes during the show. She's not the same person at the end as she is when your first meet her in the beginning," Basom said.
Due to concerns over the possible spread of COVID-19, Cheyenne Little Theatre is taking extra precautions. The cast has been wearing masks during rehearsals and will be wearing masks during the performances. The masks are designed to let you see their mouths.
"We have reduced audience sizes. We are cleaning before you get here, during intermission, and after the show. We have all of those protocols in place. Everyone will wear a mask," Chadwick said.
Despite the pandemic, the cast and crew want audiences to take a break and enjoy the Christmas season.
"The whole purpose of the show is joy and Christmas spirit and togetherness and understanding. To enjoy the show, you've just got to be ready to have some Christmas spirit thrown in your face," said Julia Preston-Fulton, who plays Lorraine in the show.
The Charitable Sisterhood Christmas Spectacular opens Friday at the Atlas Theatre and runs weekends through Dec. 20. Tickets can be bought at www.CheyenneLittleTheatre.org.