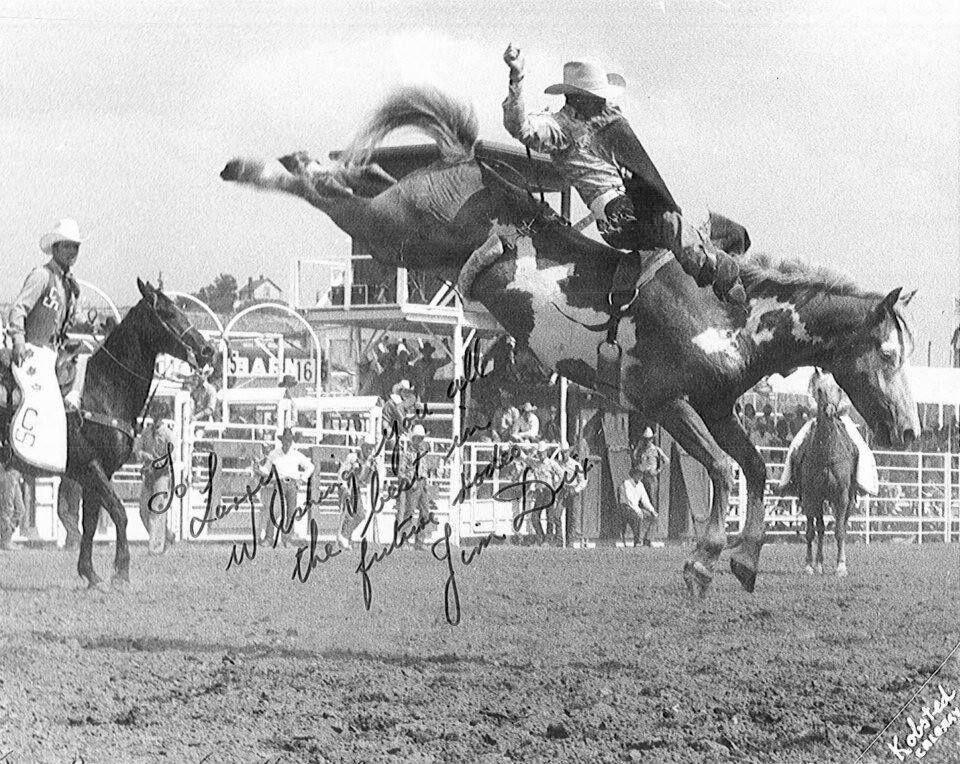 Rodeo is a very physically demanding sport, where mental toughness is as important as physical grit, and all its athletes are far from soft.
But among those competing in this uniquely American sport, bareback riders may be the toughest. A veteran of the sport is memorializing the greatest competitors to dominate bareback, with a national hall of fame and an Arizona-based museum being filled with artifacts including dozens of old riggings.
Jim Liles, of Congress, AZ, singlehandedly began this effort in January 2020, but he just named the National Bareback Riding Hall Of Fame's first nominee for induction  into the hall—Jimmy "Digger" Dix, who won many titles, including at Cheyenne Frontier Days.
Known as the Australian Legend Of Rodeo, Jimmy qualified nine consecutive times to the National Finals Rodeo here in the U.S from 1969 thru 1977, and was the first Australian to carry the flag of his country at the National Finals. He finished second, twice, to the legendary Joe Alexander, and in addition to Cheyenne Frontier Days, he also won titles at the Calgary Stampede and four times in Salt Lake City, according to Liles, age 77.
Liles got into the sport as a young man after his brother started into rodeo, and was hooked from the beginning.
"Bareback riding was just a tremendous thrill. I truly enjoyed it," said Liles, who competed in rodeo for 20 years (including competing in 60 rodeos one year).
It bears noting that broken bones and more serious injuries are common in rodeo, but especially common in bareback riding. As in any sport, injuries can stall or reverse an athlete's progress, or end his career, so to compete well for very long in this event says a lot in and of itself.
"Bareback riding is the toughest event in rodeo," Liles said. "It is the hardest event on your body in the sport of rodeo—on your arms, your back, and your knees."
Much of the push behind this one-man effort to memorialize rodeo's toughest athletes is Liles' recognition that bareback riding's popularity is waning.
"The event is fading—the cowboys aren't as tough as they used to be. This is an effort to memorialize what this event has been in history. My oldest rigging goes back to 1911," Liles said.
Riggings themselves have changed over the years, and those changes are evidenced in the growing collection of them Liles has put together. He intends to find a new home for the museum, somewhere other than Congress, AZ. There will be an official hall of fame induction ceremony for both nominees, later this year, he said.
The group's second nominee is Jan Youran, just an Idaho girl who grew up to be one of the top cowgirls in the history of women's rodeo. Jan's storied career included five World Champion Bareback titles, many all-around titles, and of course, also her share of broken bones.
"Such great champions such as Lane Frost and Bruce Ford were known to pull her riggin' on many occasions. In 2006, her grand-daughter beat her out by one place for the championship, and that was her last rodeo of an unprecedented 51-year career," Liles said.
For more information on the National Bareback Riding Hall Of Fame, visit www.rodeobbhof.com.