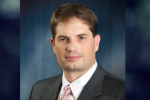 Boyd O. Wiggam of Cheyenne, filed to run for a Ward 2 seat on the Cheyenne City Council.
"I grew up in this community and we are raising our children here." said Wiggam. "I want to use my background and education in economic development planning, public policy, and law to serve Cheyenne in these challenging times while working expand opportunities for all residents."
Wiggam is a fifth generation Laramie County resident and lives in Cheyenne with his wife and children.  He works as an attorney at Olsen Legal Group, LLC and has previously served on various citizen committees for planning organizations in Cheyenne and Laramie County.
"I am running because this community faces immense challenges, but also possesses tremendous potential.  I want to do my part to help the City meet this difficult time responsibly and with a focus on our bright the future." said Wiggam.  "We need more job opportunities and housing options for people who want to live and work here.  I believe the best way to accomplish that is to concentrate on the City's budget and core competencies like infrastructure and public safety while working to reduce regulations that limit job creation and housing options.  I will also work to make the City more responsive to its residents and to cooperate better with partners throughout the Greater Cheyenne area."
Wiggam is a graduate of Burns High School, the University of Wyoming College of Agriculture, and the School of Law at the College of William & Mary.  He also studied Economic Development Planning as a graduate student at the University of Nebraska-Lincoln.