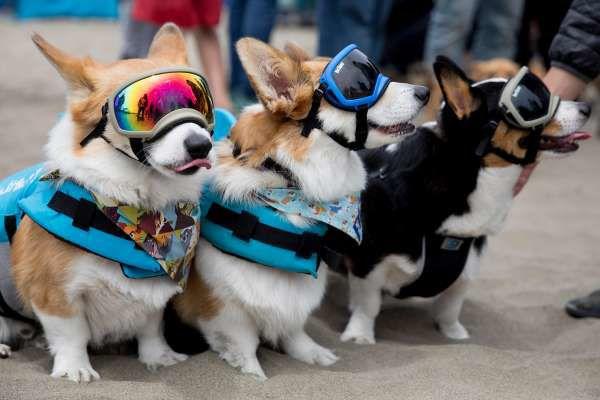 Registration is now open for the 2ND Annual Corgi Derby hosted by the Cheyenne Animal Shelter (CAS) and Pine Bluffs Distilling, 322 N Beech Ave Pine Bluffs on Saturday May 2.  The Cheyenne Animal Shelter invites everyone to join them on Kentucky Derby day for their very own races with Corgis. Come dressed in your best derby attire, the bigger hat, the better.
Dog costumes are also welcome. Prizes will be given to both humans and furry friends for "Best in Show".  Food trucks on site and drink specials that highlight Pine Bluffs Distilling's famous spirits will be offered throughout the day. A donation of $1 from every drink purchased will be given to the Cheyenne Animal Shelter.
Due to the popularity of last year's event, the CAS has added even more fun to the day. In addition to doubling the Corgi registration limit. The winner of the Corgi Derby will receive a special Corgi trophy. A Mutt round has also added to the race. The Mutt round participants cannot qualify for the ultimate Corgi trophy, they do qualify for bragging rights and possibly another great prize.
Also new this year is a Corgi Calcutta, complete with a Bloody Mary bar, which begins at noon the day of the race. The money raised from the Calcutta will be split between the highest bidder and the Cheyenne Animal Shelter.  A dog-themed vendor shopping area for all your furry friend shopping needs and a "Millionaire's Row "seating area, has also been added to the event. The VIP seating area allows for the best view of the races and comes with a free drink. Tickets are $25, seating is limited, so purchasing early is strongly recommended.
To register for the races go to https://app.donorview.com/R9brV. Well-behaved and potty-trained dogs are welcome at the distillery during the event. Lawn chairs are also encouraged. For additional information contact Haylee Chencar, Cheyenne Animal Shelter Marketing Director, at hchenchar@caswy.org.