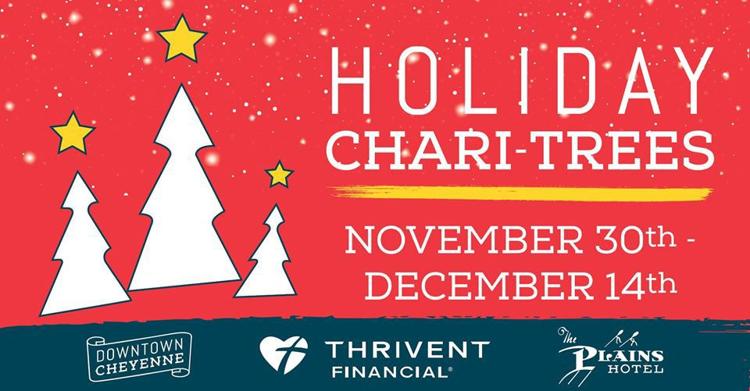 The Cheyenne Downtown Development Authority, in partnership with Thrivent Financial and the Plains Hotel, is announcing this year's free Chari-Tree event in downtown.
This is the second year for this special holiday event focused on a wide variety of Cheyenne nonprofits. Each participating organization will decorate a special tree that may be auctioned off through a silent auction format or can be used for awareness-building and/or donations.
This year's two-week Chari-Tree event will be held in the event hallway of the Plains Hotel that fronts on Lincolnway. Organizations will be busy on Tuesday before Thanksgiving decorating their unique holiday trees. The two-week Chari-Trees event will be open to the public on Shop Small Saturday, November 30th and will run through Saturday, December 14th.
Dan Dorsch, of Thrivent Financial, has been spearheading the event by providing outreach to potential participating organizations as well as the trees and lighting. Astrid, owner of the Plains Hotel, has donated her lobby space for the two-week event.  
Astrid said, "We cherish our citizens and this community. Having the opportunity to showcase these charities right along the Lincoln Highway is the perfect high-visibility exposure for this generous season and community." It was Astrid who came up with the concept for this event last year, and she is helping promote and assist with the event.
Organizations that will be creating trees for this year's event include: the Boys & Girls Club, COMEA, St. Joseph's Food Pantry, Equal Justice Wyoming Foundation, Unaccompanied Students Initiative, DDA Foundation, Habitat for Humanity, Safehouse, K9's 4 Mobility, Needs Inc., Cheyenne Day of Giving, Children's Museum of Cheyenne, Wyoming Breast Cancer Initiative, Re-Peak, Family Promise, The Lincoln, Donate Life Wyoming, Cheyenne Family YMCA and the Cheyenne Animal Shelter.
Winners of trees through the silent auction will be able to pick up their trees or have them delivered the following week, in plenty of time for Christmas.
For more information on the Chari-Trees event, contact the DDA office at 307-433-9730 or at dda-admin@downtowncheyenne.com.