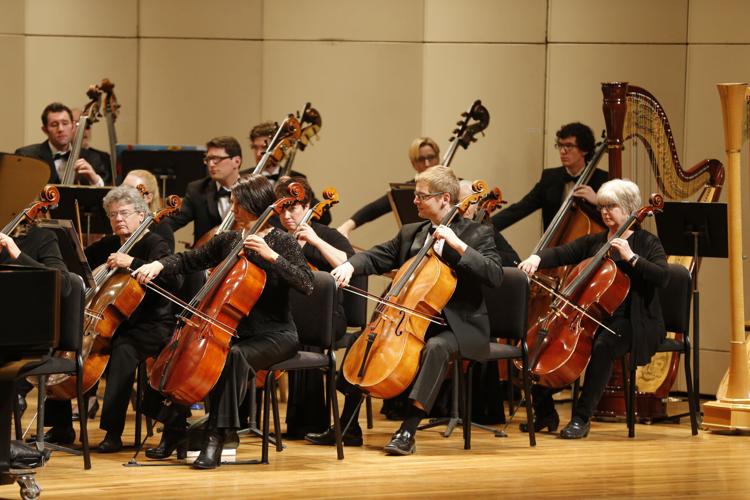 In one way or another during a very short period, everyone has been impacted by the COVID-19 pandemic. 
The effect might be near and dear, when a loved one passed away from the illness. Or, the pandemic may have had more of an indirect effect on you, through losing work or missing events due to businesses being closed. 
Cheyenne Symphony Orchestra being affected by the virus isn't unique, but its challenges are extraordinary. The pandemic effect hit the group early on, causing it to postpone the "Mahler and Beethoven" concert planned for late March. That performance now will occur in August, with a matinee and evening concert.  
Cheyenne Civic Center's new seating plan factors in enough space to allow for social distancing during concerts.  
Since the orchestra sold 800 tickets for the "Mahler and Beethoven" show, those ticket holders will be divided into two groups of 400 for those concerts, CSO executive director Lindsey Reynolds said. 
The civic center will have other health guidelines instituted that will slightly change the flavor, if not the tenor, of performances. One of the new safety codes at the civic center will require the strings and percussion players, and music director William Intriligator, to wear masks.  
Although only the original ticket holders will be able to attend the "Mahler and Beethoven" concerts in person, CSO will offer a ticket to live stream the 7:30 p.m. show on Aug. 8.
"We're doing our best to follow the guidelines," Reynolds said. "It's been a work in progress for sure, but I'm glad we're able to do this show in August and see how it goes and make adjustments as needed." 
After the "Mahler and Beethoven" concert was postponed, CSO leaders thought that maybe life would quickly return to normal. The orchestra was going to perform its much-anticipated concert in mid-April, during which the performers would have played alongside a screening of "Raiders of the Lost Ark"  But, the event also was postponed. 
"That show usually requires 95 musicians on stage," Reynolds said. "We've amended it to have [around] 50 players and while we originally planned to have 'Raiders' in September, it's looking like that type of show still won't be possible by then. We don't want to compromise the artistic integrity of a performance just to have it sooner." 
The "Raiders of the Lost Ark" show now will be performed on June 12, 2021. The concert planned for May also has been postponed, with a new date to be announced. The first CSO concert that will again be open to the public will be sometime in October, a date that will be finalized soon.  
Reynolds said the pandemic has been frustrating on the planning side for CSO, as the organization already had finalized its 2020-21 season before the pandemic hit. CSO officials had to completely reprogram this season, making amendments for both a limited audience and smaller orchestra. The possibility of bringing in guest musicians also became a hurdle, due to concerns about spreading the virus.  
"We're going to do some smaller events that have been reprogrammed to fit a smaller orchestra and musical repertoire for them," Reynolds said. "The orchestral repertoire is so varied that there were plenty of options to choose pieces that would fit our limited size." 
Reynolds is thankful that the performances were only postponed, rather than canceled. One positive aspect of the pandemic was that CSO was able to move its schedule back by a year, allowing more time for planning and organizing. The orchestra is planning to return to a traditional-size orchestra in January.
"We're actually really pleased we've had the opportunity to do these smaller performances," she said. "It still fulfills our mission of presenting this orchestra to the community. I'm glad we're in a position to do that. I feel like if we can offer concerts, we should."