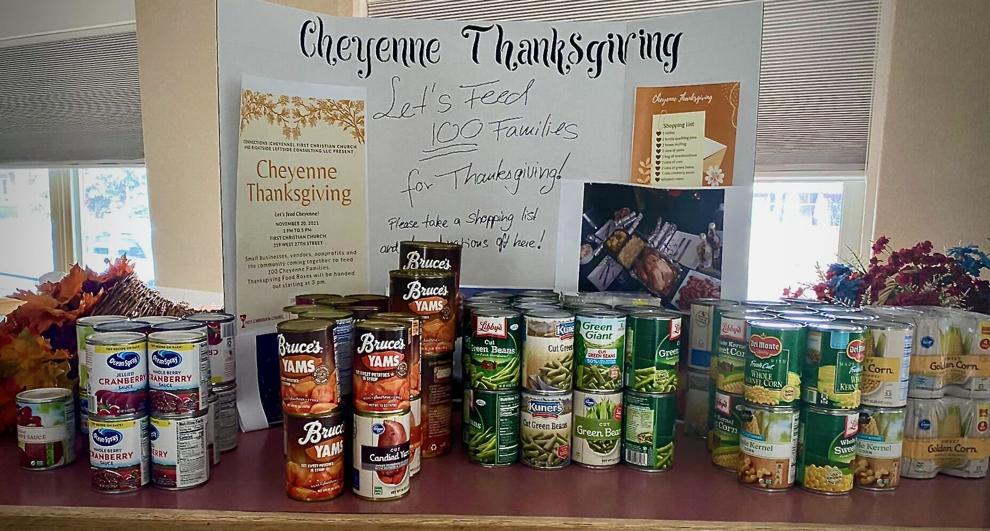 First Christian Church helps people with Thanksgiving Dinner.
Volunteers and community members from First Christian Church (DOC) Cheyenne purchased food with donated money, collected items from donation locations, and assembled boxes benefitting the public at its first annual Cheyenne Thanksgiving, Saturday, November 20.
Administrative Assistant and Youth Pastor Susann Robbins said the boxes had lots of great items.
"It had a turkey," she said. "I think the smallest one was 10 pounds, and the biggest one was close to 20 pounds." It had a bottle of sparkling juice, two boxes of stuffing, two cans of yams, one bag of marshmallows, two cans of corn and green beans, one can of cranberry sauce, one package of frozen whipped cream, and one pie. It also had gravy and chicken broth."
She said there are many "wonderful organizations around town," with regulations they must maintain to give to people.
"As a church, my personal business, Partners Connection Cheyenne, was involved, and we decided not to put in any regulations," she said. "If you're hungry and need a food box, you come and get one."
She said her company, Rightside Leftside Consulting LLC, is a year old, and people don't know they're around.
"As a former board member for the Friday Food Bank Foundation, someone who has always helped in the community, I always drive to be visible," she said. "That's the same idea Senior Pastor Aerii Smith has. We're both older millennials; we always want to give. It's also the essence of, First Christian Church. We have always been involved with the community when it comes to feeding, clothing, and sheltering people. We do monthly Comea Shelter meals; Comea started here, and Habitat for Humanity started in our building then went out on its own."
She said they housed Family Promise Families before Covid-19.
"Now that they have their own homes, we're still taking them meals," he said. "That has always been a mission of the church."
The church turns 100 in 2026.
"Many people still don't know where we're located," she said. "It's part of my drive, and we give to many non-profits, but sometimes people don't know who we are. I drive for visibility. I used to do vendor events, and I said, why don't we just cobble this. Some people pay for vendor spots here and know this will go toward food donations. We had several businesses and individuals who collected items. I got the church's youth involved; the Girl Scout Troop got involved, and it was a combined effort to give back to the community."
Robbins noted many people are a paycheck away from things going bad because of Covid-19.
"If we can make an impact that is good in the community, we're going to do that," she said.
The group had 12 extra turkeys after the event and donated them to the Comea Shelter.
"We often forget to stay humble and kind," she said. "I can't tell you how many times, especially as a single parent, I know how often single parents make the decision about whether they are going to feed their children or themselves. As a parent, I know for most of us, we're going to take care of our kids. I've been there, done that, and have lived on a $5 Footlong for two days. Good people helped me, and I want to pay it forward."
First Christian Church (DOC) Cheyenne is located at 219 West 27th Street and can be reached by calling 307-634-7878.