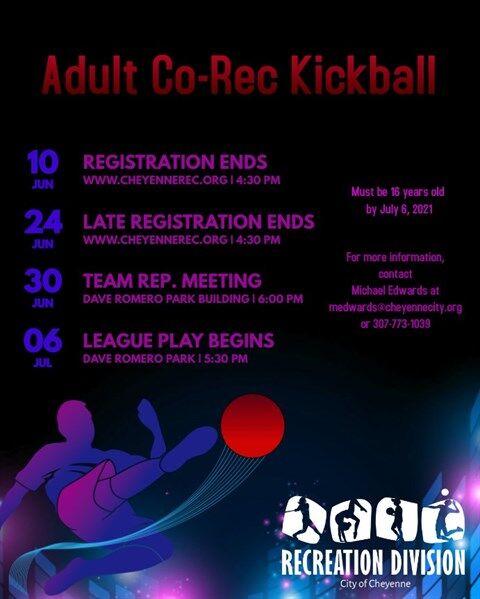 The City of Cheyenne's Recreation Division is happy to announce they are now accepting registrations for their 2021 Adult Co-Rec Kickball League!
League play will begin on Tuesday, July 6th at the Dave Romero Park fields (1317 Parsley Blvd.). Priority registration for the league will close on Thursday, June 10th with late registration running from June 11th through June 24th. The cost of the league is $150 per team, with up to 20 players on the roster. There must be at least seven players on the roster in order to register, and since this is a co-rec league, there must be at least three female (or male) players.
Teams are guaranteed six games plus a single elimination tournament to decide league winners!
Registration packets for the program are available at the Kiwanis Community House (4603 Lions Park Dr.), from 7:30 a.m. to 4:30 p.m. or online at www.cheyennerec.org. If you have any additional questions, please contact Michael Edwards at 307-773-1039 or medwards@cheyennecity.org.
The mission of the Cheyenne Recreation Division is to enrich the quality of life through providing cost effective opportunities for recreational activities, focusing on lifelong wellness through exceptional programs, activities, and events for all ages in the community.