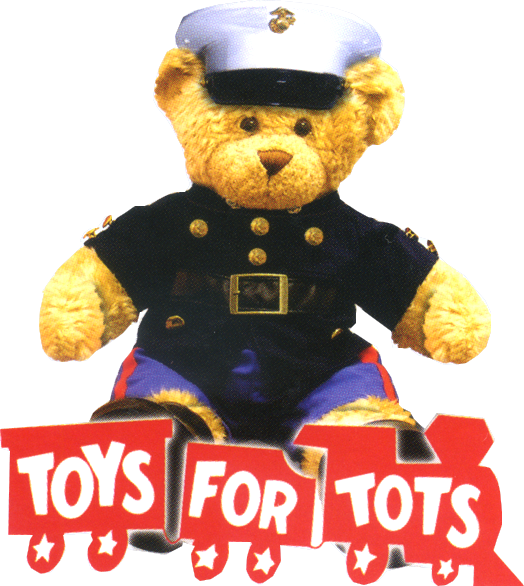 Local businesses and agencies are helping to spread holiday cheer this season by participating in the annual Toys for Tots drive. Donations of new, unwrapped toys will be accepted at any of the Toys for Tots drop off locations throughout Cheyenne until December 15. All donations will be picked up and distributed to local children.
Donations may be made at the Christmas Parade (the first parade entry for Toys for Tots will be collecting toys), or at any one of the following locations in Cheyenne:
Tyrrell Auto Centers, 2-Doors Down, Advanced Auto Parts ; AMVETS; American Legion Post 6; Black Hills Energy; DT's Liquormart; DT's Liquors; Blue Federal Credit Union (all three locations); 307 Fitness (both locations); Applebee's Restaurant; Beacon Hills Baptist Church; F.E. Warren Exchange; F.E. Warren Medical; Eagles Lodge; Bank of the West; NUVISION Credit Union (two locations); Frontier Mall at the Mall Office, USMC Recruiting Office, Railroad Club of Cheyenne; First Presbyterian Church; #1 Properties; Horse Palace; Home Spun Creations; Synergy Homecare; Jonah Bank; BSHC Law Group; Lowes; Menards; WY Trial Lawyers; Montgomery Broadcasting; Cheyenne Plaza on Lincolnway: Murdoch's, Sportsman's Warehouse; Orthodox Christian Church; Sports Clips; Perkins Restaurant; Primrose Retirement; Rhodes Law Firm; Some Like It Hot; I-80 Sapp Brothers Truck Stop; TA Truck Stop; T'Joes Steakhouse; Two Bar Bowl;; Veterans' Administration; VFW 1881; VFW 4343; Walgreens (both locations); Walmart Supercenter (both locations); State of Wyoming Departments: Agriculture, Legal Asst, Transportation, State Auditors.