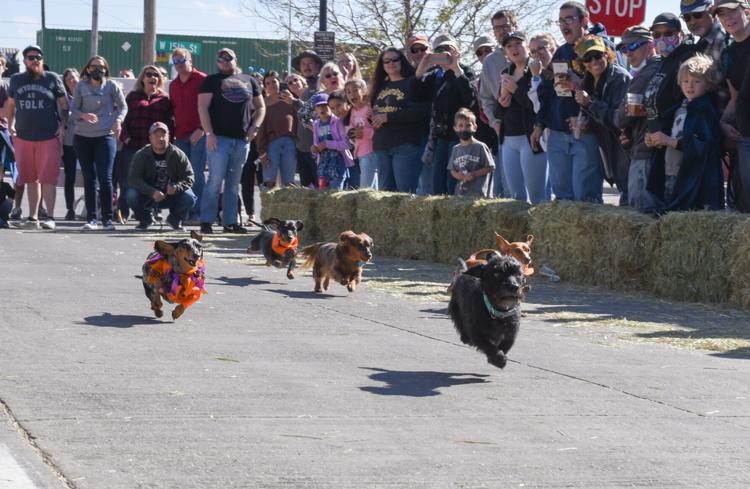 Dog lovers came out this past Saturday to celebrate the second-annual Dogtober Festival at Freedom's Edge Brewing Company, to raise money for the Cheyenne Animal Shelter while watching and participating in the annual running of the wiener dogs and dog costume contest.
This year 22 dachshunds raced down a hay bale lined racetrack for a coveted engraved beer stein from Trophy Creative. The day was not just for wieners, people were also encouraged to race their "mutts" for the cause, 7 mixed breeds entered the race. The entry fee was 25 dollars for the dachshunds and 10 dollars for the mixed breed races.
Participants dressed their furry family members in costume for the doggie costume contest. The 2 winners of the costume contest received a prize bag, compliments of FEBC. The bag included brewery merchandise, as well as coupons and certificates for local downtown businesses.
Music was provided by DJ Bee Virus aka James Kenney. Food trucks, Double Dubs and Los Conejos were both on hand to satisfy the hungry. The Cheyenne Animal Shelter had a tent set up so that festival guests could purchase Halloween costume for their furry family members. And vendor Anthology Albums was on hand with their one-of-a-kind photo albums and journals for sale.
The event was truly a team effort. To help make the event a success for the secondyear, Muriah Kilmer, taproom manager, and marketing and event coordinator for FEBC said, "We provided the closing of the street, finding the musical talent, scheduling the food trucks, while the animal shelter provided an army of awesome volunteers."
During the day, the brewery donated $1 for every pint sold of their seasonal Oktoberfest style beer named Fest Bier, a pale Munich style lager.
Ashley Christiansen, Cheyenne Animal Shelter's Director of Marketing said, "The money that was raised is used to offset the daily operational cost of running the organization which cares for nearly 6,000 pets per year." As of the writing of this story, the event had raised about $1,000.
Kilmer said, "As avid dog lovers this is one of our favorite days of the year and we look forward to bringing it all together for the community."
Christiansen stated, "Thank you to everyone who came and supported the shelter, our vendors, Freedom's Edge Brewery, Meridian Trust for sponsoring the event, and of course our volunteers!"