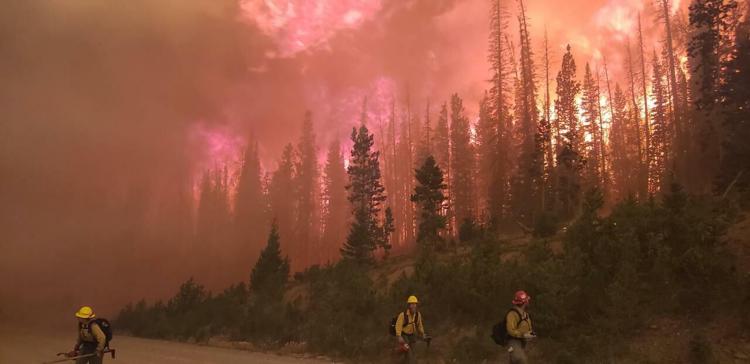 The Mullen Creek Fire west of Centennial exploded over the weekend, growing from 25,000 acres on Friday to over 80,000 acres by Sunday night. It is still burning out of control and is expected to continue to spread. Strong gusty winds contributed to the fire's growth. 
"We expected today to be a windy day. Our fire crews out on the line recorded a gust today of over 70 miles an hour. This fire is being pushed through heavy, dead, beetle killed forest at a rate that's just amazing," said John Peterson, spokesman for the U.S. Forest Service.
The fire is just 2% contained, but that's because firefighters are focusing on protecting structures and homes. "We are in a totally defensive posture," Peterson said. "We are not out there building lines to try and contain this fire. We are out there protecting homes and property, infrastructure like power lines," he added.
426 firefighters are battling the blaze, but Peterson said that number would increase as other fires in the west were contained. "We have people from North Carolina here, and we have people from throughout the country here," said Peterson.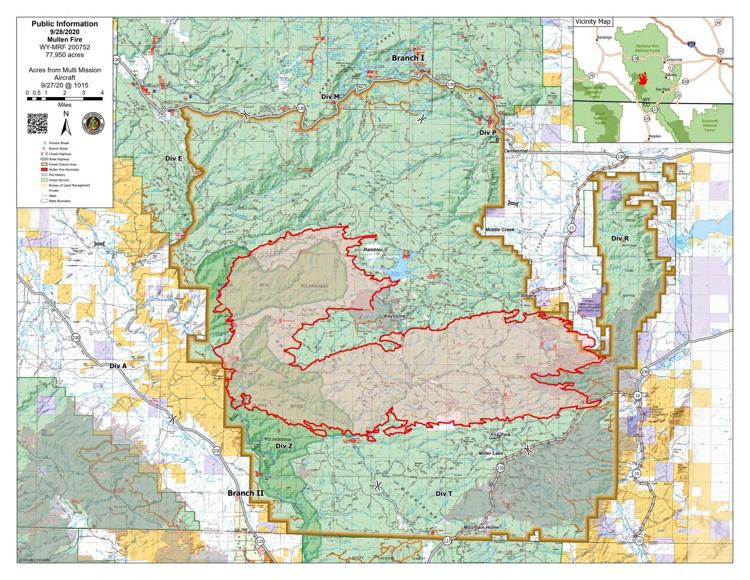 Peterson said fire crews were being helped by a large aerial attack. A combination of 18 helicopters and different types of airplanes were fighting the fire. "We're getting as much aircraft as we need. In fact some people are wondering how this fire is getting as much aircraft as we are," added Peterson.
The aircraft are able to refill with water from Lake Hattie and Rob Roy Reservoir. Because those bodies of water are close to the fire, the turnaround time is very quick. Due to high winds over the weekend, air suppression was temporarily halted.
There are concerns about the fire affecting Rob Roy Reservoir, which is a main water source for the city of Cheyenne. However, the winds pushed the fire away from the watershed that feeds the reservoir.  "We have a long way to go with this fire, but today the watershed that feeds Rob Roy is pretty much intact," Peterson said.
Smoke from the fire spread to Cheyenne, and the capital city is reporting unhealthy air quality, according to Airnow.gov, the website for the EPA's U.S. Air Quality Index. The Index included the following advisories for Cheyenne:
People with heart or lung disease, older adults, children and teens – take any of these steps to reduce your exposure: Avoid strenuous outdoor activities. Keep outdoor activities short. Consider moving physical activities indoors or rescheduling them.
Everyone else – take any of these steps to reduce your exposure:
Choose less strenuous activities (like walking instead of running) so you don't breathe as hard. Shorten the amount of time you are active outdoors. Be active outdoors when air quality is better.
Mandatory evacuations were announced for Rob Roy, Lake Creek, Rambler, and Keystone. A pre-evacuation notice has been issued for Centennial and Albany, private land along Fox Creek Road, and all areas west of Highway 11.
Officials with the Board of Public Utilities say water delivered to Cheyenne residents is still clean and safe. BOPU is prepared to draw water from other sources if necessary. "The Board has and continues to monitor incoming raw water and treated water for any changes in water quality.
Fire officials released this statement on Sunday night: "The size of the #MullenFire_WY is still measured at 77,950 acres. Firefighters worked late into the night to defend and safeguard structures throughout the fire area.
Along with additional structure defense actions, firefighters will begin assessing properties within the impacted areas including Lower Keystone, Lake Creek and Foxborough. We will then pass along any findings to the Albany County Sheriff's Office who will directly contact homeowners. The Sheriff's office will announce when that process and any notifications are complete."
Also over the weekend, Governor Mark Gordon said, "The fire continued to grow last night driven by strong westerly winds and is now estimated at more than 80,000 acres. Conditions yesterday evening limited aircraft use in the area, and high winds along with poor visibility are expected to severely limit aerial operations again today. This is an extremely dangerous situation. More than 450 personnel are assigned to the fire, which is being managed by the Rocky Mountain Incident Blue Team. Aerial support includes air tankers, two Super Scooper aircraft and six helicopters. State resources, including Wyoming State Forestry Division and local emergency managers have provided critical assistance and support as well. Woods Landing and Jelm remain areas of critical concern, and evacuations are in place for everything from Albany south to Fox Park, including Woods Landing and Jelm. Because of the intensity of last night's activity, we are unable to confirm any structure losses at this time," the Governor said.
The cause of the fire is under investigation.