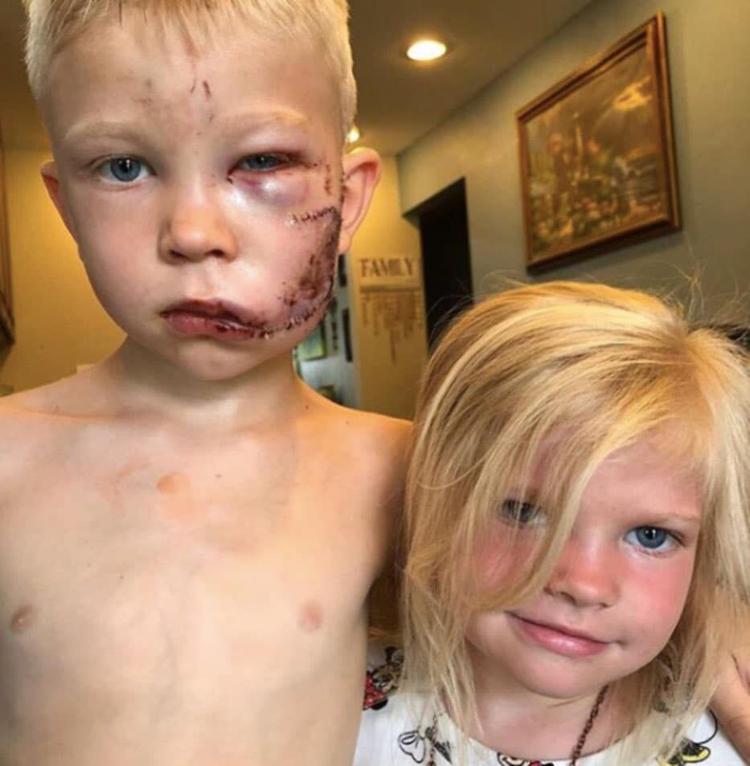 A Cheyenne boy committed a selfless act of love for his little sister last week when he stepped between her and a charging dog. 
According to an instagram post by Bridger Walker's aunt, Nicole Walker, the six-year-old boy stepped in between his sister and the dog on July 9. He was bitten numerous times on his face and head, but grabbed his sister's hand and ran away with her to keep her safe. It wasn't clear what type of dog attacked the boy. 
"If someone had to die, I thought it should be me," the boy later said, according to Walker's post. 
Walker posted about the attack on her social media accounts to help the boy get recognized by actors from the Marvel superhero films, such as Chris Evans (Captain America), Robert Downey Jr. (Iron Man) and Chris Hemsworth (Thor).
Bridger received around 90 stitches from a plastic surgeon after the attack and was recovering at home.
In an update, Walker said Bridger's wounds were looking better and that the boy was in great spirits after his terrifying ordeal. 
"He can't smile too widely yet, but he was grinning as I read some of your comments to him," Walker wrote. 
She added that the dog's owners were "great people who have been nothing but kind to Bridger and his family" and that the Walker family felt no resentment toward them. Instead there had "only been an increase of love between our families as a result of this incident."
In another update, Walker said that in lieu of donations to Bridger (as people had been inquiring about setting up a GoFundMe account for the boy), her family was asking people to donate to the Wounded Warrior Project or Mission 22, two nonprofit organizations that serve active duty military members and veterans. 
Walker noted that her nephew was a science buff with an interest in geology and that people could send him photos of rocks on social media or just the rocks themselves to a post office box the family created for him.
(Story update - 12:09 PM)
In response to the recent dog attack on the local boy:  Cheyenne Animal Control was called and did investigate the incident as they do for all animal bites in the City of Cheyenne and Laramie County.  At the dog owner's request, the Cheyenne Animal Shelter provided humane end-of-life services to the dog.
"It is always both terrifying and sad when these situations occur," said Sue Castaneda, CEO of the Cheyenne Animal Shelter. "Our hearts go out to the boy and his family as well as to the pet owners."
Laramie County ordinance CHAPTER III, Section II requires that "any person having knowledge that any animal has bitten a human shall immediately report the incident to the Animal Control Officer of the Sheriff's Office together with the name and address of the person or persons bitten if known.  In the fiscal year 2020, Cheyenne Animal Control Officers responded to 230 calls to investigate dog bites.  
(Story Update - 12:48 PM)
Chris Evans, who played Captain America in a series of movies, sent a special greeting and and is sending a gift to Bridger Walker.