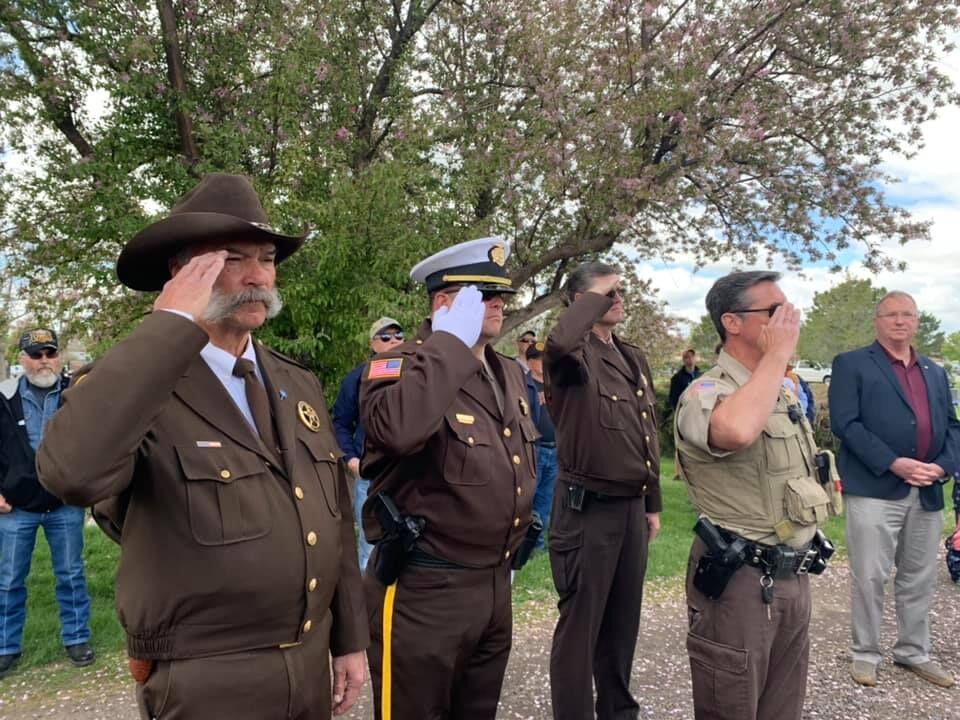 VFW Post 1881 steps up for the heroes 
VFW (Veterans of Foreign Wars) Post 1881 in Cheyenne went above and beyond the call of duty, Monday, May 31, and placed wreaths on the graves of service members who lost their lives defending freedom.
The event was canceled in 2020 because of Covid restrictions.
Auxillary Post 1881 members were out early and made sure the soldiers received the respect they deserved.
The post had presenters who brought the wreaths out and saluted the wreaths. On Saturday, May 29, all military veteran graves had flags placed on them.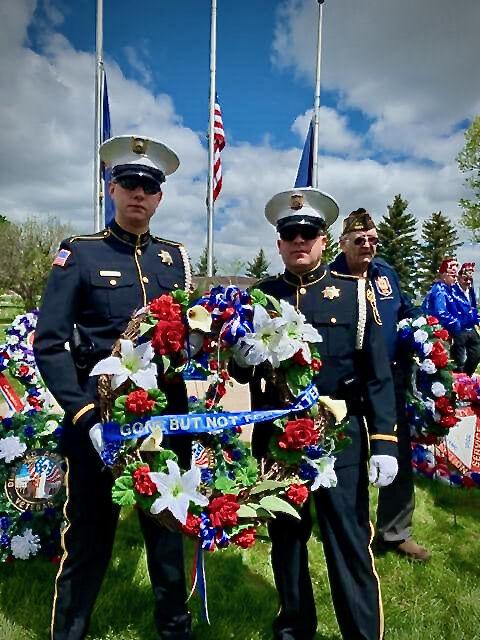 Auxillary Treasurer Cheryl Shannon said the volunteers laid 39 of the 77 wreaths they had.
"Of the volunteers we weren't expecting, we probably had about 15," she said. "There were more people attending than I thought there would be."
Shannon said she had to step up and make sure Memorial Day was memorable in 2021.
"Unfortunately, the post proper had not planned ahead, and we didn't have the event last year because of Covid," she said. "A lot of our post members are elderly, so there were some concerns. They didn't think they could pull it together in two weeks."
The Auxillary discussed that challenge at their meeting and decided to take action.
"If we're not here for veterans, then why are we part of the Auxillary," Shannon said. "I took that to heart, so I reached out to the post quartermaster, who talked to the post commander, to see if they would be willing to let the Auxillary run with it on a two-week notice."
Shannon served for 20 years in the United States Air Force, and she said Memorial Day is the one holiday where she won't back down.
"I lost members while I was serving in Iraq, so no," she said. "We lost a couple of airmen who were walking from the chow hall to the headquarters building by an incoming rocket. I also lost my interpreter at the time; we were close; she was Americanized, so we would watch Grease, Flashdance, 80s movies. She went home for a three-day weekend and never came back. They found her later, and she was beheaded."
She was surprised by the number of veterans attending the ceremony.
"With two weeks' notice, I wasn't sure what would happen," she said.
Usually, the Ladies Auxillary hosts a big lunch for the veterans, but they didn't get the chance to host that part of the day.
"With two weeks' notice, we decided to make the cemetery thing happen and not worry about the luncheon this year," she said. "Post 10 did their members-only luncheon, and some of the others had luncheons going on too."
For Shannon, Memorial Day is something personal.
"Memorial Day is for those who died for our freedoms, and a lot of people take it for granted," she said. "They don't realize there are soldiers, airmen, marines, all of the military branches, and some of them died to maintain those freedoms."
She said the VFW is a friendly place for returning soldiers where veterans can feel like they are home and safe.
"To be in the VFW, you have to be on the ground in a war zone," she said. "All the VFW's have Veterans' Service officers, and we try to get to the soldiers when they come back with claims of PTSD and mental health issues. PTSD is definitely out there, but people don't want to admit to it."
VFW Post 1881 is currently open to members only or sign-in guests.
"We've been open since around May 15," she said. "Now that everyone is getting their Covid shots, you see a lot more people coming out again."
Post 1881 is located at 2816 E 7th Street.