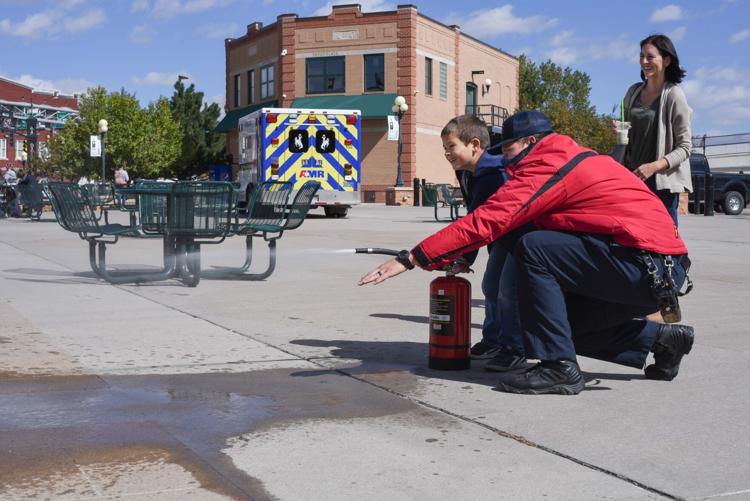 This past Saturday the Cheyenne Depot Plaza hosted Fire Prevention Week, including the popular first responders Chili Cook Off. The annual event is presented by Cheyenne Firefighters Union, IAFF Local 279, MDA Chili Cook-off in conjunction with the Laramie County Fire Departments' open house. The event serves both to conclude the "Fill the Boot Campaign" and to kick off National Fire Prevention Week.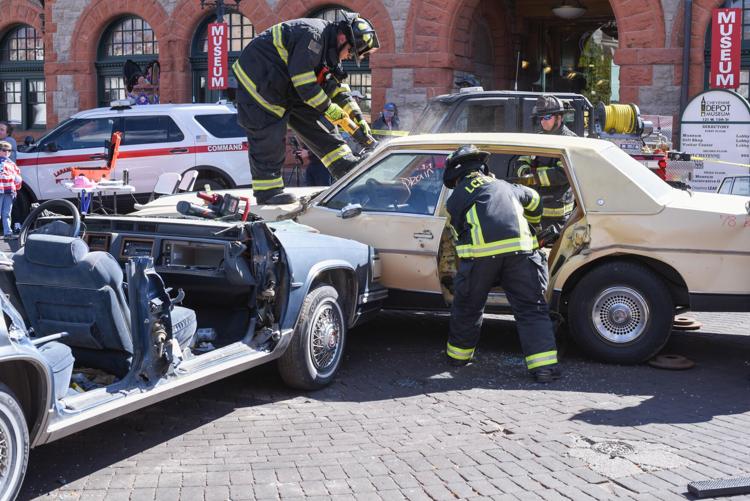 IAFF has supported the MDA since 1954 with their annual "Fill the Boot" campaign.  The long running fundraiser has continued to give families with Muscular Dystrophy, in cities and towns across the United States, daily support and hope for the future. The MDA and IAFF states, "Because of your support, three new drugs for neuromuscular disease have been recently approved, and more are expected in the next five years than the past five decades."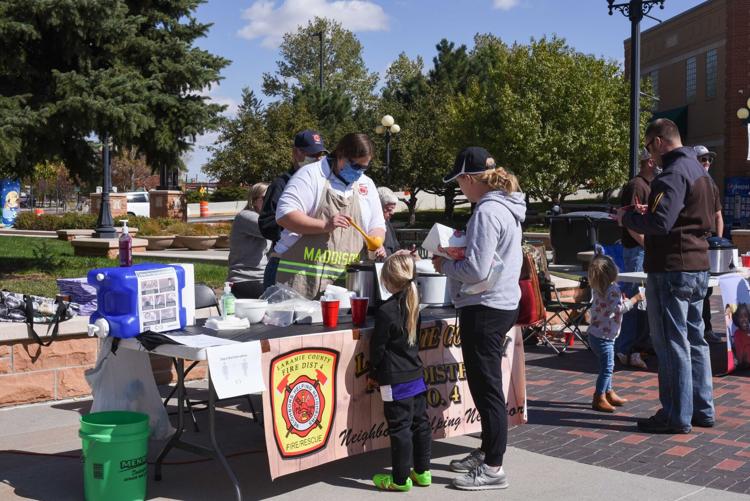 Because of the recent COVID-19 pandemic, instead of seeing the firefighters collecting cash with their turn-out boots around town, the IAFF had to change to an online fundraising format to be able to abide by the new social distancing guidelines.
The firefighters, missing the community outreach during the "Fill the Boot" fundraiser, were happy to be able to go ahead with their annual event this past weekend. Bob Mason, Lieutenant of Prevention with Cheyenne Fire and Rescue said "we did not want to let the event lapse, a lot of people didn't expect us to have it due to the COVID, but we did not want it to fall to the wayside.
Whatever we needed to do to have it, we jumped through the hoops. We had to put in a plan with the Department of Health and get that approved and that, typically we do not have to do. So, anything we can do to raise money for the MDA is better than what we had at the beginning of day."
10 teams participated in the cook-off this year with all proceeds going to MDA. Guests were able to sample and purchase bowls from a multitude of chilis including red, green and white. The winning teams were: White chili, IBEW Local 415; green chili, LCFD #4; and there was a tie for the best red chili between IAFF Local 279 and Cheyenne Fire and Rescue.
The Laramie County Fire Departments' annual open house which kicked off National Fire Prevention Week, featured a multitude of educational events about fire prevention, safety and preparedness from LCFD #1, LCFD #4, LCFD #2, AMR ambulance service, FEMA and Homeland security, Safe Kids, and The IBEW local 415 had a voter registration drive.
The National Fire Prevention Association says, "National Fire Prevention Week was started in 1922 by the NFPA. President Calvin Coolidge proclaimed the national observance of Fire Prevention Week in 1925 making it the longest running public health observance in the United States." The theme changes every year. This year's theme is "Serve up Fire Safety in the Kitchen."
Fire Prevention Week is always observed during the week of October 9th in commemoration of the Great Chicago Fire, which began on October 8th, 1871. The conflagration killed more than 250 people, left 100,000 homeless, destroyed more than 17,400 structures, and burned more than 3.3 square miles of the city.
Some of the many educational opportunities to be experienced were: Laramie County Fire District #1 had 2 vehicle extrication demonstrations using state of the art TNT battery powered eDRAULIC spreaders, aka jaws of life, cutters, and ram tools that showcased how they safely and effectively they are able to rescue a person(s) trapped in a motor vehicle. LCFD #2 provided a cooking safety demonstration with a live small cooking fire, teaching children and adults alike how to put out a kitchen fire with a fire extinguisher using PASS (pull, aim, squeeze, sweep.) AMR ambulance services had live tours of an actual working ambulance. FEMA and Homeland Security were on hand teaching community members how to be better prepared for emergency situations.
When asked, what the number 1 fire safety tip is, Dillon Conner, Assistant Chief Laramie County Fire District #1 said, "Keep the batteries in your smoke detector(s) changed. It is your first line of defense for detection of smoke if something were to catch fire in your house. Make sure you change the batteries twice a year during daylight savings time when you change your clocks" He also added, "Do not use extension cords as permanent fixed wiring, being cognizant of how many things you have plugged into a power strip."
For more information on fire prevention and safety, visit NFPA.org or visit Cheyenne Firefighters Facebook page.