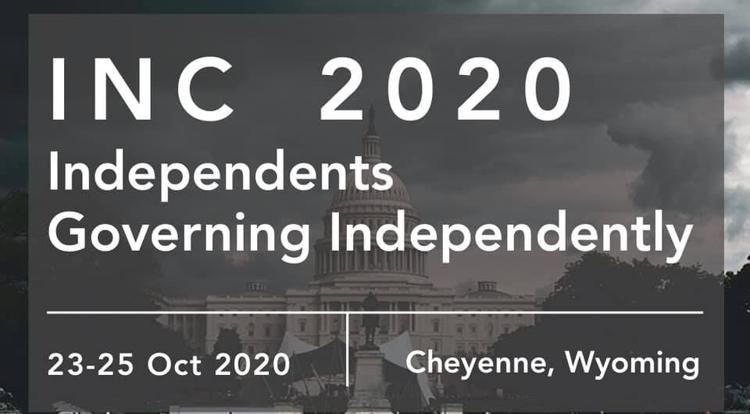 This week, Cheyenne will host an independently run political convention that is geared specifically to Independent voters. Former actor and Presidential candidate Brock Pierce will be at the event, which will occur from Oct. 23 through Oct. 25 at The Grand Ballroom at the Little America Hotel & Resort.
In addition to Pierce, speakers at the convention will include Cheyenne Mayor Marian Orr, Herb Stephens, Audrey Addison Williams, Brittany Kaiser, and Christopher Life. Other speakers will be announced.
The gathering will be a national convention for independent and third-party candidates, not for Pierce's campaign.
Voters who are hoping to hear differing viewpoints on some matters may be enthused by the opportunity to attend the event.
"As the two-party system of government has shown itself to be corrupt and ineffective at solving the real problems facing Americans at the federal level, the Independent National Convention is an opportunity for Americans to see American politics in action outside of the Democratic and Republican National Conventions," Pierce said.
He won't be the only candidate whose views are represented at the event. Pierce's campaign's messaging is meant to be nonpartisan, which could interest some conservative Wyomingites.
"Brock's campaign for the presidency is founded on a love for America and an acknowledgement of our inalienable rights to life, liberty and the pursuit of happiness," said Erica O'Grady, Pierce's campaign spokesperson.
Still, when Pierce was asked if he would broach the controversial topic of Critical Race Theory at the event, he demurred, saying the campaign sees no need to bring it up.
But many Americans are at odds over CRT, even President Donald Trump. While many academics, government officials and others feel the U.S. is and always has been a nation that is hobbled by racist attitudes of white people, many Americans disagree, including Pres. Trump. By presidential decree, Trump recently ended years of critical race theory training in the federal government, training which often is vaguely referred to in many left-leaning media as "racial sensitivity training."
Sensitive, it is not.Many white Americans might be excused if they find that the term "racial sensitivity training" is itself very racially insensitive, given the meaning of CRT.
According to Encyclopedia Britannica, Critical Race Theory means, in part, that "racial inequality emerges from the social, economic and legal differences that white people create between 'races' to maintain elite white interests in labor markets and politics, giving rise to poverty and criminality in many minority communities."
The Independent National Convention is being attended by Pierce but is not run by his campaign. For more info, contact the INC directly at event@INC2020.us. Register for the event at https://www.inc2020.us/events/independent-national-convention.