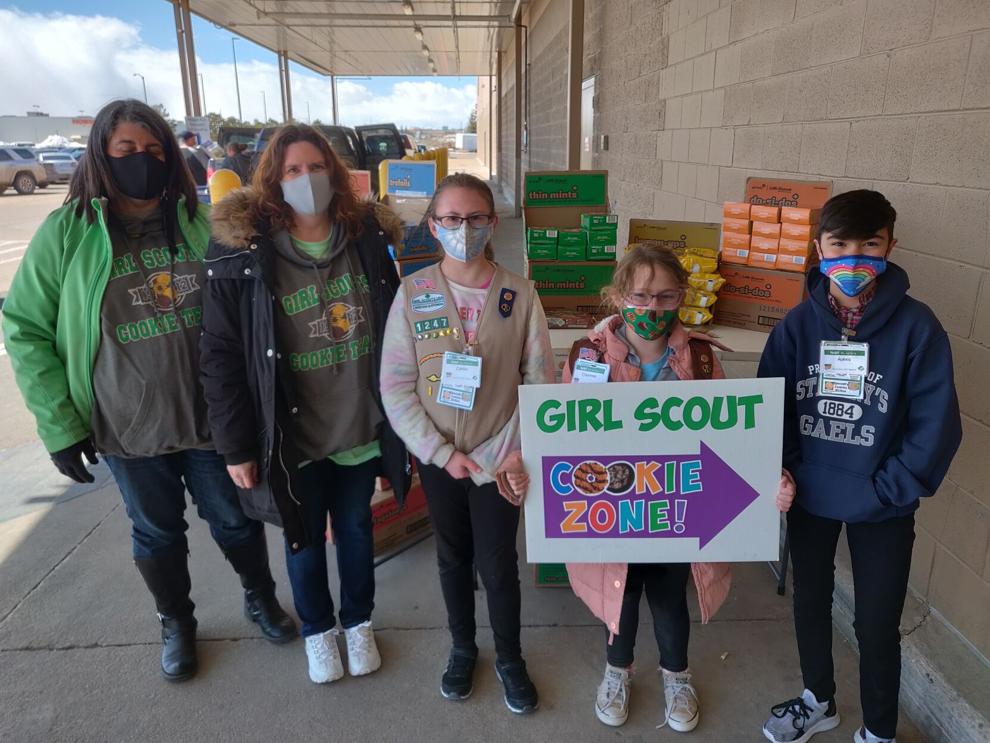 Spring has sprung, which means area Girls Scouts are out selling cookies and making money for their respective troops.
Under the mindful leadership of volunteer moms and mentors, the youngsters gain valuable experience and learn business basics along the way. The cookie program continues through April 18.
Kristi Osterlund, Marketing & Communications Manager for the Girl Scouts of Montana and Wyoming, said that the money stays with the council and the troop after paying the baker.
"We have some Girls Scouts who operate as Juliettes, who are independent registered Girl Scouts who can also do the cookie sale," she said. "Those funds go toward the projects and activities they do. Many troops do a third, and a third, and a third. They'll save a third, invest a third, and use a third of the money for a community project and put it towards an activity for their troop. Something that costs money, like going to a weekend camp as an entire troop or rapelling as an activity. Any activity they're interested in as a troop. They make the decision on how those funds are spent."
The Girl Scout Cookie Program is not a fundraiser, she said, but it does teach the kids financial literacy.
"The skills they learn may be different at every level from kindergarten and first-graders, all the way up to our high-schoolers," she said. "In general, they cover a couple of different life skills, so they'll learn things about goal setting and decision making, like where should we have our booth or put our money, money management, and talking to the customers. They're learning people skills and business ethics."
Making eye contact and asking questions can be challenging to a new Girl Scout, Osterlund said, but the girls grow from the experience.
"There are lessons to learn when someone says, no thank you," she said. "The girls are resilient; they smile and say thank you, and continue to their next person."
The group has volunteers who serve as troop leaders and parents who assist the troop.
"We always need additional volunteers," she said. "Our leaders can come from many walks of life. They can be a parent, college student, grandparent, or someone else who's retired, male or female. We are flexible if you are willing to share your expertise. We have incredible resources through our council to assist people, called the Volunteer Tool Kit."
Her favorite cookie is the Samoan.
"The S'more is a specialty cookie, but it's one of my favorites," Osterlund said.
If cookies aren't your thing, she said the troop has the council gift of caring program, and those cookies can be donated.
"The troop gets to do decide through their eyes what leaders they'd like to give those cookies to," she said. "Last year, a lot of medical staff received them, but it can be fire departments, policemen, medical staff, and some troops have chosen teachers."
To find a cookie booth, visit girlscoutcookies.org and enter your zip code.
"It will give a list of locations, dates, and times," she said. "We also have the official Girl Scout Cookie Finder app that does the same thing."