The Laramie County Fair wraps up on Saturday Aug. 10, but there is still fun to be had.
Friday is the Large Animal Round Robin at 8:00 a.m. at the Events Center at Archer for the kids who are finalists at the Fair.
"We also have several workshops for the public to check out on Friday today," said Will Luna, marketing/sponsorship manager for the Laramie County Fair. "The Kiwanis FFA Livestock Sale will be taking place at the Cheyenne Ice & Events Center, and there will be a street dance at 9:00pm at the kid zone at the Archer Fairgrounds with a DJ."
"Saturday we wrap up the fair with the 4H Livestock Sale, and there's the Rubber Check Race at the Arenas at Archer, a free fun event that is a team relay race with a horse, an ATV and a person in a wheelbarrow," Luna said.
All static displays will be open paintings until Saturday at 5 pm. In the Exhibit Hall including, photography, crafts, needlework, quilting and more.
Twelve-year-old Kinzley Nusbaum is from the Cheyenne area and she has competed in the Laramie County Fair for four years.
On Wednesday she competed in pig wresting on a team with her friends The Sassy Squealers.
"I like getting dirty," Nusbaum said. "Just cause you get to get dirty and have fun with your friends and you get hosed off by a fire truck."
Kinzley is also competing in the Large Animal Round Robin for FFA and 4-A.
She won an FFA showmanship buckle, an 4-H intermediate showmanship buckle for dairy goats, and best udder in show for one of her does, champion and reserve champion for Nigerian dwarf breed dairy goats, her mom, Jeanette Nusbaum said.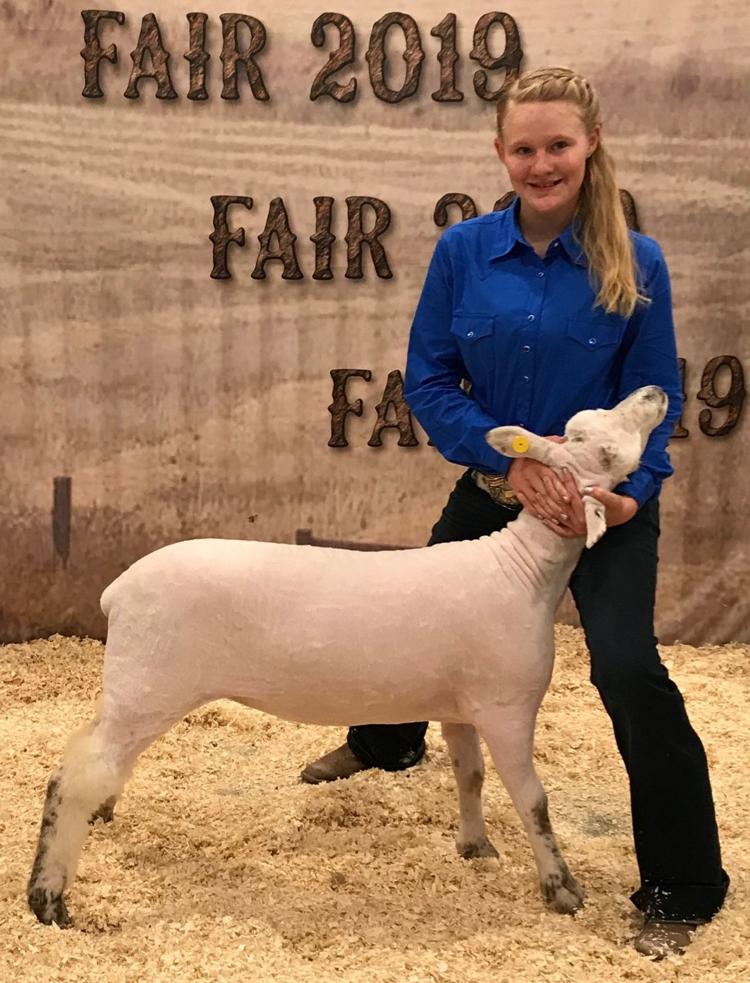 Kinzley said she has a lot of fun with everything.
"I get to meet new people and learn about animals and showing other animals," she said. "I like getting to hang out with friends, seeing different animals and showing off your animals and how well you take care of them. I get to teach people about the entire dairy goat breed."
Kinzley also painted a sunflower and won outstanding interview with 4-H and placed with it. She also entered a photo of a canon.
"With the painting I like that too since we get to do interviews I've become a better speaker in public," she said. "It teaches you life skills and lessons."
Kinzley also has a brother Jasper, who is 14, who competed in pocket pets and photography and shooting sports. Her mom also competes in pig wrestling at the Laramie County Fair in the adult division.
Jeanette said her family participates in the fair because taking care of the animals gives them life lessons in being responsible and caring for something other than themselves.
"They are learning how to lose gracefully in case that happens and they are winning with humility" she said. "Those are great lessons to live in life, plus we get to be in town for a week."
This is the first year that the Fair has been out at the new Archer Complex.In the past years the Laramie County Fair has been held at Frontier Park.
"The Laramie County Fair is in its 113th year," Luna said. "It is Wyoming's oldest and largest county fair."
Archer used to be an experimental station for the University of Wyoming.
"In 2004 Laramie County purchased the Archer Complex, Luna said. "It totals 800 acres and is home to the Event Center at Archer, the Fairgrounds, Laramie County Shooting Sports Complex, Public Works, Weed and Pest, and there is a juvenile detention facility on site."
It was voted on by tax payers to complete the event center at Archer and to hold the Laramie County Fair at Archer Recreational Complex.
Luna was asked how successful has the new Archer Recreational Complex location been.
"Overall we feel like the 2019 Laramie County Fair has been a success," Luna said. "We have had great community support and it seems like people are really enjoying everything here at the new Event Center at Archer."
When asked if the Laramie County Fair will plan on having more vendors and food options next year Luna said, "As a trial year we have been pleased with the amount of vendors and food options we are providing. Now that we have a better understanding of the grounds, we will look to expand our options and see what other types of vendors and food we can bring in."
A question that the Laramie County Fair gets all of the time is why don't they have a carnival.
"Laramie County/Cheyenne just had ten amazing days of carnival rides during Cheyenne Frontier Days," Luna said. " We want to offer something different that is also going to be cost effective to families here at the fair. This is why we offer the free bouncy houses, kids entertainment, and other activities for families."
There were a lot of major events and highlights at this year's Laramie County Fair.
"I feel like having all of the livestock exhibits and shows under one roof has been a fun and educational for our fair families as well as the public," Luna said. "We have seen more foot traffic in the livestock area than in the past so that's been a success. Our truck and tractor pull was well attended and we had some great reviews on that, the mutton bustin arena was packed! The bleachers were full, fans were lined up across the arena fence and it seemed like everyone was really enjoying the evening."
There were a lot of big winners at the fair this year, Luna said everyone was.
"I would say all of the 4H and FFA families, and all of Laramie County residents," he said. "We've had some great shows, and a ton of livestock and static winners, but all of the fair families are the winners. They have the opportunity to show for the first time in an amazing facility that the tax payers voted for. The general public wins because they have the chance to experience the Laramie County Fair like never before! We added some great additions such as the farmers market and the car show to really bring a great community event together and we know that we will continue to grow and expand."
The Laramie County Fair's attendance has been up.
Luna said, "It's hard to say because we don't have a set main gate to track the traffic. I believe we are up overall. It feels like people are excited and want to come and experience the new Laramie County Fair. Our events have been well attended, the parking lot is full and our vendors are happy!"
This year's Laramie County Fair has been successful according to Luna.
"Overall for our first year we feel that the Laramie County Fair has been a big success," he said. "We've got some things to iron out, but it's a new facility, a new venue, and really a new fair. We have been taking notes and comments and will work to make improvements in the future. We have a good idea of what has gone well, and a better idea of what to work on moving forward."
When asked about the purpose of the Fair, Luna said, "We want to celebrate the history and tradition of agriculture in Laramie County while providing a fun family event for all of our residents. We work to provide that through livestock and static exhibits and shows, fun engaging activities and family friendly entertainment for everyone."