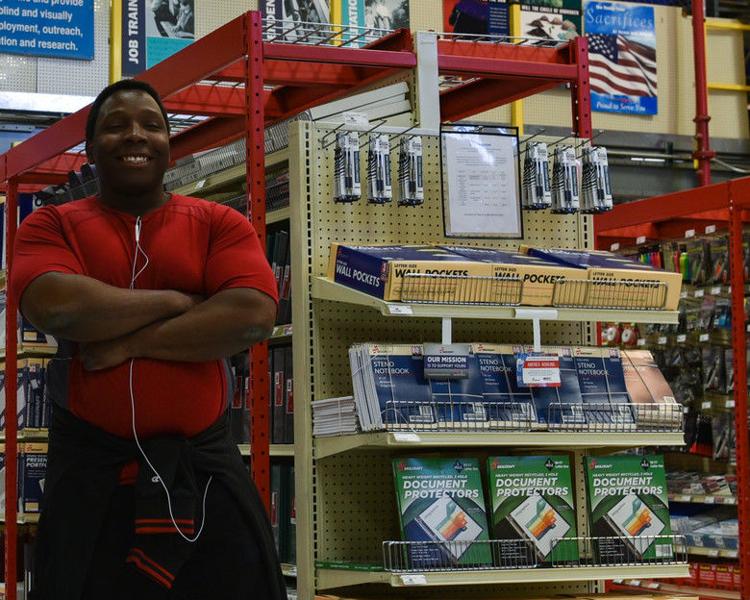 Lifting boxes that others struggle with, he greets customers without strain in his voice. No one would guess he is visually impaired.
Aj Wheeler, a 20-something year old grew up with retinitis pigmentosa, a genetic eye disease that effects the retina causing visual deterioration.
"I go to the gym, I played sports through school and I always excelled," said Wheeler.
In elementary school a teacher pulled him aside to tell him, you are always going to need to ask for help.
"Back then I don't think I knew what he meant." said Wheeler. "As a kid, I thought 'why would I ask for help if I don't need it.'"
While walking home from the YMCA he noticed it was taking longer to get home than usual, passing several people before realizing he was lost.
"That was when I realized, I couldn't do everything myself," said Wheeler.
Needing to ask for help with certain things doesn't mean you can't be independent.
"When it came to work it was always the same line 'we want to give you the opportunity but we feel like you're a risk,'" said Wheeler.
When Wheeler found an organization that caters to people with disabilities, he found hope.
"Finding this organization made me feel like someone actually cared about me," said Wheeler.
Through repetition he has memorized where things are. Learning the location of everything in the store allows him to quickly help his customers.
"We are always happy to help anyone that comes into our store," said Wheeler, F.E. Warren Air Force Base, Wyo., Envision Xpress stocker and cashier. "Everyone who comes in here is always incredibly kind and that makes this job a great one to have."
Wheeler found the technology was adapted to allow him to do the job just as well as anyone else.
When asked what he would tell people with similar disabilities, Wheeler said, "keep looking, there are more jobs out there than you think."
"You can work like anyone else, you matter like anyone else," said Wheeler.