Cheyenne Mayor Marian Orr announced Michael O'Donnell has been tapped to serve as the next Cheyenne City Attorney.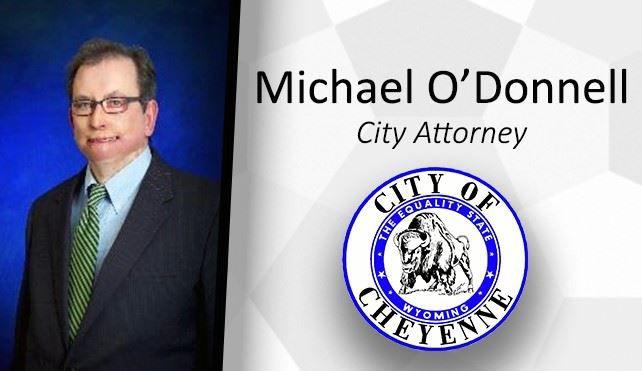 O'Donnell currently serves as Special Assistant Attorney General for the State of Wyoming and has practiced law for over 30 years. O'Donnell's current work as Special Assistant Attorney General for School Finance is focused on maintaining the constitutionality of Wyoming's school finance and school facilities systems.
He is also acting as counsel and coordinator for the renovation of Wyoming's State Capitol and adjoining structures.
"This is a big win for the City of Cheyenne," Orr said. "Mike is one of the best attorneys in the state. His background in solving complex issues and ability to strike compromise between legislative and executive branches of government has earned him unparalleled respect in Wyoming."
Orr said O'Donnell's service on the City's Planning Commission and the Board of Adjustments make him uniquely qualified for the City of Cheyenne.
"I can't think of a better fit for not only my administration but also the City Council and for the community of Cheyenne," she said. "He has a public servant's heart and cares deeply about our town. This is a home run."
Orr said O'Donnell's start date is being finalized. She said he will finish out his work as counsel and coordinator to the Capitol Renovation Project before joining her team.
O'Donnell began his legal career as an Assistant Wyoming Attorney General and was an original member of the Wyoming natural resource litigation team. After leaving the Attorney General's office, O'Donnell opened a private practice which focused on personal injury and criminal defense litigation. Following that, O'Donnell became Assistant Federal Defender and provided indigent federal criminal defense in the Districts of Wyoming and Colorado. From 1996-2003, O'Donnell returned to private practice focusing on catastrophic personal injury, criminal defense, medical negligence, and commercial litigation cases while also assuming the position of hearing officer for the Wyoming Board of Medicine. In 2003, O'Donnell's practice shifted to policy and legal advice to the Governor and a broad-based governmental practice.
This involves close work with the Governor, Legislature, State Superintendent of Public Instruction, Department of Education, School Facilities Department/Commission, all 48 school districts, and the Wyoming architectural and contracting communities on the myriad issues that arise in implementation of a multi-billion-dollar state educational system.
O'Donnell works on multiple issues on special assignment from the Governor and Attorney General. These special assignments tend to involve highly complex legal and factual issues which are often politically sensitive.
O'Donnell is married to Donna A. Murray and has two children, Sara and Conor, from a previous marriage and a step-daughter, Lauren Humphrey.