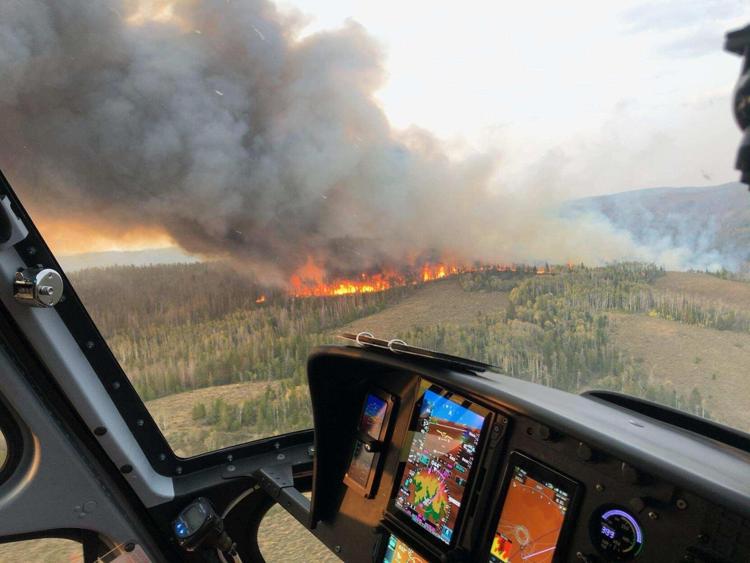 A forest fire about eight miles west of the Cheyenne's Rob Roy Reservoir - which is south of Saratoga in the Snowy Range - has quickly grown to 13,835 acres, and as of Monday was about 2% contained, forest officials said.
Initially called Savage Run Fire, it has been renamed the Mullen fire. Its cause is unknown.
The fire is burning through lodgepole pine, including both live and downed trees. The U.S. Forest Service is evacuating the Rambler and Rob Roy areas and plans to close a large portion of the Medicine Bow National Forest.
Forest Service officials said there are very few natural breaks in the direction the fire is spreading, and they worry about extreme fire behavior over the weekend. The conflagration is burning through extremely rugged terrain, some of which is stocked with ready to burn material—tress killed by beetle infestations.
Over 100 firefighting personnel are fighting the fire. Firefighting helicopters have been called in to work the edges of the fire. Ground crews are focusing on point protection at the A Bar A Ranch to the west and Rambler private property to the east.
An update Monday morning from officials said the following:
Aerial resources were successful is checking fire growth to the east & southeast, keeping it from entering the Rambler area at this time
Ground & aerial operations were successful in securing 2% containment near the fire's heel on the west side
Fire growth was not as intense as expected, with mainly interior burning & some expansion around the middle of the burn. The fire has slowed after coming out of wilderness
On Sunday afternoon, Albany County Emergency Management Agency (EMA) requested evacuation of the Keystone area. This area includes Keystone proper, lower Keystone, Langford/Ricker, Moore's Gulch, & 507C cabin grouping.
Albany Co. EMA also issued pre-evacuation notice for the Centennial Valley. This area includes private land along Fox Creek Road, the communities of Albany, Centennial, extending North West to the Snowy Range along highway 130, and all areas west of Highway 11 in the valley.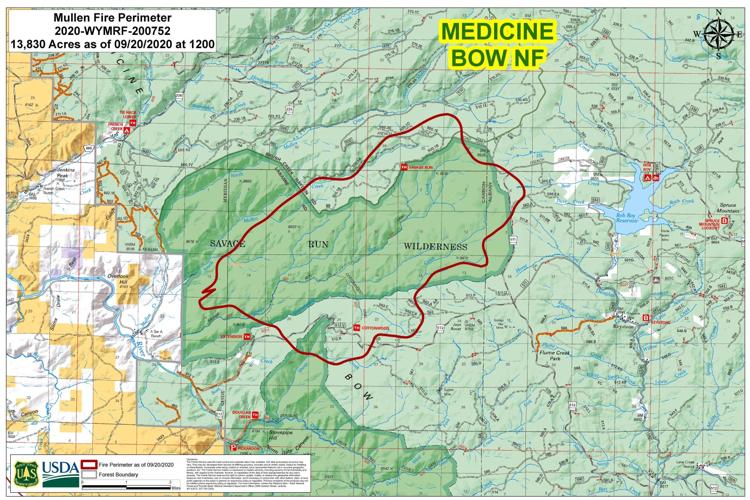 - A Type II Incident Management Team will assume management of the fire on Tues., Sept. 22.
- This remains a rapidly changing & developing situation, with focus on public & firefighter safety.
- The fire has crossed the Savage Run Wilderness boundary on the south flank, as well as the 512 Rd.
- In addition to the Savage Run Wilderness, the fire is now established in the Platte River Wilderness.
- Rambler, & Rob Roy areas have been evacuated.
- All public, including campers & hunters, should leave the area.
- Possibility for extreme fire behavior still exists.
- Helicopters, air tankers, & single-engine air tankers are working the fire edges.
- Fire origin is in Savage Run Wilderness, Medicine Bow National Forest, Carbon County.
- Coordination is taking place with both Carbon & Albany Counties, Wyoming Game & Fish, & Cheyenne Board of Public Utilities.