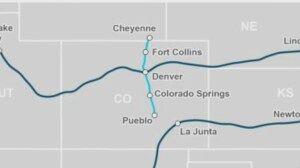 Amtrak has unveiled a new route providing rail travel from Cheyenne south along the Front Range. The route would include stops in Ft. Collins, Denver, Colorado Springs, and Pueblo, Colorado. It's part of President Biden's American Jobs Plan.
"Amtrak has a bold vision to bring energy-efficient, world-class intercity rail service to up to 160 new communities across the nation, as we also invest in our fleet and stations across the U.S," Amtrak CEO Bill Flynn said in a statement on the Amtrak website. "With this federal investment, Amtrak will create jobs and improve equity across cities, regions, and the entire country – and we are ready to deliver,"
Currently, there is no passenger rail service available in Cheyenne. Travelers catch a bus at the Sinclair station on West College Drive, which takes them to Union Station in Denver.