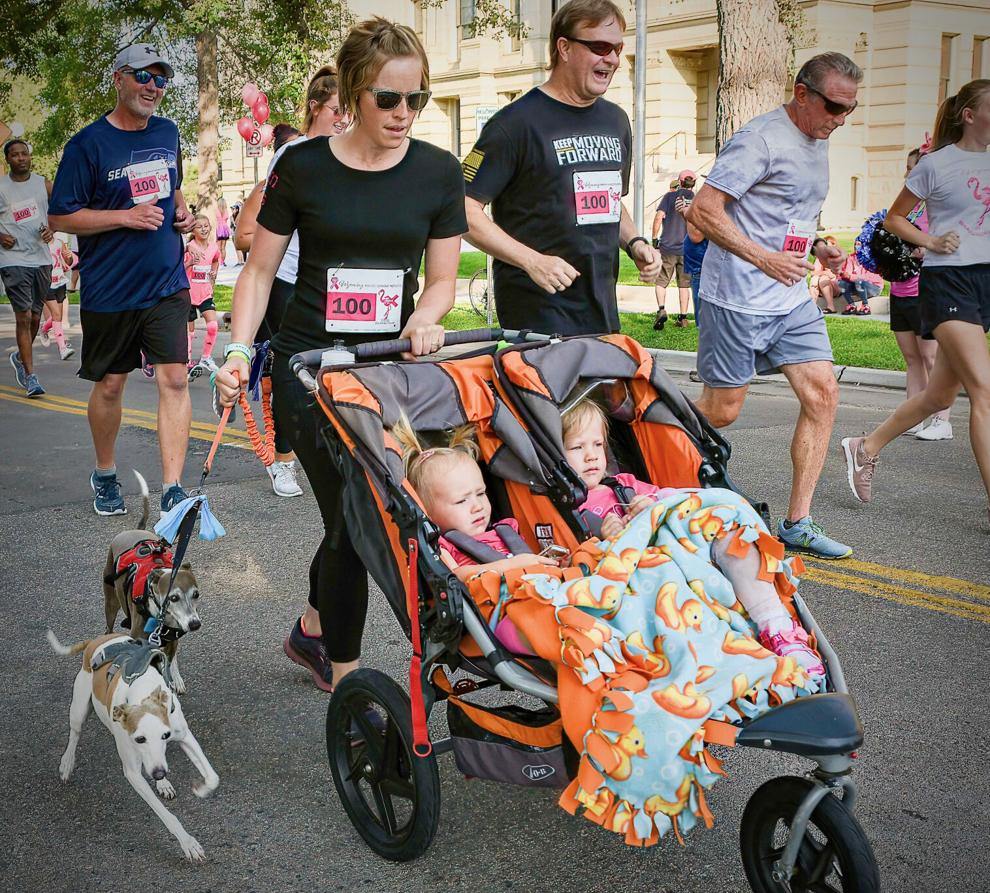 Event Helps Breast Cancer Services
Cheyenne and Laramie County residents gathered at the Wyoming State Capitol complex, Saturday, August 14,  to participate in the 2021 Pink Ribbon Run to raise money and awareness for Breast Cancer.
The Pink Ribbon Run brings people of all ages together to raise awareness and money for breast cancer services and celebrate the survivors.
Produced initially with the Susan G. Komen Foundation, the event has been put together by the Wyoming Breast Cancer Initiative since 2016.
The Cheyenne-timed race started with a survivors' breakfast and celebration emceed by U.S. Senator John Barrasso, who has been the master of ceremonies for more than 20 years. His wife Bobbi is a 20-year breast cancer survivor.
"This is an important event to help raise awareness of breast cancer and the need for annual mammograms," Barrasso said. "I will be emceeing this event until we eradicate this disease."
Kirsten Malm and Tabitha Standifer have been a part of the First American Title's team for many years. 
"First American is a big supporter of the breast cancer walk, and this is probably my sixth year to participate." Standifer said, "This is my fourth or fifth year participating. We are a big supporter of the community. We come out to support breast cancer research."
The Wyoming Breast Cancer Initiative reports that "Since 2016, the WBCI has been increasing breast cancer awareness and prevention across Wyoming by raising funds through various volunteer-led events Statewide. The funds raised are then granted back into community breast cancer organizations and into a statewide early detection voucher program."
Wyoming is among the lowest in the nation for breast cancer screening, ranking 48th. The WBCI was established to help change this. Altogether, in its first four years, they have granted over half a million dollars and have served over 5,000 women and men across the state with mammograms, clinical breast exams, diagnostic tests, and more.
After the race, participants were encouraged to fuel back up by grabbing a free McDonald's pancake breakfast. Kids visited the children's tent for face painting by Cross-Eyed Designs and balloon twisting by Alpacaglobo.
Adults visited the "Educate, Advocate, and Eradicate" tent, where many Cheyenne healthcare facilities educated the public on the many facets of breast cancer.
The WBCI is holding three runs in 2021, starting with the Casper run Saturday, August 7, followed by Cheyenne Saturday, August 14, and concluding Saturday, August 21 in Riverton.
As of August 14, the group had approximately 750 people sign up for this year's in-person and virtual runs.
The run is free for breast cancer survivors, $35 for adults, and $15 for children. For more information on how to donate or volunteer, visit wyomingbreastcancer.org.