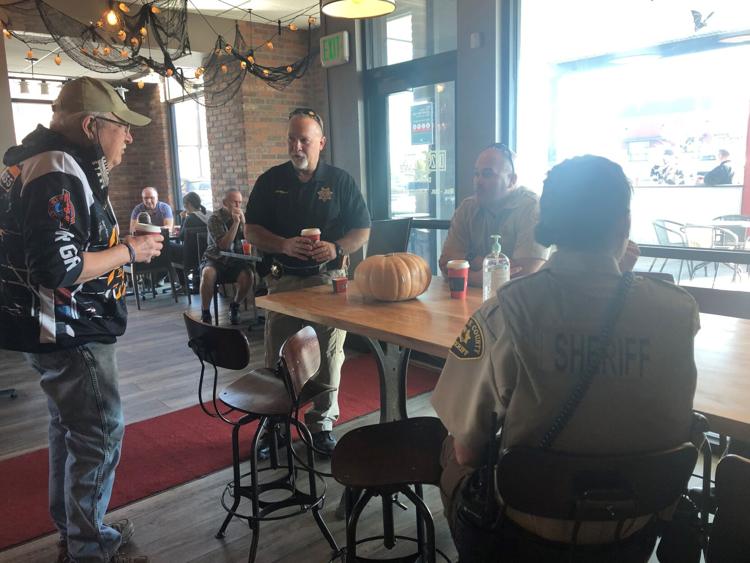 Driving into the new Dazbog Coffee off of Lincolnway on Wednesday morning, a visitor noticed the parking lot was partly filled with a conspicuous grouping of police vehicles.
Thankfully it was no emergency; but a dozen law enforcement officers were there, just to talk. Members of Laramie County Sheriff's Department and Cheyenne Police Department had gathered to host Coffee With a Cop, an event that allows police and the community to meet and establish trust with each other.
Originally launched in California in 2011, Coffee With a Cop is a national event. But it's popularity, and perhaps the winning nature of this sort of friendly interaction, has helped the concept to quickly spread. Since its start, Coffee With a Cop has grown to all 50 states, and also Canada, Europe, Australia and Africa.
The deaths of George Floyd and other suspects being apprehended by police in the past year have sparked protests across the country, and even raised some concerns here. Cheyenne Police have collaborated with local officials to quell fears, including working with the local NAACP, and meeting with citizens groups to keep an open and friendly dialogue with all members of the community.
Also, Cheyenne Police have other events in which they interact with the community, and the department keeps an active social media presence, to keep people informed.
Two officers at the Cheyenne event said that although they had never participated in Coffee With a Cop before, they had been involved with some community/police discussion events that took place earlier this summer.
Deputy Colleen Herlihey is relatively new at the department, having just been there under a year, but her love of helping people is what keeps her putting her uniform and badge back on every day.
"Usually when people call us, it's one of the worst days of their lives," Herlihey said. "Nobody calls 911 when they're fine. We're really fortunate in Cheyenne where it's a more relaxed atmosphere and I think there are still faces on all of us, so we're not just a badge and uniform to the people in town."
As a Colorado native, Herlihey has also noticed the difference in attitudes between residents of her home state and Wyoming toward law enforcement officers. She said it is much more common to see "thin blue line" insignias on clothing and bumper stickers in Cheyenne than in Colorado, signifying support for police.
She said that while the public was horrified at the Floyd killing this year, police officers, too, were disgusted.
"I saw a meme or something along those lines that said: 'Nobody hates a bad cop more than a good cop,' and it's so true," Herlihey said.
During the first half of the event, only a few people came in to chat with officers, one of whom was an older man that Herlihey described as a retired law enforcement officer. Men like him are the reason that Herlihey feels so comfortable patrolling the streets of Cheyenne.
Laramie County Sherriff Lt. Jeff Lenbing said it was important for the community to see officers in a more relaxed environment, because it helps civilians feel more comfortable calling for help when it's needed.
"With community policing, you have to get out and interact with the community," Lenbing said. "It's really important that people see us in this kind of light. We like to get out and talk to the community and hear their concerns."