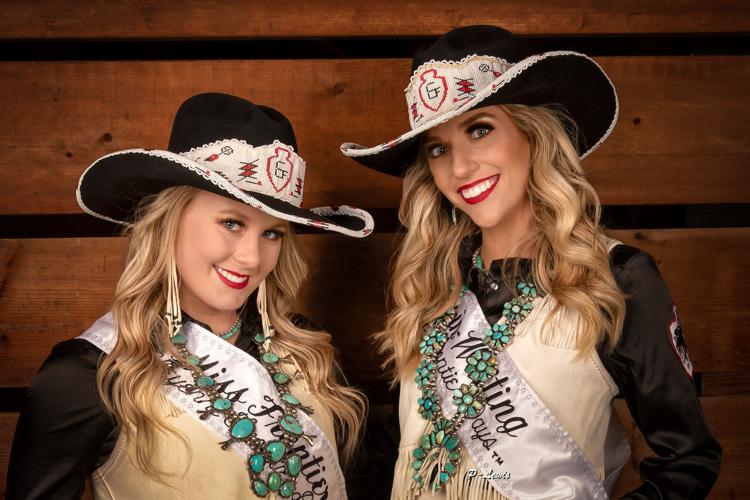 The 2019 Cheyenne Frontier Days royalty's Queen's Luncheon is among the many traditional kick-off events that marked the start of the 123rd Frontier Days events. They join their family and friends, members of the community, and rodeo royalty from across the United States, along with visiting rodeos from Canada and Australia and speakers.
Miss Frontier and her Lady-in-Waiting are high-profile ambassadors of Cheyenne Frontier Days.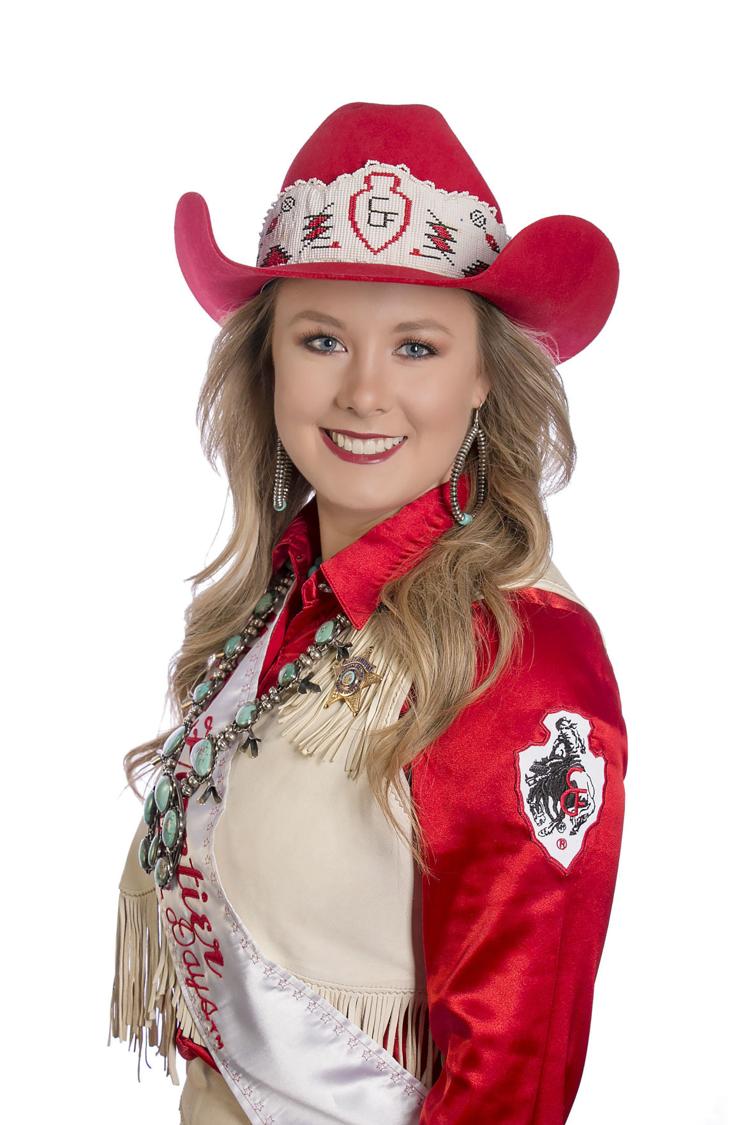 Miss Frontier 2019 is Halley Zoe Jankovsky. She is the daughter of Matt and Cat Jankovsky and Mike and Kelley Martin. She is a Cheyenne, Wyo., native and a 2015 graduate of East High School where she was involved in orchestra, FFA, and swim team. Through her swimming career Halley was a two-year team captain, member of the 2012 state champion team, and a state champion/all-state team selection in both individual and relay events in 2013.
Halley graduated from Laramie County Community College with an associate of arts degree in 2017 and was a member of Phi Theta Kappa national honor society. She currently attends the University of Wyoming where she studies Agricultural Education.
Halley participated for many years in the Laramie County Fair where she received the Richard Ingersoll award for citizenship in 2012, was the Senior Timed Event Champion in 2013, and named Top Hand and Top Horse in 2015. She also participated in the Wyoming State Fair several times and was the reserve champion in English Hunt Seat Equitation in 2016.
"My love for Cheyenne Frontier Day began at an early age when I would go out to the park and help feed the bucking stock with my dad." When she was old enough, Halley became a Toe on the Rodeo Committee; spending her Frontier Days behind Chute 9 loading livestock. She had the privilege of representing CFD as a Dandy for four years and was a lead Dandy in her final year. Halley returned to the Rodeo Committee, and in 2017 she was once again a Toe, this time serving as a coordinator for the group that includes some of the youngest volunteers on the Rodeo Committee. "It is such fun to work with the Toes, you can just feel their excitement and know that their experience with rodeo is helping build our future."
"Truly, I feel honored to have the privilege to leave my footprint in the deep traditions of the greatest rodeo in the world. I am blessed to be able to represent Cheyenne Frontier Days as a goodwill ambassador and as Miss Frontier and look forward to promoting western heritage while educating the youth in the community."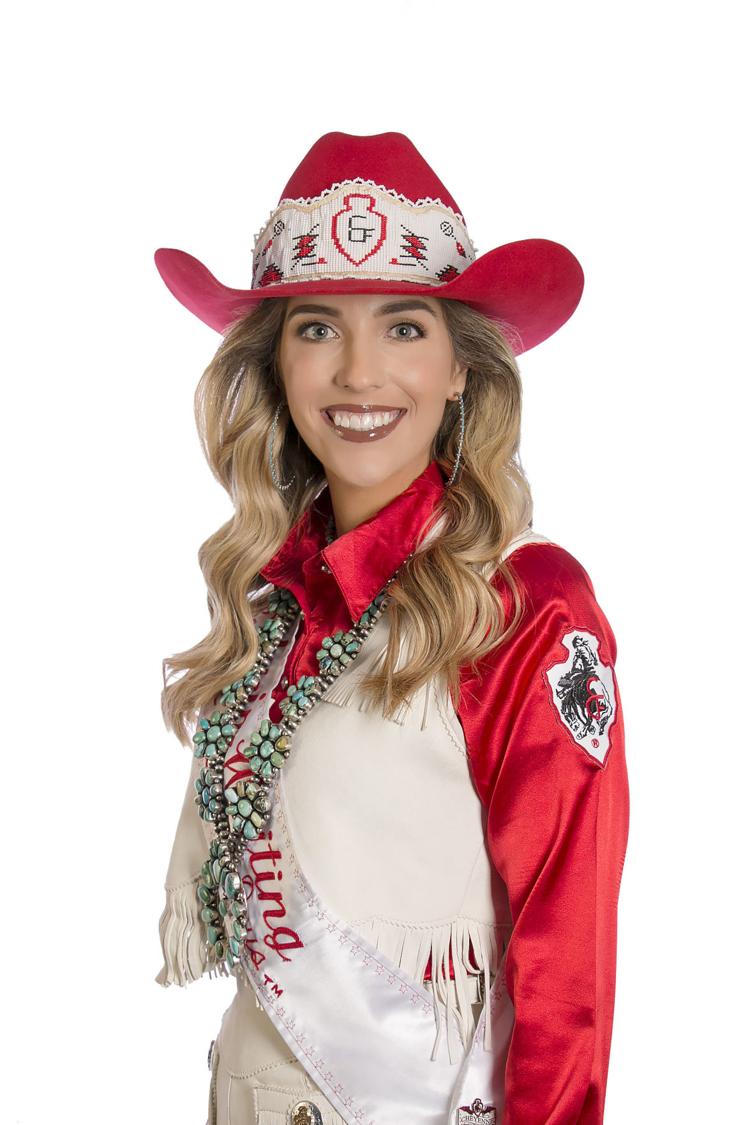 Lady-in-Waiting 2019 is Bailey Ryan Bishop. She is the 20-year-old daughter of Todd and Jan Bishop. Bailey grew up on her family's ranch in Burns, Wyo. She has been riding since she was three years old. Her family of five has deep roots in Wyoming, Cheyenne Frontier Days, and the Western way of life. Bailey has two brothers; older brother, Ryder, and younger brother, Tate.
Bailey is a 2016 graduate of Burns High School. She was involved in almost every club and activity Burns High School had to offer, but her favorites were FFA, FBLA, Student Council, and National Honor Society. She was president of her FFA chapter and her parliamentary procedure team won state in 2013, and they went nationals to compete in Louisville, KY.
Bailey spent two years at Laramie County Community College in Cheyenne. Currently, she is enrolled at the University of Wyoming going into her junior year, majoring in Physiology. Baileys career goal is to become a Physician's Assistant.
Cheyenne Frontier Days is in Baileys blood. Her grandpa, Cliff "Doc" Bishop, was a steer roping contestant at the "Daddy of 'em All" - and later he became the arena veterinarian, and was inducted into the HEELS organization. Her grandma, Gerrie Bishop, is a co-founder of the Cowgirls of the West. Her papa, Morris Bullard, was a lead volunteer on the security committee, her cousin, Stacy Bishop, was Miss Frontier in 1995, and her dad serves on the Cheyenne Frontier Days board of directors.
"It is an honor to represent Cheyenne Frontier Days and the almost 3,000 volunteers who produce our show. To me, Cheyenne Frontier Days™ isn't just a town celebration – it is a heritage built on over more than a hundred years of tradition. I have always admired how our community can take a few thousand caring people, unite them with a common goal, and stand back and enjoy the result of tens of thousands of hours that are a labor of love."
Bailey has been involved with Cheyenne Frontier Days most of her life. She participated in the Grand Parades as a young girl, competed in junior barrels, and was a Dandy throughout high school.
"I love the sport of rodeo and the western way of life. I feel both humbled and honored to have the privilege to be a part of the deep traditions of the greatest rodeo and western celebration in the world."