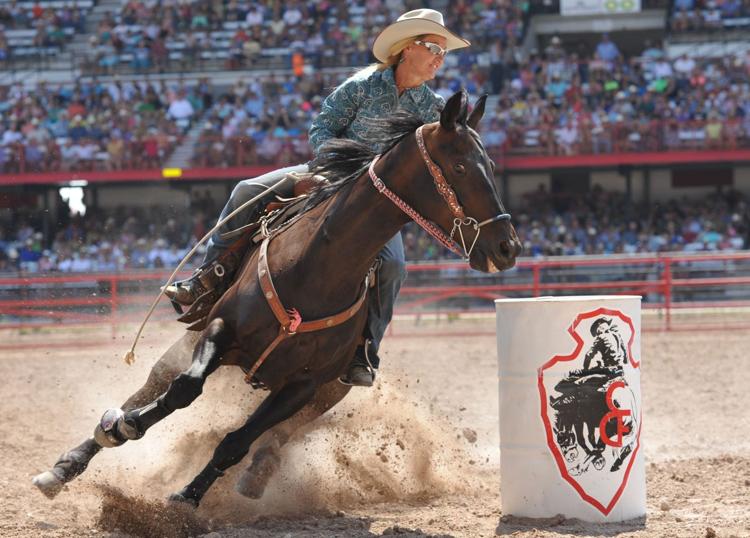 Cheyenne Frontier Days, which is one of Cheyenne's most anticipated events of the year, starts on Friday, July 19.and finishes on Sunday, July 28. Cheyenne Frontier Days is 123 years old this year. The event will have all kinds of entertainment options available for everyone from the main Cheyenne Frontier Days "Daddy Of 'Em All" Rodeo to Frontier Nights acts such as Tim McGraw, Miranda Lambert, Rascal Flatts, Clint Black and Keith Urban to Indian Village, Pancake Breakfasts, parades, the U.S. Air Force Thunderbirds, the Midway Carnival and much, much more.
Cheyenne Frontier Days Cattle Drive kicks everything off on Sunday, July 14 at 7:15 a.m. Nearly 550 head of Corriente steers will be driven by CFD staff from the pasture north of Cheyenne along Interstate-25 along the Frontage Road and through the city streets into Frontier Park. The drive begins at approximately 7:15 a.m. at the intersection of I-25 & Horse Creek Road north of the city. It then moves along I-25 on the Eastern frontage road to Hynds Blvd, turns south to Central Ave., to Kennedy Road, and then moves from Kennedy Road to Carey Ave., and into Frontier Park.
Approximate arrival times at the following areas are as follows:
I-25 and Horse Creek Rd/Iron Mountain 7:15–7:45 a.m.
I-25 frontage road and Riding Club Road 8:15 a.m.
I-25 and Vandehei Road 8:45 a.m.
I-25 and Central Avenue 9–9:15 a.m.
Please note: The Wyoming Highway Patrol will not allow parking along I-25 at any time during the Cattle Drive. Central Ave.,between Kennedy Road and Hynds Blvd., will be closed while the cattle are on Central Ave.and through the city streets into Frontier Park. The drive begins at approximately 7:15 a.m. at the intersection of I-25 & Horse Creek Road north of the city. It then moves along I-25 on the Eastern frontage road to Hynds Blvd, turns south to Central Ave., to Kennedy Road, and then moves from Kennedy Road to Carey Ave., and into Frontier Park.

Cheyenne Frontier Days Opening Day Celebration
The Opening Day Celebration starts at 10:30 a..m. on July 19 at Frontier Park. For only $30 a person this will grant access to all day unlimited carnival rides, a Wild West Show, live music, dancing, select two dollar fair food. If you just want to go to the Wild West Show only it is $15 per person. Features a Western variety show that features the history of Cheyenne Frontier Days.
Cheyenne Frontier Days Indian Village
The Indian Village opens July 19 at 10:30 a.m. and the following days at 10 a.m. People can watch traditional dancing, flute playing, storytelling and browse around the Indian Village to look at, and possibly purchase handicrafts, jewelry, pottery, and other wares.
Carnival Midway
The Carnival Midway also opens July 19 at 10:30 a.m. and it runs until 12:30 a.m. daily. The carnival features thrilling rides for children and adults, fair food and carnival games.
Armband pricing:
$125 for a season pass, which is a $500 value.
Public pricing is $100 that started January first and the new price starts July 19 at $125. Military Pricing is $80 until July 19 and $125 starting July 19
Volunteer pricing is $80. Daily armband price is $30 per person.
Cheyenne Frontier Days Daddy of 'Em All Rodeo:
Rodeo fans can watch some of the best cowboys and cowgirls compete in nine days of PRCA PRO Rodeo action including Bareback Riding, Saddle Bronc Ricing, Bull Riding, Steer Wrestling, Tie Down Roping, Team Roping, Barrel Racing, Wild Horse Racing and Women's Breakaway Roping.
According to the official CFD Web site CFD is introducing a new tournament style rodeo format. Each rodeo performance will see event winners and money paid out each day. The competition will start with a clean slate on Finals Sunday and the highest scores and the fastest times will be the 2019 Champions. Slack in the timed events comes a qualifying round to make it into the performances.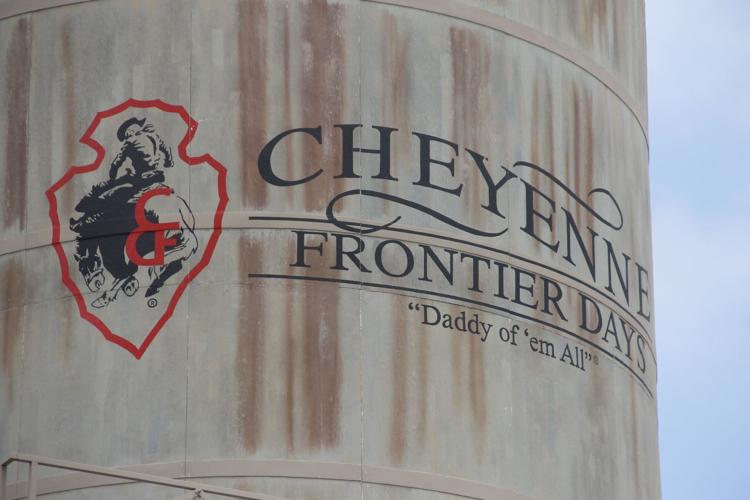 Pancake Breakfasts at the Depot Plaza in downtown Cheyenne
July 22, 24, 26, 7-9 a.m.
Visitors are treated to a free breakfast cooked in front of their eyes.
Over 100,000 flapjacks will be flipped, 3,000 pounds of ham will be eaten, and attendees will drink around 9,200 cartons of milk and 520 gallons of coffee total. Volunteers will use around 630 pounds of butter and 475 gallons of syrup, they're anticipating as in past years. And for those with food allergies no peanuts are used in the making of the breakfast.
CFD Grand Parades
July 20, 23, 25, 27 at 9 a.m. in downtown Cheyenne
The Cheyenne Frontier Days Grand Parade starts in front of the Wyoming Capitol Building and parades downtown Cheyenne. You'll be able to see horse drawn carriages, marching bands and floats of many kinds.
Cowboy Church
Enjoy non-denominational Cowboy Church in the Frontier Park B-Stand with Susie McEntire and her husband Mark Eaton on July 21 at 9 a.m. Susie is the sister of Reba McEntire and both ladies have a big history at CFD. They've had family members compete at the rodeo. Reba has performed at CFD a number of times and Susie has done cowboy church for many years at CFD and has sung the National Anthem during many rodeo events. On July 28 at 9 a.m. people can enjoy cowboy church with Fellowship of Christian Cowboys. Open to the public.
Cheyenne Frontier Days Old West Museum and Western Art Show and Sale
The Cheyenne Frontier Days Old West Museum is open daily from 8 a.m. to 7 p.m. They will have the Western Art Show and Sale on display featuring artists from all over the country. The show is by invitation only, however artists can also contact the museum and apply for consideration. Mike Beeman, Brandon Bailey, Guadalupe Barajas, Gail Sundell Jones, Georgia Rowswell, Robin Laws, Renee Piskorski, are some of the local artists who are featured in this year's show. Admission is $10, children six to 12 is $5 and there are senior and military discounts. Children five and younger are free.
The show's reception is on July 18 and a ticket is required for the reception. Tickets are $130 for museum member, or CFD volunteer. Tickets are $160 if you aren't a museum member. A membership to the museum varies in cost. For example a family membership is $60. The ticket for the reception includes a reception at the Wyoming Governor's Mansion steak dinner with Gov. Mark Gordon. Artists will be there so you will have an opportunity to meet the artists, and you get dibs on buying artwork before anyone else gets a chance. More info: www.CFDartshow.com . 307-778-7290. Museum address: 4610 Carey Ave. Cheyenne, Wy, 82001
Frontier Nights Entertainment at Frontier Park
Frontier Nights Entertainment will kick off on July 19th with a concert with Lady Antebellum, Kelsea Ballerini and Midland, July 20 will feature Rascal Flatts with Clint Black, on July 21 Josh Turner and Tanya Tucker will perform, July 22 and 23 features Professional Bull Riders Last Cowboy Standing, July 24 features. Miranda Lambert with Randy Houser, July 25 is the sold out show of Post Malone, July 26 features Keith Urban and July 27 is Tim McGraw with Devin Dawson. Ticket prices vary for each show and info can be found at www.cfdrodeo.com or by calling 800-227-6336. There are also multiple packages with varying pricing available as well.
Old Frontier Town
Old Frontier Town is open daily at CFD and you can find traditional Western vendors, as well as the Sidewinder Saloon presented by Cavender's featuring free entertainment.
The Wild West Air Show
The Wild West Air Show takes place at the Air National Guard on July 24 at 9 a.m and features the Wyoming Air Guard, Aerial demos, Navy Seals parachute team and an up close view of the Thunderbirds.
U.S. Air Force Thunderbirds Air Show
The U.S. Air Force Thunderbirds Airshow had their first performance at CFD in 1953. They have thrilled audiences with their precision aerial formations and skills for 65 years at CFD. See them this year on July 24 at 10 a.m. Their show will be over F.E. Warren Air Force Base this year instead of Laramie County Community College. The event is weather permitting. Spectators can watch on F.E. Warren Air Force Base and the gates to the base will be open from 6 - 9 a.m. and free parking will be available. You must arrive early because base access for the air show will close at 9 a.m. and late visitors will be turned away at the gate.
All visitors, volunteers, and base personnel will park at event parking and be shuttled to the viewing area.
The venue will have static displays for viewing, concessions and a bouncy house for children.
More info: visit www.warren.af.mil
Fort D.A. Russell Days
The annual open house will begin daily at 9 a.m., July 19-21, with free events running throughout the day.
For a full schedule of events go to www.warren.af.mil/fort_darussell_days/.
Free parking will be available on F.E. Warren through Gate 1. Additionally, a free shuttle will be available from the Cheyenne Frontier Days Grounds main entrance to the base.
Concessions will be available for purchase around the event from 10 a.m. to 4 p.m. daily.
Fiesta Day
Fiesta Day takes place on July 21 10 a.m. to 8 p.m. in the Garden area of Frontier Park. Fiesta Day is a fun packed day filled with Latino events for the whole family.
The schedule of events for Fiesta Day
12:30 p.m. – 1:30 p.m. Los Dardos
1:30 p.m. – 2 p.m. DJ/Contests/Giveaways
2 p.m. – 2:30p.m. Balet Folklorico Angelitas Unidas/Rayos de Sol
2:30 p.m. – 4 p.m. Hector Y Su Destino Norteño
4 p.m. – 4:30 p.m. Lisa T's Dance Group
4:30 p.m. – 6 p.m. Chavos HV
6 p.m. – 6:30 p.m. DJ/Contests/Giveaways
6:30p.m. – 8 p.m. Dareyes de la Sierra