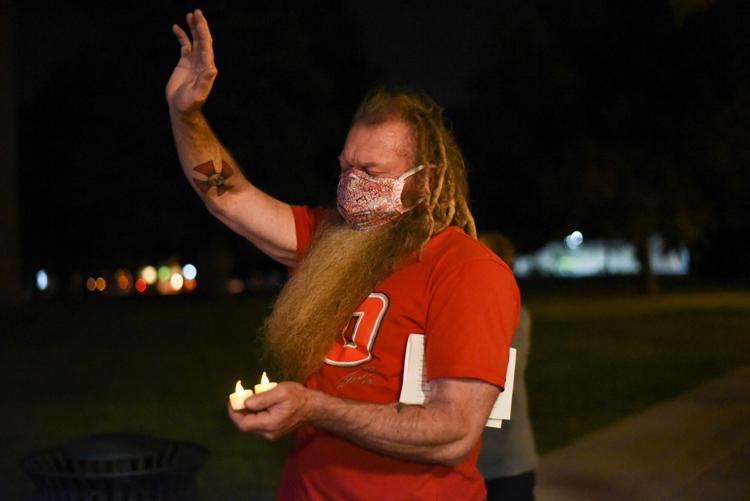 Saturday night Cheyenne residents gathered for a candlelight vigil at the Wyoming State Supreme Court building to honor, mourn for, and celebrate the life of Associate Supreme Court Justice Ruth Bader Ginsberg.
On Saturday, Cheyenne resident Laura Lopez learned of a nationwide vigil for Ginsberg to happen at state Supreme Courthouses across the United States. She knew Wyoming must participate so she reached out to Wyoming State House Representative Sara Burlingame. Burlingame got to work and created a Facebook event and word spread throughout the community.
Approximately 50 people attended the vigil. They came to mourn the loss of Ginsburg and to celebrate her life and all that they felt she had done to further women's rights, and equality for all people.
Friday night September 18, Ginsburg lost her fight with metastatic pancreatic cancer at the age of 87. She was a staunch supporter of women's rights. In the 1970's, working for the ACLU, she co-founded The Women's Rights Project. During that time, she argued and won 5 landmark Supreme Court cases that would change the course of women's rights in America.
In 1980 Ginsburg was nominated to the United States Court of Appeals for the District of Columbia by then President Jimmy Carter and then in 1993 was appointed to the Supreme Court of the United States by then President Bill Clinton. She was the second female to be confirmed to the court.
Later in life she became a national icon and pop star of sorts gaining the nickname Notorious RBG by her many fans, due in part to her dissents.
At the Cheyenne vigil, people gathered to remember the remarkable life of Ginsburg. People were moved to speak about what Ginsburg achieved in the '70's and how those cases she won helped to change their lives for the better, how they can help to carry on her legacy, and how they are going to help grant Ginsburg her final wish; "My most fervent wish is that I will not be replaced until a new president is installed," dictated to her granddaughter, Clara Spera, according to NPR.
The vigil lasted about 45 minutes ending with everyone singing "Stand by Me" written by Ben E. King.