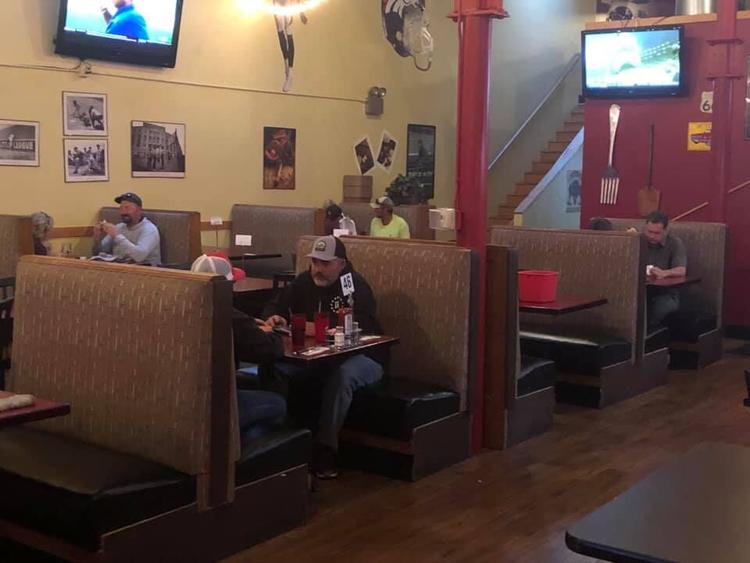 Gov. Mark Gordon recently eased COVID-19 restrictions for dining in restaurants, prompting eateries to again do a pandemic pivot—this time, pivoting to bring their eateries closer to full.
"It's been a very stressful six months because every day, [restrictions] could be something different," said Jerry Innis, who with his wife Sandy, owns the 2 Doors Down restaurant in downtown Cheyenne.
Because the Innis' restaurant is comprised of mostly booths on the lower level, with a more spacious area on the upper level, they were able to change seating above to comply with pandemic restrictions. Recently eased restrictions for dining now mean that because the lower level is mostly booths, the eatery can operate at closer to full capacity.
The change of socially distancing diners during the pandemic wasn't as big an issue for the upstairs of the establishment, since it has more room, Innis said, They did have to make some changes to staff, with a new need to have a few employees handle specific tasks: one person making drinks; one person handling To Go orders as they go out; and another employee taking To Go orders.
The longtime downtown business has rolled with the punches.
"You kind of evolve—adapt and overcome is what you've got to do," Innis said.
Diners do not need to wear masks, though they can if they want to when they dine in-house at a local restaurant. Waitstaff are wearing masks.
"I'm very blessed by how our business has gone through this thing," Innis said. "But there have been costs—I had  to staff three more people per shift; there was a potato shortage; and we were being told there were meat shortages."
Part of what kept 2 Doors Down going during the pandemic shutdown was the frequency of out-of-state visitors. In July alone, the business hosted 10 parties from Texas.
As with 2 Doors Down, since the easing of pandemic restrictions, downtown restaurant The Luxury Diner also is slowly going back to a new sort of normal in operations. The restaurant experienced an uptick in out-of-state business in recent months, said Esteban Campos, kitchen manager for The Luxury Diner.
"We've had people from Colorado, South Dakota, Utah, New Mexico and California," Campos said.
The Luxury Diner is running different meal specials, but these days, they just want to return to the good old days, pre-pandemic.
"We're just striving to bring this restaurant back to what it used to be," Campos said.
The easing of restrictions on restaurants didn't happen by accident. One local booster (and likely many others, too) worked to move that ball down the field. Greater Cheyenne Chamber of Commerce pushed hard for the re-opening.
"We lobbied the governor," said Dale Steenbergen, Pres./CEO for Greater Cheyenne Chamber of Commerce. "We did it because we heard from small restaurants that they needed change."