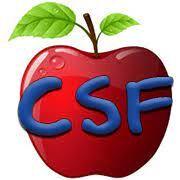 The Cheyenne School Foundation (CSF) announced the recipients of the 2021 Excellence in Education and Student Enrichment grants at the LCSD1 Board of Trustees Meeting Monday, October 18.
Classroom teachers in Laramie County School District #1 (LCSD1) will receive $20,082.23 for 14 grants in 10 schools. Six schools will also receive $4,210 for their participation in the Run for #1 held Saturday, August 28.
Foundation funding comes from corporate sponsors, LCSD1 employees, participants in the Run for #1, and another generous gift from the Carlton Family. District employees contributed over $8,600 through their payroll deduction program.
Businesses that donated $3,000 or more were First Education Federal Credit Union, Microsoft, and Taco John's International. Businesses donating $1,000 or more were Jonah Bank of Wyoming, ANB Bank, Blue Cross/Blue Shield of Wyoming, Blue Federal Credit Union, Meridian Trust Federal Credit Union, Hickey & Evans, LLP, McGee, Hearne & Paiz, Simpson Electric, Cheyenne Teachers Education Association, and Mechanical Systems Inc. Corporate sponsorships totaled over $25,000.  In-kind contributions were made by KFBC Radio and Jo-Ed Produce.
The Cheyenne Schools Foundation was started in 1995 and gives grants directly to classroom teachers in LCSD1 for projects that are beyond the capacity of the school district's budget. To date, CSF has raised more than $800,000 to support district students.
Excellence in Education Grants including Screen Printing for Student-Driven Business.
Central High, Aletha Womack. $2,482.63, Screen printing supplies and equipment provide new venues for content standards in the visual arts. Through projection, students will begin to incorporate computer science and business standards. The National Art Honors Society will utilize purchased items to establish partnerships with local businesses through community service projects and fundraising. The sponsor is the Carlton Family 
Coding to Learn
Cole Elementary, Amanda Sanders, $3,000.
Coding to Learn provides every student in school an opportunity to develop basic coding skills with grade-level appropriate coding robots. Students will develop problem-solving skills as they master their coding basics. Then, they will utilize their robots to solve problems and showcase knowledge in core subject areas. The sponsor was Taco John's International.
AVID College Trips
Johnson Junior High, Christy VanHorn, $2,240
AVID (Advancement Via Individual Determination), a college-prep elective class offered in grades 7-12, prepares students performing in the academic middle and who may be first-generation college students to be accepted at an institute of higher education. Visiting college campuses is an invaluable experience for students to visualize their goals. The sponsor was the Carlton Family.
Stock Market Game
East High, Jill Lucero, $3,000.
My Money 101 students will participate in the Wyoming Stock Market Game. Students will be given $100,000 in the portfolio to spend on stocks, bonds, or mutual funds. The game is set up to reflect real stocks and current values. Each student will compete against other Wyoming students across the state. The top three teams in the state will receive awards and bragging rights. The sponsor is First Education Federal Credit Union.
Pottery Wheel
East High, Megan John, $735
In order to help expand the ceramics program, the school requested funds to purchase an additional pottery wheel. An added wheel allows more students more frequent access to wheel throwing. The sponsor is First Education Federal Credit Union.
NASP/Wyoming Game and Fish
Bowhunter Education Program
Meadowlark Elementary, Tracy Pugh, $1,000
At Meadowlark Elementary, they've used the National Archery in Schools Program curriculum to teach archery in cooperation with the Wyoming Game and Fish Department to create a Hunter Education program through the Extended Day Program. They desire to mesh both programs to create "Bow Hunter Education." The sponsor is McGee Hearne Paiz, LLP
Student Enrichment Grants
Professional Finish
East High, Steve Knox, $926
The students will matte projects for the high school and state art shows, so they understand the importance of presenting work for display. The sponsor is ANB Bank.
Regional French Community
Connections
Central and South High, Sarah Evans, $1,000
The project increases Cheyenne French students' access to linguistic and cultural enrichment opportunities with French-learning peers from across the region offered by the American Association of French teachers CO/WY branch. This includes the Grand Concours competition, Déjeuner en blanc event, a Francophone Canadian hockey event. The sponsor is the LCSD#1 Employees.
Stylize Mixed Media Portraits
East High, Kayla Pearson-Horning, $1,000.
Students will learn about portrait artists, color mixing, creating texture, and painting portraits. The portrait will include mixed media elements.
The sponsor is Blue Cross/Blue Shield of Wyoming
Blue-Bots Programmable Floor Robots
Rossman Elementary, Brenda Jenkins, $963.54.
Blue-Bots will be a key resource in introducing first-grade students to new state computer science standards. Students will engage in cooperative learning experiences that develop computer science skills, language skills, and math skills. Blue-Bot experiences support social interaction and problem-solving. The sponsor is Blue Federal Credit Union.
Literature of Life
South High, Suzan Skaar, $1,000.
The goal is to provide enrichment reading opportunities for upper-class students who want to read advanced material and discuss literature with others. The sponsor is Simpson Electric Company.
Our Community Library
Hebard Elementary, Chris Hayes, $1,000
The school wants to put a community "Little Free Library" outside the school to get books to families since many children may not have access to books.  The sponsor is Jonah Bank of Wyoming.
Solving Problems One Story at a Time
Cheyenne Virtual School, Marti Derringer, $926.98
Students will focus on a text each week as they explore, take risks, build, discover, create, and collaborate to solve problems. Which house will stand up to the wolf? Which ladder will safely reach Rapunzel? Which bridge will withstand the troll? Students will solve problems and more.
The sponsor is Meridian Trust Federal Credit Union.
Getting Techy With It!
Sunrise Elementary, Tarah Hall, $807.69
The project supports the use of technology in the classroom by purchasing styluses and headphones for students. The styluses will be used for interactive digital notebooks, and the headphones will be used to help students self-pace instruction when possible. The sponsor is Hickey & Evans, LLP.
Run for #1 Participation Awards
Dildine Elementary, Johnson Jr. High, and Triumph High had the highest student participation and raised the most money for their group. 
Thanks to our sponsors.
Gold Sponsors
Microsoft, Taco John's International, and First Education Federal Credit Union. Silver Sponsor KFBC Radio and Bronze Sponsors, McGee, Hearne & Paiz, LLP, Jonah Bank of Wyoming, Blue Cross/Blue Shield of Wyoming, ANB Bank, Hickey & Evans, LLP, Simpson Electric Company, Blue Federal Credit Union, Meridian Trust Federal Credit Union
Event Sponsors
Cheyenne Teachers Education Association, Mechanical Systems, Inc, and Jo-Ed Produce
The Foundation Board thanks community supporters along with Mr. Thompson for the use of the facilities at South High, Dr. Crespo for serving as the Event Chair along with the members of the Administration and Chair Rinne and the Trustees for supporting the mission to enhance the education received by students attending the School District.
They also thank the supporters for the excellent job they did keeping students and the community safe during the pandemic.