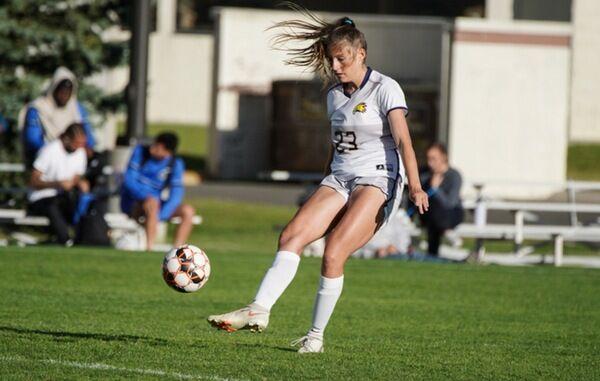 The goals came early and often for the Laramie County Community College women's soccer team in their 6-3 route of Western Nebraska Community College in the opening round of the Region IX tournament on Saturday afternoon.
The Golden Eagles opened the scoring in the 12th minute when freshman Macey Woolcock took a misplayed ball by the goalie and finished it for one of two goals on the game for her.
Woolcock wasn't done as she picked up an assist on the next goal when sophomore Paige Hill finished of her pass for a 2-0 lead in the 18th minute.
Sophomore Jacqueline added a third first half goal in the 25th minute on freshman Caroline Kuhn's first assist of the season and despite a late goal surrendered in the 39th minute, LCCC went into the half with a 3-1 edge.
"It does take a lot of pressure off and it makes it easy for you to say intense," Head Coach Jim Gardner said of the early offense. "Sometimes you can let down, but I thought they did a good job of continuing to play."
In the second half, Woolcock again opened the Golden Eagle scoring with a strike in the 58th minute, and Stokes was credited with another goal 14 minutes later to build the lead to 5-1 and the rout was on.
"I think it's awesome having everyone be able to score a goal," Hill said. "That way if you're passing the ball forward or getting someone in the midfield they will take a shot and put it in the back of the net."
After an unassisted free kick goal by the Cougars, Laramie County finished their side of the scoring with the first goal of the season by freshman Maggie Olsen as the depth was on display with six goals from four players and five different players making assists.
"A lot of times you'll have someone on your team that scores all the goals and we've got it spread around," Gardner said. "We've got our players that are more dangerous or that people have to think about so if that's the case and you have someone else who can score it makes it that much easier."
The women are on the road next weekend with the Region IX semifinals and finals being hosted by Otero who picked up a 2-0 win at home against Northwest College.
"We've been playing that all year long," Gardner said about two games in the weekend to decide the region champ. "It's no different than we've been playing every weekend so it's fine with us. I think we are used to it and I don't know what we'd do with the day off anyways so playing back-to-back is good."
The site of the matches is still to-be-determined as Otero's field is too small to host the championships. Alternate sites in Pueblo, Lamar, and Trinidad have been suggested, but a final decision is yet to be made.
Hill said it doesn't matter where. All that matters is they have unfinished business after failing to make the finals one season ago.
"It was really heartbreaking not being able to be in that championship game and we're all excited to go in it and we're ready to kick butt."
Match times will be announced in the coming days, and you can see all of those announcement on www.golccc.com and on LCCC sports Facebook and Twitter accounts.