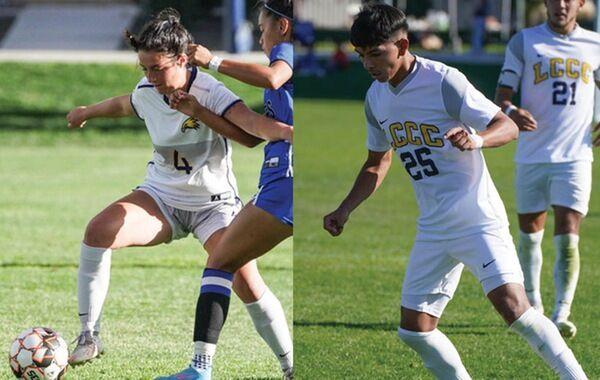 The Laramie County Community College men's and women's soccer teams dropped final matches of the regular season by identical scores of 2-0 to the Otero College Rattlers on Saturday afternoon in La Junta.
Both matches had Region IX regular season title hopes on the line, and while the Golden Eagles were able to put pressure onto the Rattlers with multiple opportunities on goal, neither side was able to convert in the losses.
The afternoon started with the men's contest which was scoreless until the final minutes of the first half when the Rattlers were able to push in the opening goal of the contest.
A second goal midway through the second half was enough to keep the momentum in their favor despite multiple good looks in the second 45 minutes for LCCC.
Head Coach Fernando Perez said they did a good job making chances for each other, but finishing has to be a priority.
"When those chances arrive, we have to finish them. You might get one or you might get twenty, but whatever opportunity you get you have to finish it."
Perez said the Golden Eagles did get a standout performance in net and from their defense which was pressure throughout the game by the Otero attack, and sophomore goalie Brian Fierro made ten saves in the match to keep the offense within striking distance.
In the women's match which followed, the Golden Eagles ran into much of the same script.
A late goal was surrendered in the first have, and the only other strike from the Rattlers came on a penalty kick in the second half.
"They are a very good team," Head Coach Jim Gardner said. "We had great opportunities in the second half and we played with a lot of heart and intensity. We'll have to come back and see if we can get a different result in a couple weeks."
Gardner also said the amount of chances they had in the second half, including a open shot that was just deflected away at the last second by a late arriving defender and a header which just missed the net should still help boost the confidence of the team.
"I'm very proud of how they played tonight. Next week we come back and play Western Nebraska and that will be a tough match up and once we get back we will focus on that."
The win means Otero will be the host team for the Region IX semifinals and championship, but the Golden Eagles will return home for their quarterfinal game against the Cougars. The men will also be hosting their quarterfinal match against Western Nebraska.
Game times have not been announced yet for the upcoming matches, but once they are, you can find the schedule online at www.golccc.com.