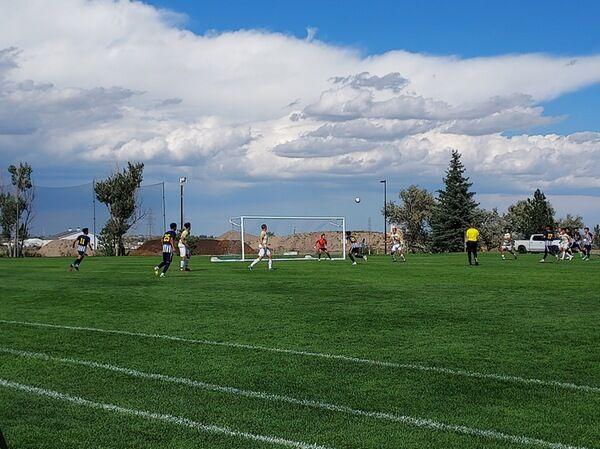 The Laramie County Community College men's soccer team dropped their home opener to the Northeastern Junior College Plainsmen 2-0 on Saturday afternoon. 
The first half was a physical affair, with both defenses providing a strong screen for their keepers and avoiding giving up many shots on goal.  
Laramie County controlled the early and late portions of the half, with Northeastern getting most of their pressures in the middle of the half.  
Early on in the second half, NJC would find the back of the net seven minutes into the second half to take the first lead of the match.  
After the opening goal, the Plainsmen began to sink back on defense and use counter attacks to keep pressure on the Golden Eagles, and Redshirt Sophomore Brian Fierro made several key saves in net to keep the match a one-goal game.  
Despite an increased pressure after the second goal, Laramie County couldn't find a way through the NJC defense and the dropped their first Region IX match of the year. 
"We started off great," Interim Head Coach Fernando Perez said. "We just didn't finish the opportunities that we had early on in the game, and it came back and it bit us. But it's something we have to overcome and just show up on Monday for training again." 
The win drops the Golden Eagles to 2-5 on the season, and 2-1 in Region IX play. With the competitiveness of the Region's top teams this season, Perez says they have to stick to their system and trust it will work.  
"It's kind of exciting to maybe anyone that's in the air. We are going to stick to what we know and believe in the philosophy that is our system." 
The next five matches are all at home for the Golden Eagles, and that also should play into some success for LCCC's men. 
"I think the atmosphere of family's coming down to watch our guys play, students, professors, I think it's awesome," Perez said. "To wake up and not travel and just show up and play on your home turf." 
The team will take on Northwest College out of Powell, WY this Friday in their next Region IX match with kickoff at 1:00 pm.