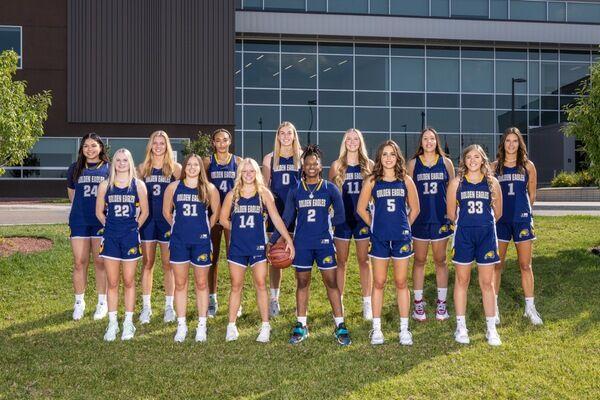 The Laramie County Community College women's basketball team had a strong showing on defense in their 59-46 win over the McCook Community College Indians on Friday night.
The opening half set the tone for the Golden Eagles with a 17-7 quarter giving them the double-digit lead.
"That (start) and the bench having that energy, getting stops, getting those rebounds, and then transitioning down on offense I think is a big help and just gets us into our groove and gets us fast paced into what we want," said sophomore guard Halle Hester.
 McCook would fight it back to as little as five points, but a run to close out the half helped the Golden Eagles take a 12-point lead into the break 28-16.
In the third quarter, it was Hester who took flight for LCCC, drilling three triples in the middle of the quarter to again silence an Indian run that had cut the deficit to single digits.
The LCCC defense picked up the rest of the way, and they were able to outplay McCook 31-30 in the second half to secure the victory.
Head Coach Ayana McWilliams said she is always proud when it is the defense that leads the way.
"I'm a defensive minded head coach," she said. "I like to allow our defense to create offensive opportunities for us and I feel like we did that from start to finish today."
LCCC was led in scoring by three in double figures, with Hester's 18 pacing the crew.
"I think this game really just helped me get back into my groove," Hester said. "And I think that really helped our team especially this game when other girls weren't hitting it."
Sophomore Kian Omer-Jones was also able to chip in 11 and freshman Michala Bork had a nice follow up to her 30-point effort on Tuesday with 12 more.
Hester was the top rebounder for a second straight game along with freshman Lylah Spring, and Laramie County was plus eight in rebounds as a team on the night.
The Golden Eagles also had 15 assists, with four coming from Hester and another three off of the bench from sophomore Andraya Dimas.
"Anytime you can start out two and oh and protect your home court, that's what it's all about," McWilliams said.
Laramie County will face off with North Platte on Saturday afternoon at 2:00 pm to close out their first weekend of home games at Storey Gymnasium. Tickets are available at www.golccc.com/tickets and you can view the games live on the LCCC Golden Eagle YouTube page.