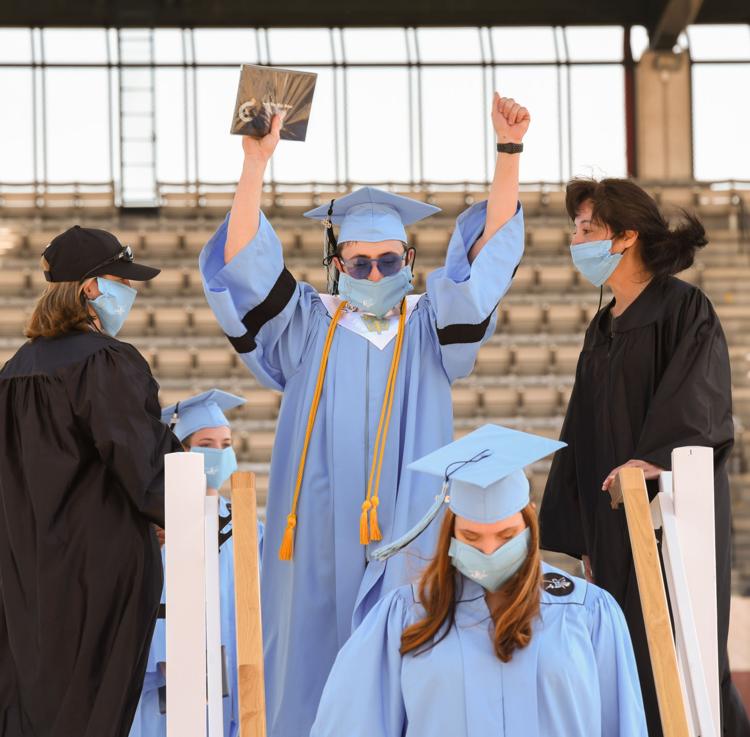 Wearing caps and gowns signifying their accomplishment, and big smiles on their faces, 806 local high school seniors from Laramie County School District 1 didn't let restrictions from the COVID pandemic dampen their enthusiasm for the celebration of their accomplishments at graduation ceremonies last weekend.
Laughs and cheers, though a bit muffled, still rung out from thinner crowds of proud family members, separated from others by a few seats for each family group. With heads high, the new graduates strode confidently to the stage to receive their diplomas, and begin the next chapter of their lives.
Wearing surgical masks in blue or black to match their caps and gowns, seniors from Laramie County's four public high schools graduated in four separate morning and afternoon ceremonies last weekend. Other than the fact that about half or fewer of the regular number of attendees came to watch the ceremonies (due to COVID social distancing restrictions), the ceremonies happened without a hitch.
The school commencements happened at Frontier Park, though the ceremonies also were livestreamed on the district's YouTube channel. Students graduating from Central High included 221 young people, Triumph High had 45 grads, East High had 327 grads, and South High celebrated 213 graduates. They all received their diplomas in joyful ceremonies defined partly by restrictions put in place due to the pandemic.
Graduating seniors were seated in the lower deck of the west grandstands with three seats between graduates and a row between them. All had to wear masks covering their nose and mouth. A faculty member wearing gloves and a mask handed each student a diploma holder on stage.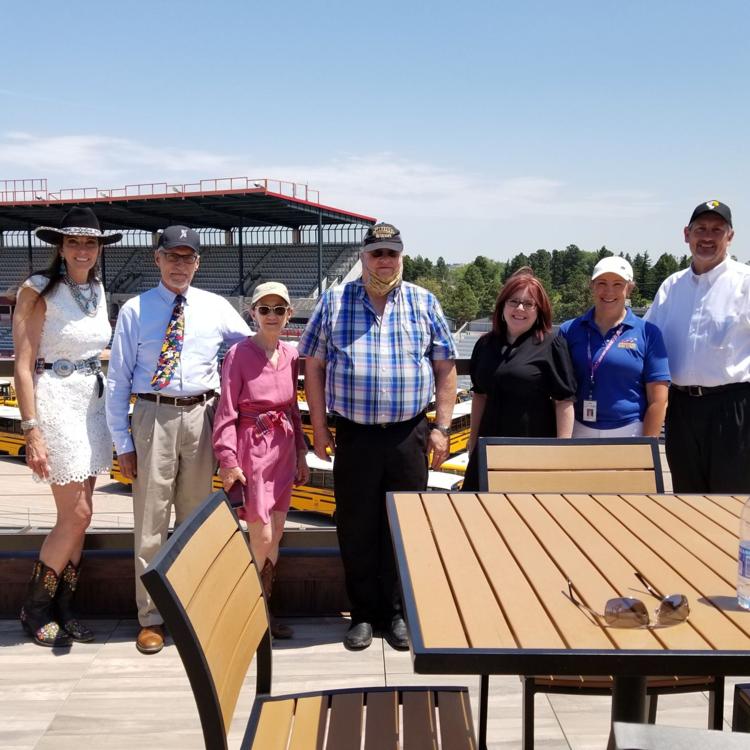 The number of attendees were limited, as were parking passes for them, with each family required to bring family members in just one vehicle. Family groups were spaced more than six feet apart.
Close contact between members of different households was prohibited before, during and after the ceremony. Those in attendance wore facemasks and practiced social distancing. Otherwise, the events played out more or less normally.
Despite the safety measures, the graduating seniors were jubilant. Clutching their diplomas, some raised an arm in victory. After all, they'd made it through many sometimes tedious years of schoolwork. Now, they were opening the door to adulthood.
While high school graduation sometimes seems to older folks like just the beginning for young people, recent grads themselves know better. Graduation is the start of a whole new life, rife with possibility.